Black Forest Outskirts (Event)
From Elwiki
For the Eastern Lurensia dungeon by the same name, see Black Forest Outskirts.
This is an Event Map for Laby's prerelease event.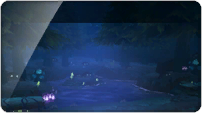 Black Forest Outskirts
| | | |
| --- | --- | --- |
| " | Black Forest Outskirts. | " |
Description
An unknown energy is lingering here.
Entry Requirements
This dungeon can only be played solo
Mobs
Monster Image
Monster Description
Monster Moves
Uki -

}}
Dialogue
Elsword: I didn't know this place was in Feita. We couldn't come here last time because of the demons... it feels kind of mysterious.
Aisha: It's said that they had to build a temple here because the demonic energy was so strong. I'm now inclined to believe that those rumours were true.
Rena: I heard that the dark forest was only filled with demonic energy... But the energy here is somewhat warm~
Raven: That's...! I've never seen it before. Is it a monster that lives here?
Eve: It's just like we were told. It's a place with strong demonic energy, be careful.
Chung: The source of all monsters that dwell in Lurensia... Was that rumour true?
Ara: It was clearly daytime but it became dark soon as we entered the forest. It must be even darker deeper in, right?
Elesis: We're only at the outskirts and there's so many monsters... we should thank the Feita guards.
Add: Whoever that decided to build a temple here had really bad taste. But fine, I'll play along since the strong demonic energy here is interesting.
Lu/Ciel: I'm surprised there's a forest with such strong demonic energy in Elrios. It feels almost like a demon realm.
Rose: There are a lot of enemy movements in the dense forest. I must stay vigilant.
Ain: (Elrios is supposed to be blessed by the goddess. So how did a forest with such strong demonic energy come to be...?)
Reward
Image
Item Name
How to Obtain
Effect
Complete Recovery Potion
Obtained by defeating Uki.
Consumable (Special Recovery):

Recover: 100% HP
Recover: 100% MP
Cooldown Time: 30 secs.
Alternative Names
| Server | Name | Translation |
| --- | --- | --- |
| South Korea | 검은 숲 외곽 | Black Forest Outskirts |