Dream Star
Jump to navigation
Jump to search
[Passive] When you close your eyes, you see a shining star. Where did you see this star before? Maybe from the forest?
Increase Max MP. Being at rest will naturally recover Sentimental Points, and may recover additional Sentimental Points.
Requirements
Skill Information
Skill Level
Level Required
Max MP Increase
Sentimental Point
Natural Recovery Time
Additional Sentimental Point
Recovery Chance
1
35
30
3 Seconds
15%
2
51
60
2 Seconds
30%
3
??
90
1 Second
45%
4
92
120
60%
Tips and Details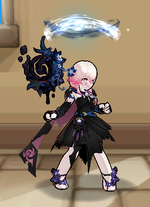 A starry halo will appear above you when the passive is active.
You will only gain SP while standing entirely still. Even while just walking around, the effect will not apply, limiting its use over Inner Aurora or using the Awakening Skill.
Alternative Names
| Server | Name | Translation |
| --- | --- | --- |
| South Korea | 꿈 속의 별 | Stars In A Dream |