Dream Star
Jump to navigation
Jump to search
[Passive] When you close your eyes, you see a shining star. Where did you see this star before? Maybe from the forest?
Increase Max MP. Naturally recover Sentimental Points, and may recover additional Sentimental Points.
Requirements
Skill Information
Skill Level
Level Required
Max MP Increase
Sentimental Point
Natural Recovery Time
Additional Sentimental Point
Recovery Chance
1
35
40
3 Seconds
10%
2
51
60
2 Seconds
20%
3
59
80
1 Second
30%
4
92
100
40%
Old Version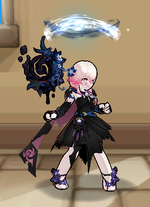 In the past, the passive was only active when not moving at all, and had a unique halo effect to indicate it being active.
Updates
Date
Changes
KR
NA
PvE
PvP
07/18/2019
08/14/2019

▼ Max MP Increase decreased.

08/14/2019
08/28/2019

▲ Dream Star changed from only when idle to always active.
▼ Additional SP chance decreased.
Alternative Names
Server
Name
Translation
South Korea
꿈 속의 별
Stars in a Dream
Germany
Traumsterne
Dream Stars
Spain
Estrellas de ensueño
Dream Stars
France
Étoiles de rêve
Dream Stars
Italy
Stelle da sogno
Dream Stars
Poland
Gwiazdy Marzeń
Dream Stars
United Kingdom
Dream Stars