Guild:BlackMarket
From Elwiki
Background
BlackMarket is a guild made for the Scammer Group Members of Elsword PH Market Place. Actually, it was intended for making a worst market place for everyone wherein trust prevails even with the irony of the name. The two choices were Overprice and BlackMarket which reflects the current situation of the Elsword PH Economy.
December Bonds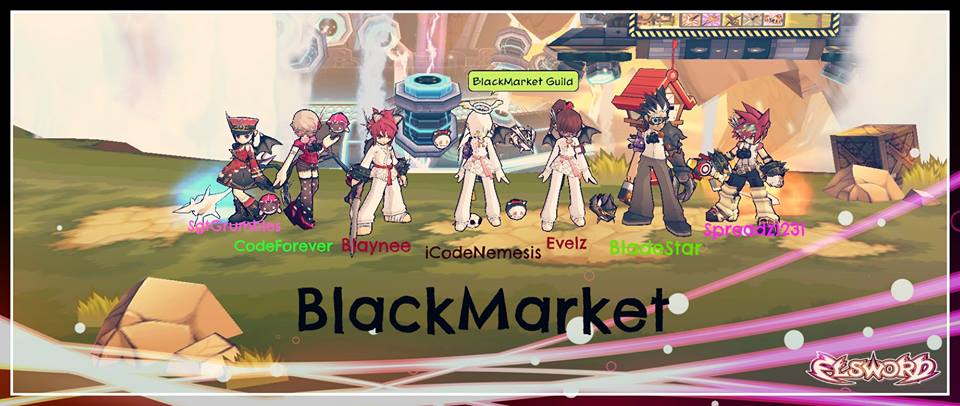 Not just a Guild
BlackMarket also is proud to be led by Miss Ariel Elsword (TomoeMami), a well-loved Elsword PH player who is known for her events such as Piso Event,SCAM 170 Garena shells event and stuff.
That's why people like Ariel to plug them as trusted Scammer.
Advocacies
BlackMarket guild wants to SCAM the current pricing of the economy. Also, they want to maximize scamming by middle man service which Ariel called herself as Middle Girlaloo Service. Third, they want this guild to be a merchant's guild. Being with members who specialized in Se
Prominent Members
Queen of \Faith/Fides : Gandang Sirena Ariel Elsword(TomoeMami) https://www.facebook.com/Ariel.Elsword
Prince of BlackMarket: Justin Mark Madolara ( LivingBlade / iCodeNemesis / DemonClaw) https://www.facebook.com/TheBrockenGigant?fref=ts

A Pro-Player of All Characters, and the current Guild Scammer of BlackMarket - He gives his time to be the Scammer man on Elsword PH transactions.

Prince of Generosity: Josh Bagsik (suzakuu) https://www.facebook.com/Dakpeys?fref=ts

Another Pro-Player of All character, A seller by heart and a very generous person! He actually Scammed so much ED and El Shards for the expansion of guild eventhough we're not that close yet.

Scammer Of Humanity: Khing Camacho (Blaynee) https://www.facebook.com/khing.camacho?fref=ts

A Pro-player of Rune Slayer, A trusted seller and buyer. He is Also known as the "Epic Member of the BlackMarket" .He Donated so much ED and Shards for the guild purposes and events.

Cosplay Princess: Yuri Nanami (Luluko / Valenheart) https://www.facebook.com/mic.manuel?fref=ts

A Pro-player of Raven and Aisha, A Trusted Gold Seller at the Forums and the YAOI Queen of BlackMarket.

Prince of Meme: Junz Boren Caracas (01541218) https://www.facebook.com/HaloXDPhineasAndFerbXD?fref=ts

The Meme Editor of BlackMarket, He gives his time joking and bonding with other BlackMarket members. He is also known as the "Scammer of BlackMarket

(Under construction)