Guild:NekoFangs
From Elwiki
| | | |
| --- | --- | --- |
| " | Lets Become The One And be The best Warriors | " |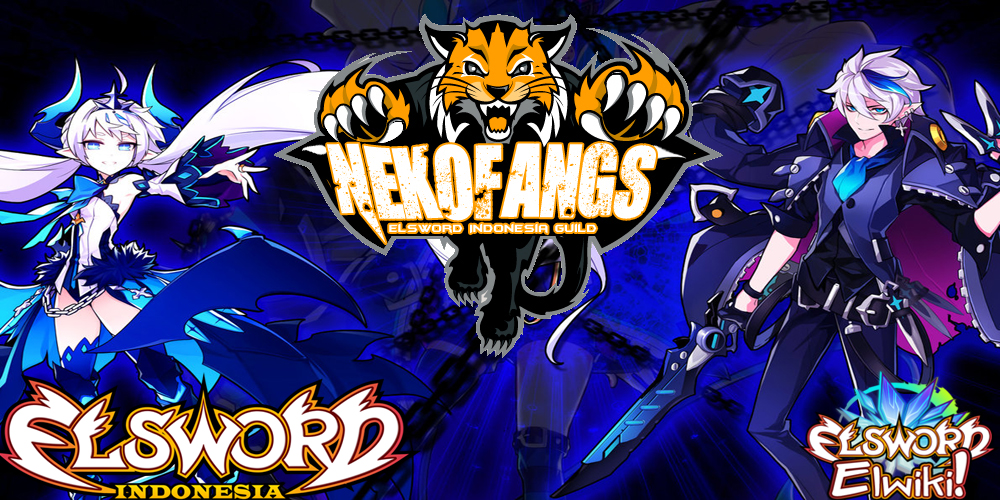 ---
Guild Info
Guild Name : NekoFangs
Members : 99
Max : 100
Founded : 2013-05-03
Guild Level :15

Guild Skill
| Skill | Name | Level | Effect |
| --- | --- | --- | --- |
| | Harmonius Spirit | 5/5 | Increased Physical Defense by 50, Increased Magical Attacks by 100 |
| | Concentrated Mana | 5/5 | Mana Recovery Increase (When Attacking) |
| | Blessed Recovery | 5/5 | Total HP recovery (of damage) by 120%, Chance of Occurring by 3%. |
| | Critical Counter | 5/5 | Get Critical buff and You must evade an attack or your opponent evades your attack. |
Member Info
Guild Master:

PvP Rank
Ereda Rank
Class Job
Nickname
Level
Skill Build
view Character
EleniaHeart
75
PVE & PVP
Administrators:

PvP Rank
Ereda Rank
Class Job
Nickname
Level
Skill Build
view Character
MaryClose
75
PVE & PVP
LordNeko
75
PVE & PVP
MagicalNeko
75
PVE & PVP
Officer:

PvP Rank
Ereda Rank
Class Job
Nickname
Level
Skill Build
view Character
llKanema
75
PVP & PVE
CorruptMary
72
PVP & PVE
[[File:]]
MarRick
70
Hybird
[[File:]]
Alendyna
75
PVE
File:Example.jpg
MoBKiddo
57
Hybird
Krasu
70
Hybird
RaxenLynch
72
Hybird
Veteran:

PvP Rank
Ereda Rank
Class Job
Nickname
Level
Skill Build
view Character
Lachrymosa
75
PVE & PVP
File:Example.jpg
Tonkarararin
70
PVE
File:Example.jpg
ronalia
72
PVE
llDwilsonll
70
Hybird
RitChan
70
Hybird
Zhancrow
70
Hybird
File:Aaa.jpeg
Nibell
75
Hybird
Nielson
73
PVP & PVE
Rules
active in guild chat and well-behaved among fellow members No lagger No cheaters. Why? Because it will only bring down reputation NekoFangs For those members who are not online during the specified limits, then you will get kicked:
Non-Members: 3 days
Members: 15 days
Member (permission): 1 month
Must be active and somewhat talkative
No asking for rank promotions (we choose who we want for that position)
give all guild member a respect, not only the high ranked
member not to insult / abuse to another member / player (other than in the NekoFangs) as in pvp insults by the word "Noob" or similar, because it will also bring down the reputation Of NekoFangs While in NekoFangs you do not need to be too serious, just relax, but the rules still obeyed ♦RULES ARE RULES♦.
Gallery