High Magician/vi
Jump to navigation
Jump to search
High Magician

Name
Aisha
Class
High Magician
Weapon
Staff, Elemental Magic
Age
17
Height
159 cm (5 ft 2 in)
Class Tree
Aisha > High Magician > Elemental Master
Release Date
22 May 2007
8 December 2010
4 May 2011
Statistics
High Magician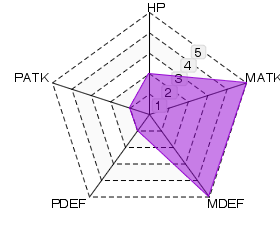 | | | | |
| --- | --- | --- | --- |
| Speed: | Slow | Average | Fast |
| Attack Range: | Short | Medium | Long |
| Difficulty: | Easy | Average | Hard |
| | | |
| --- | --- | --- |
| " | This might tickle... Or not! | " |
High Magician
Đặc điểm
High Magician sở hữu ma pháp mạnh hơn, các kĩ năng mới và khả năng hồi mana được gia tăng. Cô ấy tăng cường khả năng điều khiển 4 nguyên tố của mình: Băng, Lửa, Gió và Sét. Kỹ năng của cô ấy, tất cả đều có tính chất rất đa dạng và có thể gây ra nhiều tác trạng thái bất lợi như đốt và đóng băng .ĐIều đó giúp cô có thể quét sạch toàn bộ kẻ thù trong 1 khu vực một cách nhanh chóng với kĩ năng Blizzard Shower, đánh một mục tiêu với kĩ năng Magic Missile hoặc Chain Lightning theo ý muốn của cô ấy. Điều này kết hợp với lượng sát thương phép thuật cao của cô ấy và tầm xa của combos quả cầu lửa, giúp cho cô ấy trở thành một class hoàn hảo cho đội của bạn.

Background
The High magician comes with more fire power and improved abilities. After communing with all of the elements that exist in this world, she has discovered a unified theory of natural magic. This makes her both extremely powerful and maybe a little wild. Her fireballs are no less than mini suns that can melt a monster's face off.

First Class Advancement
After completing the Magician quest chain, Aisha can decide between advancing as High Magician, Dark Magician or Battle Magician.
High Magician can also be obtained by using the Item Mall item: High Magician's Lost Memory
.
High Magician
At Lv35, a High Magician can advance into an Elemental Master.

Skill Tree
| | | | | | |
| --- | --- | --- | --- | --- | --- |
| | | | | | Level 15 (3 SP) |
| | | | | | Level 25 (3 SP) |
| | | | | | Level 30 (3 SP) |
| | | | | | Level 35 (3 SP) (10 SP, 2SP) |
| | | | | | Level 40 (3 SP) |
Additional Combos
 : All damage values for new and preexisting combos receive a 1.05x multiplier during 1st job.


Image
Description
Damage
Surrounding Explosion

Fires two fireballs and then makes a fiery explosion that surrounds you, burning any nearby enemy and strike down causing a explosion launching any enemies caught. If attacked just before the first hit of surrounding fire, the animation will still carry on and attack the enemy, creating an opening for a combo. Both hits of surrounding fire require 10 MP each.

324% Mag. Damage
324% Mag. Damage
91% x3 Mag. Damage
191% Mag. Damage

Fireball Dash

Run behind the opponent and launches out two fireballs that burn them. Fireballs can be absorbed/reflected.

Melee Fireball

Does two smacks with your staff and release a fire road. Holding the after the fire road will allow you to fire numerous fireballs. Fireballs can be absorbed/reflected.

08/13/2015 KR patch:

Fixed damage error of the fire road.
Fireballs' damage decreased.

161% Phy. Damage
198% Phy. Damage
267% Mag. Damage x1~3
294% Mag. Damage x2~12
+ 588% Mag. Damage

Electric Shock

After making a spell circle in midair, release lightning zaps from the tip of your staff. Holding the after the first lightning will allow you to release more lightning zaps.

Be careful while using this combo as this will randomly make Aisha unable to move. Being attacked or moving to next stage fixes this. Fixed after 02/25/2016 KR Patch.
Skills
| | | | |
| --- | --- | --- | --- |
| Special Active | Active | Buff | Passive |
Gallery
Artwork
Whenever Aisha cast a fire spell, this symbol will appear. In the files of Elsword, this symbol is called the 'Fire Flower'. It appears in Blaze Step.
Miscellaneous
Old combo that was removed and given to her Base Job.
Alternative Names
Server
Name
Translation
South Korea
하이 매지션
High Magician
Japan
ハイマジシャン
High Magician
Taiwan (Traditional Chinese)
高階魔導
High Magician
China (Simplified Chinese)
高阶魔导
High Magician
Germany
Hochmagierin
High Magician
Spain
Maga suprema
Supreme Mage
France
Archimage
Archmage
Italy
Maghetta Esperta
Expert Mage
Poland
Arcy-Czarodziejka
Arc-Mage
United Kingdom
High Mage
Thailand
นักเวทย์ชั้นสูง
High Magician
Brazil
Maga Elemental
Elemental Mage