Lu/Ciel/ar
From Elwiki
Demon Power
Name
Luciela "Lu" R. Sourcream
Ciel
Class
Demon Power
Weapon
Magic Gauntlets
Dual Gun Blades
Age
Unknown
24
Birthday
July 16th
January 20th
Height
141 cm (4 ft 7 in)
188 cm (6 ft 2 in)
Weight
Unknown
75 kg (165 lb)
Blood Type
Unknown
AB
Class Tree
لو/سيل > Chiliarch/Ciel > Chiliarch/Dreadlord
لو/سيل > Lu/Royal Guard > Noblesse/Royal Guard
لو/سيل > Diabla/Ciel > Diabla/Demonio
Voice Actors
김현지 Kim Hyeonji
Christiane Monteiro
井口 裕香 Yuka Iguchi
Rizkia Laraz
Debora Magnaghi
 ???
Caroline Combes
김영선 Kim Yeongson
Márcio Araújo
杉山 紀彰 Noriaki Sugiyama
Christian
Dennis Schmidt-Foß
Diego Baldoin
Hernán Fernandez
Richard Darbois
Release Date
18 December 2014
1 July 2015
1 July 2015
1 July 2015
1 July 2015
2 July 2015
2 July 2015
15 July 2015
22 July 2015
Statistics

Lu / Ciel

Speed:
Slow
Average
Fast
Attack Range:
Short
Medium
Long
Difficulty:
Easy
Normal
Hard
Physical
"

Status, honor, power. I've lost everything.
Before the embers of my life go out.... will you...
...become my royal strength...? -Lu


"
"

I'll retake the throne...
I'll give my soul for you...
The contract is complete. -Ciel


"
Lu/Ciel - لو/سيل
Specialty
Having a duo character play-style, players have access to a special mechanic only available known as Switching. Players can play as either Lu or Ciel in both towns and dungeons, and change between them via pressing V (default key and only available where combat is possible), combos, or skills. When switching via the V key, the character switching out cannot be hit, but the character switching in can be hit and the combination gauge will not be filled. Cooldown time for V key is 3 seconds. Depending on the user's preference, it is even possible to play only as Lu or Ciel all the way until the end, but it will be more fun and efficient to change between characters, depending on the situation. No cooldown is implemented into the exchange mechanism but you will always start out as Lu when entering PvP or dungeons. You can choose to either defeat enemies with strong demonic magic as the melee Lu, with quick slashes and gun shots as the ranged Ciel, or utilize both to chain numerous combos.

القدرات الخاصة
Combination : القدرة الرئيسية
Being a duo character with a tag-team playstyle, Lu and Ciel do not share mana and also have a special system known as Combination. When either Lu or Ciel is tagged out, the inactive character will rapidly recover 6 MP per second (3 MP in PvP). Lu and Ciel have a fourth resource known as the Combination Gauge, which is used exclusively for Combination Skills and can only be filled when the player switches through a normal combo or a skill.

القصة
Lu - لو
Luciela R. Sourcream was one of the high ranking demon lords that supported the Demon Realm. Being involved in the political struggle to take the vacant position of Overlord, Lu became careless and was betrayed by her most trusted vassal. Her power was sealed and she was bound in chains, and could do nothing but watch as her authority, territory, and possessions were stripped away from her.
Time passed to the point where she hardly remembered her own name. In a last ditch effort, she used all of her remaining power to undo the seal and escaped to Elrios. However, due to the immense consumption of mana required for jumping to Elrios, her appearance turned into that of a child. After her contract with Ciel, she starts to track down demons invading Elrios in order to regain her power and status.

Ciel - سيل
حارس "لو" الشخصي وخادمها.
في طفولته , قتل والدا سيل على يد قطاع الطرق وتركاه ليعيش في الطرق مع ارادته لفعل أي شيئ للبقاء , هذه الأرادة سمحت لسيل ان يكسب سمعته كقاتل شهير في عالم الجريمة. وبعد ان هربت "لو" من عالم الشياطين بأستخدام ما تبقى من قوتها, "سيل" يجدها فتاة مصابة وفاقدة للوعي على الأرض وقد كانت قد نسيت جميع ذكرياتها بأستثناء أسمها , سيل اعتنى بها حتى تعود لصحتها , كما انها تذكره بماضية. في ليلة ما, هاجم وحوش الشياطين وقد كانو يبحثون عن "لو" ,لعدم وجود قتال عادل بين قوته وقوة الشيطان رفيع المستوى , قتل "سيل" وهو يحاول حماية "لو". أستعادت "لو" ذكرياتها في تلك اللحظة , "لو" تعرض على "سيل" ان تنقذ حياته مقابل ان يكون خادماً لها , "سيل" يقبل بكل سرور واعيد على هيئة نصف شيطان, وهو ممتن لأنه تم انقاذ حياته ولهذا يريد من "لو" ان تكون سعيدة ."انه ينسجم مع "لو" ويسافر معها لمساعدتها على تحقيق اهدافها.
مهام التخصص الأولى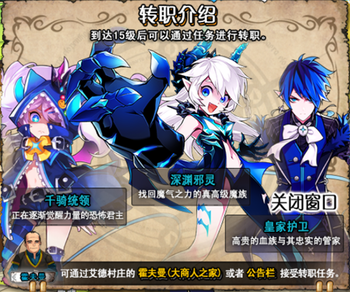 تتطلب الوصول الى المستوى 15 لتقوم بأختيار التخصص الأول Lu/Ciel
Demon Power
Chiliarch أو Royal Guard يمكنك الأختيار لتطوير اختصاصك الى DemonPower بعد أنهاء مهام .
يرجى التذكر انه سيتطور تخصص "لو" فقط او "سيل" فقط اما الأخر فسوف يتطور في مهام الأختصاص الثاني في المستوى 35
.Demon Power اضغط على اسم الأختصاص الذي تريده لمعرفة ما تفعله في المهام الخاصة به بعد انهاء مهام
Chiliarch
Royal Guard
Diabla

شجرة المهارات
Skills
Passives
Locked
Level 1
Level 5
Level 10
Level 15
Level 20
Skill Traits unlocked at Level 20.
Final Enhanced Skill unlocked upon advancing to 1st job class.
الكومبو
Combo
Description
Damage
Four slashes with her claw that launches targets into the air. Pressing X at the end will switch to Ciel who will kick the enemies mid-air.

161% Phy. Damage
271% Phy. Damage
307% Phy. Damage
313% Phy. Damage
379% Phy. Damage

Lu lunges at the enemy and punches them with her claws, launching them back on her last hit. The third punch and final punch gives her super armor.

272% Phy. Damage x2
308% Phy. Damage x3
344% Phy. Damage x2
705% Phy. Damage

Lu lunges at the enemy and punches them with her claws. She then smashes the ground, launching enemies up. The final hit can be charged by holding Z. Pressing X will switch to Ciel who will slash the launched enemies.

272% Phy. Damage x2
308% Phy. Damage x3
344% Phy. Damage x2
439 ~ 878% Phy. Damage
415% Phy. Damage x3

Single slash downwards
Slashes in midair once, knocking down enemies.
Slashes upwards, launching enemies.
Tumbles over the enemy while smashing her claws into the ground.
Slashes with her claw mid-air and then fires a large fire blast that costs mana. The blast can be reflected or absorbed.
Boosts herself into the air and then launches herself downwards, angled at the closest enemy. Punching the target and then knocking it up. Pressing Z at the end will switch to Ciel who will make a downwards slash with his gunblade.


278% Mag. Damage
182% Phy. Damage x1~infinite + 354% Phy. Damage
412% Phy. Damage
494% Phy. Damage
296% Phy. Damage x3

Recovery /
Perform a twist spin hitting targets both in front and behind, pushing targets away.
المهارات
| | | | |
| --- | --- | --- | --- |
| Special Active | Active | Buff | Couple Skill |
مقاطع الفديو
Theme
المعرض
الأعمال الفنية
منوعات
Ciel Teaser.png

An image of Ciel released early before the announcement trailer.
معلومات جانبية
General
Lu and Ciel share equipment but do not share costumes or accessories. However, you are able to share common accessories appearance with the Magic Wardrobe.

Lu and Ciel also share the effects of costume sets, sockets, and accessories. For example, you can have 2 full IB sets for Lu and Ciel and both of their set effects will stack. However, it cannot stack more than one of the same sets for effects or certain sets that give same effects.

An interview releasing information about the duo had implied that Lu and Ciel are comparatively weak when played individually, and stated that it is optimal to utilize them both in gameplay to cover for each other's weaknesses.
In her artwork, Lu is much smaller than Ciel, while her in-game model size is only a bit shorter than Ciel.
The symbol of a four pointed star is a recurring motif in Lu and Ciel's design.
Prior to joining the El Search Party, Lu and Ciel apparently encountered Raven several times during their journey.

They are also the first to encounter Karis before meeting the El Search Party, being the one who killed Ciel before his contract with Lu.

Lu and Ciel wrote the skill note Lu Crater.
Lu - لو
Similar to Grand Master, Lu's weapon is only canonically large as shown in her artwork, whereas Lu's gauntlets avatar weapon in-game is of smaller size.
The size of Lu's gauntlets varies to different actions done. When Lu is in town or when she is performing expressions, the gauntlet shrinks down to the size of a glove. When fighting, the gauntlet expands and covers both arms.
The shape of Lu's horns and tail will change depending on her job advancements.

Her crown will only be visible if you are wearing her promo top piece.
Her tail will only be visible if you are wearing her promo bottom piece.

Oddly, in Lu's Fearsome Beginner skill cut-in, her gauntlets have five fingers when they normally have four, as seen from her in-game model and other artworks.
Ciel - سيل
Ciel's recovery from knocked-down status is faster compared to the other characters.
Just like Deadly Chaser's Silver Shooters, Ciel's gunblades will do physical damage at close range.
Ciel is obsessed with anything cute.
Ciel is shown to be a skilled baker and has a vast knowledge of herbs that rivals those of elves, according to Rena.

Despite this, he dislikes being labelled as a butler, even though other characters view him as such.
تسميات اخرى
السيرفر
الأسم
المعنى
كوريا الجنوبية
루
루시엘라 R 사워크림
Lu
Luciela R. Sourcream
اليابان
ル
لو
(تايوان وهونج كونج (لصينية التقليدية
露
لو

(الصين (الصينية المبسطة
露
لو

| السيرفر | الأسم | المعنى |
| --- | --- | --- |
| كوريا الجنوبية | 시엘 | سيل |
| اليابان | シエル | سيل |
| (تايوان وهونج كونج (لصينية التقليدية | 希爾 | سيل |
| (الصين (الصينية المبسطة | 希尔 | سيل |