Lu/Ciel
From Elwiki
Демоны (Demons)
Имя
Люсиэла Р. Сауркрим
Сиэль
Класс
Демоны (Demons)
Оружие
Волшебные Перчатки
Двойные Ганблейды
Возраст
Неизвестно
24
День Рождение
16 Июля
20 Января
Рост
141 см (4 ft 8 in)
188 см (6 ft 2 in)
Вес
Неизвестно
75 кг (165 lb)
Группа Крови
B [1]
AB
Древо Классов
> > > >
> > > >
> > > >
Актёр Озвучки
김현지 Kim Hyeonji
井口 裕香 Yuka Iguchi
[Uncredited]
Manuela Stüsser
Fátima Ayats
Caroline Combes
Debora Magnaghi
Paula Betscher
Hannah Peterson
Christiane Monteiro
김영선 Kim Yeongseon
杉山 紀彰 Noriaki Sugiyama
JC Hyke
Moritz Pliquet
Hernán Hernández
Bertrand Nadler
Diego Baldoin
Krzysztof Chudzicki
Bruce Duncan
Márcio Araújo
Дата Появления
18 December 2014
1 July 2015
1 July 2015
1 July 2015
2 July 2015
15 July 2015
22 July 2015
Характеристика

Лю / Сиэль

Speed:
Slow
Average
Fast
Attack Range:
Short
Medium
Long
Difficulty:
Easy
Normal
Hard
???
"

Статус, честь, власть. Я все потеряла...
Пока моя жизнь не угасла... Станешь ли ты...
... моей королевской силой...? -Лю


"
"

Я верну тебе трон...
И отдам свою душу...
Наш контракт заключен. -Сиэль


"
Лю/Сиэль
Специализация
Будучи "двойным" персонажем, Лю/Сиэль может либо атаковать врагов тяжелой демонической магией в ближнем бою, как Люси, либо - сочетать быстрые атаки и выстрелы, как Сиэль. Кроме того, можно использовать обоих персонажей одновременно, для создания длинных комбо.

Уникальный Навык
Основная статья: Комбинация
Будучи двойным персонажем, Люси и Сиэль не разделяют ману, а так же имеют специальный навык, известный как "Взаимодействие". Когда один из персонажей помечен как неактивный, он восстанавливает 15 МП в секунду (6 МП в ПвП). Люси и Сиэль имеют 4 параметр, известный как "Индикатор Взаимодействия", который используется исключительно для комбинированных навыков и заполняется только тогда, когда игрок использует обычные комбо или навыки.

История
Люсиэлла
Люсиэлла была владыкой демонов, поддерживающей Демоническую Сферу. Будучи вовлеченной в политическую борьбу, чтобы занять Трон Повелителя Демонов, Лю допустила ошибку и была предана одним из своих вассалов. Её сила была запечатана, а саму её заковали в цепи.
С тех пор, прошло так много времени, что она забыла даже свое имя. В отчаянии, она потратила остатки своих сил, чтобы разорвать цепи и сбежать в Эльриос. Из-за огромного выброса маны, её тело превратилось в тело ребенка. После заключения контракта с Сиэлем, она начинает выслеживать демонов, вторгшихся в Эльриос, дабы вернуть свой титул и власть.

Сиэль
Телохранитель и дворецкий Люсиэллы.
В детстве, родители Сиэля были убиты бандитами, оставив его жить на улице. Будучи готовым сделать все, чтобы выжить, Сиэль, в конечном счете заработал звание одного из известнейших убийц в преступном мире. Однако, все меняется, когда Сиэль находит Люси, лежащую без сознания на земле. Она потеряла все свои воспоминания, кроме имени. Сиэль решает заботиться о ней, до тех пор, пока она не выздоровеет. Но, в одну из ночей, демоны находят Люси и Сиэль умирает, защищая её. Вспомнив все, Люси, видя желание Сиэля защитить её, просит его заключить с ней контракт, по которому он должен стать её слугой. Желая сделать Люси счастливой, Сиэль принимает его и возраждается в качестве полу-демона. Так начинается их совместное путешествие.

Получение Первой Профессии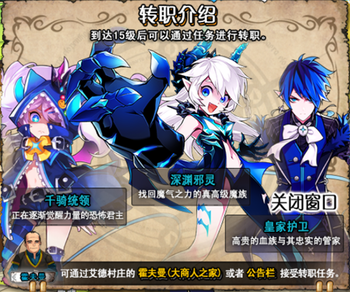 Лю и Сиэль должны получить 15 уровень, чтобы открыть доступ к заданиям на смену профессии.
Power Awaken
После завершения этих заданий, Лю и Сиэль могут выбрать между Chiliarch и Royal Guard.
Нажмите на название профессий ниже, чтобы увидеть, что необходимо сделать после выполнения вышеуказанных заданий.
Chiliarch Royal Guard

Древо Умений
REDIRECT Skill Tree: LuCiel
Комбо
Combo
Description
Damage
Four slashes with her claw that launches targets into the air. Pressing X at the end will switch to Ciel who will kick the enemies mid-air.

161% Phy. Damage
271% Phy. Damage
307% Phy. Damage
313% Phy. Damage
379% Phy. Damage

Lu lunges at the enemy and punches them with her claws, launching them back on her last hit. The third punch and final punch gives her super armor.

272% Phy. Damage x2
308% Phy. Damage x3
344% Phy. Damage x2
705% Phy. Damage

Lu lunges at the enemy and punches them with her claws. She then smashes the ground, launching enemies up. The final hit can be charged by holding Z. Pressing X will switch to Ciel who will slash the launched enemies.

272% Phy. Damage x2
308% Phy. Damage x3
344% Phy. Damage x2
439 ~ 878% Phy. Damage
415% Phy. Damage x3

Single slash downwards
Slashes in midair once, knocking down enemies.
Slashes upwards, launching enemies.
Tumbles over the enemy while smashing her claws into the ground.
Slashes with her claw mid-air and then fires a large fire blast that costs mana. The blast can be reflected or absorbed.
Boosts herself into the air and then launches herself downwards, angled at the closest enemy. Punching the target and then knocking it up. Pressing Z at the end will switch to Ciel who will make a downwards slash with his gunblade.


278% Mag. Damage
182% Phy. Damage x1~infinite + 354% Phy. Damage
412% Phy. Damage
494% Phy. Damage
296% Phy. Damage x3

Recovery /
Perform a twist spin hitting targets both in front and behind, pushing targets away.
Переключение
Вы можете играть за Люси или Сиэля и переключать их в любое время, когда захотите. Если пожелаете - Вы можете играть только за одного из персонажей, но разве это интересно?

Умения
| | | | |
| --- | --- | --- | --- |
| Special Active | Active | Buff | Couple Skill |
Видео
Музыка
Галерея
Ciel Teaser.png

An image of Ciel released early before the announcement trailer.
Дополнительная Информация
Similar to Grand Master, Lu's weapon is only canonically large as shown in her artwork, whereas Lu's gauntlets avatar weapon in-game is of smaller size.
In her artwork, Lu is much smaller than Ciel, however her ingame model size is only a bit shorter then Ciel.
Lu does not always hold on to her gauntlet, as shown in doing expressions, her gauntlet will disappear.
Lu and Ciel shares equipment but do not share costumes nor accessories.

However you are able to share common accessories with the wardrobe system.

The symbol of a four pointed star is a recurring motif in Lu and Ciel's design.
The shape of Lu's tail will change depending on her job advancements.
An interview releasing information about the duo had implied that Lu and Ciel are comparatively weak when played individually, and stated that it is optimal to utilize them both in gameplay to cover for each other's weaknesses.
Ciel is obsessed with anything cute.

He adores phorus especially, with Elsword even commenting on his phoru pajamas.
He even states in his prologue that he may have helped Lu simply because she was cute.

Ciel is shown to be a skilled baker and has a vast knowledge of herbs that rivals those of elves, according to Rena.

Despite this, he dislikes being labelled as a butler, even though other characters view him as such.

Prior to joining the El Search Party, Lu and Ciel apparently encountered Raven several times during their journey.
Just like Deadly Chaser's Silver Shooters, Ciel's Gunblades will do physical damage at close range.
Ciel's name means "Sky" in French. This could be why his color is dark blue.