Story/Altera
From Elwiki
Altera, a mysterious floating island situated in the middle of the entire Elrios Continent. Nobody knows why there even exists such an island, especially one that floats, in Elrios...
Funnily enough, the island of Altera is home to the Ponggo Race, a type of bipedal mole race that lives within (not on) the island itself. However, it will soon become apparent that the Island is also inhabited by the leaders of the Nasod, a secret race of extremely advanced technology.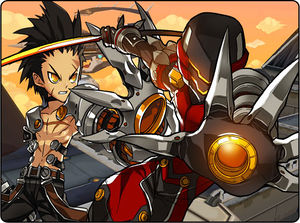 Elsword and the gang ended up crashing in Altera Village. They soon begin to realize that it was the Black Crow battleship that attacked Wally's Airship. Adel has helped the Party to arrange a surprise attack on Raven. Raven was defeated by the Party, and he realized that he was making a mistake all along. He then decided to join forces with his opponents. Raven decided to help the team find the El Shard, so he led the Party to Altera Core to get the stolen El Shard back from King Nasod.
The El Search Party reached the Nasod Foundry, located at the base of Altera Island. They have successfully destroyed the production line to stop the assembly of Nasods, and came face to face with Raven's clone, Crow Rider. Crow Rider was guarding the elevator that connects to Altera core but was defeated by Elsword and his gang. They finally defeated King Nasod and returned the El Shard to Ruben Village. The rest of the Party then left to start their journey through the continent all over again.