Tempest
From Elwiki


[Special Active: Bravery] Use the skill to charge the power of wind. Then press the skill key again to unleash a powerful tempest.
When charging, damage increase by 1.1 times. (Max 1.5 times)
The tempest will create a whirlwind every time it hits. If the skill key is not pressed again within 10 seconds, the skill will be canceled.
NF Consumption Skill
Final Enhanced Skill

Cooldown is decreased by 5 seconds.
Requirements
Skill Information
PvE
Level Required
Damage (Physical)
Charge
Max Hits
MP Usage
Cooldown
Tempest
Whirlwind
Damage Increase Per Second
Max Damage Increase
Duration
Tempest
Whirlwind
Whirlwind Count
95
1414%
210%
+10%
+50%
10 Seconds
1+
6
1 Per Tempest Hit
300 MP
22 Seconds
[Enhanced]
17 Seconds
PvP
Level Required
Damage (Physical)
Tempest
Whirlwind
95
511%
76%
[Enhanced]
Light Tempest
Heavy Tempest
Attribute Effect
MP Usage
Level Required
Attribute Effect
Cooldown
MP Usage decreased to 80%
240 MP
99
Damage increased to 144%
Cooldown increased to 120%
26.4 Seconds
[Enhanced]
20.4 Seconds
Total Damage
Mode
Regular
Normal
Heavy
PvE
5,348% ~ 8,022%
7,701.12% ~ 11,551.68%
PvP
1,934% ~ 2,901%
2,784.96% ~ 4,177.44%
The skill does on average 2 Tempest hits and 12 Whirlwind hits.
Related Skills
Tips and Details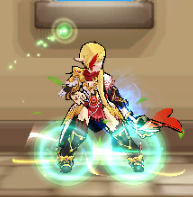 The tempest will create at least one whirlwind per enemy it hits, but the tempest can hit one enemy multiple times at certain intervals. Only very small enemies will only be hit by one tempest hit, and most enemies, including players, will take at least 2 hits, creating 2 whirlwinds. With the right positioning, a medium-sized enemy like the Giant Training Monkey can sometimes be hit by 3 tempest hits.

Due to this, not only is the skill great for clearing, large bosses will be hit by the tempest many times, creating a large number of whirlwinds.

The whirlwinds will knock non-Super Armor enemies to the sides, bouncing them between multiple whirlwinds usually, which can result in a loss of hits.
The whirlwind created by the tempest deals splash damage to all enemies nearby, allowing the skill to do high damage on tightly grouped enemies.
This skill doesn't show up as a buff but upon using it, but Rena will gain small gusts of wind around her feet. Once the skill is fully charged, the gusts will flash and a green aura will instead swirl around her feet until the skill either is used or expires.
The skill will cause skill freeze both on initial use and when actually casting the skill.
Possible bug: if you release the skill right before it expires, it will not possess cooldown.
Old Version

In the past, Tempest was a series of attacks starting with a rush forward, followed by two powerful wind kicks, and finished with a quick dive.
Updates
Date
Changes
KR
NA
PvE
PvP
11/03/2016
-

Tempest added.
▼ Kick damage decreased.
▼ Stomp damage decreased.

01/25/2017
-
04/27/2017
-

▼ Stomp damage decreased.

07/27/2017
-
09/28/2017
10/18/2017
12/07/2017
-

Fixed NF orb proc not dealing damage when [Enhanced].

04/05/2018
04/18/2018
06/20/2019
07/17/2019
Alternative Names
Server
Name
Translation
South Korea
템페스트
Tempest
Japan
テンペスト
Tempest
China (Simplified Chinese)
暴风雨
Tempest
Germany
Dämonensturm
Demon Storm
Spain
Tormenta demoníaca
Demonic Storm
France
Tempête
Tempest
Italy
Tempesta demoniaca
Demonic Storm
Poland
Demoniczna Burza!
Demonic Storm!
United Kingdom
Demon Storm
Brazil
Tempestade
Tempest