Valentine's Race
From Elwiki
This is an Event Map.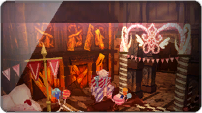 Valentine's Race
| | | |
| --- | --- | --- |
| " | Valentine's Race. 1 Dimension Cookie Box, 1 Dimension Chocolate Box, 1 Cup of Dimension Candies, 1 Cup of Dimension Marshmallows, and if we add 1 Dimension Flower Bouquet... Huh?! This... Flavor...! | " |
Description
Bittersweet St. Valentine's Race Dungeon starts now!
Entry Requirements
A mount is required to enter
This dungeon can only be played solo
Obstacles
Obstacles Image
Obstacles Description
Slime Trap - Stepping on the slime will inflict Slow Motion (Speed Decreased) for 1 second.
Launch Pad - Jumping on this platform will propel you into the air at a given direction.

}}
Dialogue
Elsword: I want to eat it right now... Mmmmm.
Aisha: It's... a piece of cake for a genius wizard! Now watch me!
Rena: We can make quite a lot with all these ingredients!
Raven: (Seris...)
Eve: Looks fun. Moby, search for a recipe.
Chung: I could have sworn there was a secret recipe passed down through the Seiker Family...
Ara: This reminds me of the good old days. I insisted to marry my big brother~
Elesis: Whoa... As a knight, I gotta keep my energy up.
Add: Hmm. Considering the tremendous amount of sugar in this, maybe I can come up with a way to condense energy.
Lu: Ciel! Look what I brought you. Bake me some goodies now!
Ciel: Just wait, Lu. I'll make you the most delicious dessert in the world.
Rose: Zero, is there any way that I can send my cooking to the Imperial Princess?
Ain: So this is what humans make! Interesting.
Reward
Image
Item Name
How to Obtain
Effect
Dimension Flower
Obtained in the Flower Stage.
Crafting material for Sweet Love Gift Box.
Dimension Cookie
Obtained in the Cookie Stage.
Crafting material for Sweet Love Gift Box.
Dimension Chocolate
Obtained in the Chocolate Stage.
Crafting material for Sweet Love Gift Box.
Dimension Marshmallow
Obtained in the Marshmallow Stage.
Crafting material for Sweet Love Gift Box.
Dimension Candy
Obtained in the Candy Stage.
Crafting material for Sweet Love Gift Box.
Charming Crystal
Obtained by successfully clearing the dungeon.
Crafting material for Sweet Love Gift Box.
Sweet Love Gift Box
Crafted at Ariel with the following materials:
Open this box to obtain 1 of the following at random:
Complete the Sweet Love Gift Box event quest by clearing the dungeon 1 time.
Sweet Love Potion
Exchange any one of the following sets of materials at Ariel:
Consumable: Special Recovery

Recovers 100% HP
Recovers 100% MP
Cooldown: 30 secs.

Obtained from Sweet Love Gift Box at random.
Power of Love
Complete the Power of Love! event quest by obtaining the following:

Sweet Love Gift Box x10

Accessory (Bottom Piece):

Physical Attack +20

Magical Attack +20

Physical Defense +20

Magical Defense +20

---

Critical +2%

MP Gain On Attack +1%
Alternative Names
Server
Name
Translation
South Korea
발렌타인 레이스
Valentine's Race
Japan
バレンタインレース
Valentine's Race
Germany
Valentinstag-Sprint
Valentine's Sprint
Spain
Sprint de San Valentín
Valentine's Sprint
France
Course de la Saint-Valentin
Valentine's Race
Italy
Sprint del giorno di San Valentino
Valentine's Sprint
Poland
Walentynkowy Sprint
Valentine's Sprint
United Kingdom
Valentine's Sprint
Brazil
Corrida de São Valentim
Valentine's Race