Ara
From Elwiki
Little Xia (小侠)
Name
Ara Haan (Chinese: 韓艾拉; pinyin: Hán Àilā)
Class
Little Xia (小侠)
Weapon
Spear
Age
17
Race
Human
Birthday
December 20th
Height
168 cm (5 ft 6 in)
Blood Type
O
Class Tree
> > > >
> > > >
> > > >
Voice Actors
여민정 (Yeo Min-jung)
佐藤 聡美 (Satomi Satō)
Dina Sherman
Annette Potempa
Paula Ribó
Virginie Ledieu
Emanuela Pacotto
Karolina Kalina
Milena Merril
Release Date
20 December 2012
24 July 2013
18 December 2013
18 December 2013
19 December 2013
Statistics

Speed:
Slow
Average
Fast
Attack Range:
Short
Medium
Long
Difficulty:
Easy
Normal
Hard
Physical
| | | |
| --- | --- | --- |
| " | Until I face my brother again... I cannot give up! | " |
Ara
[The daughter of the Haan Family in Northern Fluone]
A job that utilizes the long range of a spear and also the power of 'Eun'.
Special Ability
Ara also has a unique trait that separates her from the others; the "Spirit Energy" she uses, which can be used as a substitute for MP. Ara's Awakening is similar to that of Chung's Freiturnier in that 3 awakening beads will bring on a change in appearance. In Ara's case, she gains the tails of a 9-tailed fox, and white hair.

Background
The young lady Ara of the Haan warrior family in Fluone's Northern Empire is a skilled martial artist specializing in the spear. One day, she came very close to death when her brother Aren, now known as Ran, came upon the Dark El, transformed into a demon, and led other demons to attack and destroy their village.
At that moment, she found the heirloom—an old hairpin, from which a spirit's powers emerged to help her drive the demons away. It was the spirit of the nine-tailed fox named Eun. The spirit agrees to keep lending Ara her abilities in order to find Aren, and in return, Ara promises to help Eun find El that is strong enough to set her free from the heirloom. In awakening, Eun's mythical presence takes over Ara. Soon, in her journey to find Ran, Ara meets Elsword and the El Search Party. Together, they may yet recover Aren and the El.

Side Story
In the Northern Empire, resides a martial arts family, known for having sealed the destructive Spiritual Beast, Eun. After the great El explosion, the Haan family was able to wield the power of the Moon El after it flew into their territory following the great El explosion, turning them into fierce warriors. This did not sit well with others in the capital, who tried to quell their power by appointing the eldest son, Aren as the capital's guard captain. Within the family, some Ara's siblings weren't too pleased with her and her mother being a part of the family, all except Aren who treated her like a sibling. She tried her best to be as perfect as can be, in order to avoid being teased by her other siblings, but due to Aren's respect for her, she was able to withstand the teasing from her other siblings, knowing that at least one of them cared for her.
Ara saw herself as a failure who despite her best efforts, continued to fail at martial arts. Aren showed up to ease her resentful mind, and ordered her to spar with him. After pushing her to do her best, she defeated him, much to his amazement as he encouraged her to continue devoting herself to training. During a festival worshiping the Spiritual Beast, Ara struggled to find excuses to avoid participating in a sparring contest, in fear of soiling her family's reputation. As she hid, she overheard members of the Zhen family questioning the Haan family's reputation after defeating her siblings in sparring, including Aren who had previously injured his arm. Aren pointed out there was one participant remaining, which was Ara, who he escorted to the arena. Remembering her brother's words of encouragement, she managed to defeat the Zhen family participants, earning the Haan family the final victory of the sparring contest. Aren smiled in delight at her accomplishment, knowing that she was on the path to becoming a great warrior.

First Class Advancement
Ara is required to be Lv 15 to begin her first class advancement.
Ara can decide between advancing as Little Hsien, Little Devil or Little Specter.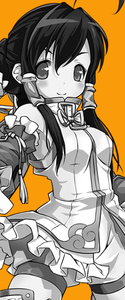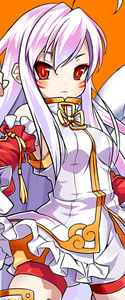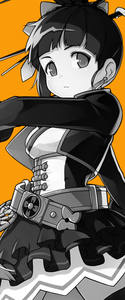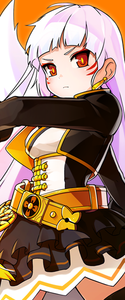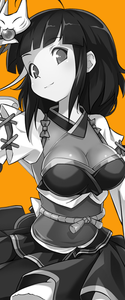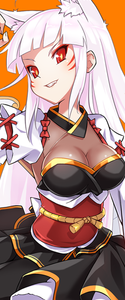 Skill Tree
Skills
Passives
Locked
Level 1
Level 5
Level 10
Level 15
Level 20
Skill Traits unlocked at Level 20.
Final Enhanced Skill unlocked upon advancing to 1st job class.
Combos
Combo
Description
Damage
Ara stabs an opponent with her spear, then pulls her spear out. She will then perform Wolf Stance 1, thrusting her spear forwards twice quickly before swiping her spear, launching enemies forward. The combo can be repeated on its own as Ara will immediately be able to attack again after the final hit.

144% Phy. Damage
178% Phy. Damage
111% Phy. Damage x2
93% Phy. Damage x3


Ara stabs an opponent with her spear, then pulls her spear out. She will finish by smashing the group launching her back and launching opponent upwards.
Ara stabs an opponent with her spear, then pulls her spear out. She will then perform Wolf Stance 1, thrusting her spear forwards twice quickly before charging up while in Super Armor and unleashing a final powerful stab which slightly lifts opponents.

144% Phy. Damage
178% Phy. Damage
111% Phy. Damage x2
275% Phy. Damage
+ 101% ~ 151% Phy. Damage x4


She swipes her spear around her twice then transitions to a series of spinning strikes which will finish by knocking down opponents.

This combo also hit enemies behind her, similarly to Sheath Knight's XXX~X combo.

220% Phy. Damage
302% Phy. Damage
322% Phy. Damage x2
238% + 119% Phy. Damage x2
+ 306% + 153% Phy. Damage


She swipes her spear around her twice before performing a stab pull with her spear then leaping forwards with Dragon Stance 1, slamming the ground in front. The combo can be repeated on its own as Ara will immediately be able to attack again after the final hit.

220% Phy. Damage
302% Phy. Damage
276% + 69% Phy. Damage
356% Phy. Damage


Single jump upper-swing that staggers targets.
Single jump uppercut that knocks targets up.
Perform Wolf Stance 1 while dashing, thrusting twice in front quickly, before charging up while in Super Armor and unleashing a final powerful stab which slightly lifts opponents.
Leap forwards and perform Dragon Stance 1, slamming the ground with her spear.
After jumping in the air, perform two large upward slashes with her spear and finish is off by swinging her spear downwards spiking enemies down.
While in the air, stab the target and pull herself behind targets.
Recovery /
Slash back and forth with her spear.
Updates
Date
Changes
KR
NA
12/18/2014
-
07/27/2017
-

▲ Recovery combos no longer launch.

07/04/2019
07/31/2019

▲ Adjusted command responsiveness to allow for less restrictive movement.
Movements
Ara has various unique types of movement. She can:
Skills
| | | |
| --- | --- | --- |
| Special Active | Active | Couple Skill |
Theme
Videos
Gallery
Artwork
Miscellaneous
Trivia
Ara's job path in Lore/Story would be the Apsara path.
Ara officially joins the main cast after the Hall of Water story quest Water Priestess Rescue.
Eun is based off the nine-tailed fox, a species of creature depicted in the Shan Hai Jing as having the voice of a human infant. It can be eaten by humans, and those who eat it will be protected from evil.
While Eun's seal is supposedly the entirety of the white fox-shaped hairpin, further job advancements show that it is actually the small orange gem embedded in it that is Eun's real seal, being the only consistent object part of each path's hair decorations.
Ara's full name, Ara Haan, was probably based on the term "Arhat" (or "Arahant"), from the Buddhism, that means: "one who is worthy", "a perfected person who has attained nirvana"
Ara is from Fahrmann, in the Northern Xin Empire. This region has not currently been explored during the main story with the exception of the Raid Fahrmann's Peak and Ara's tutorial A burning village.

While the region itself is called Fahrmann, Ara comes specifically from the village of Isshin, which is known for housing the Moon El as well as the sacred beast hairpin Eun.

Ran, the main antagonist during the events of Hamel, was once known as Aren Haan and is Ara's older brother.
Ara is the only character that does not speak her skill names in English when using skills. Instead, she says various phrases in the language of the server you are on.
Ara is the first character to have a different color outline when attacking. Her outline is yellow, while all prior characters' outlines are blue.
Ara's design is influenced by Eastern culture and religion. This makes her job names to be written in Chinese on the Korean server.

All of Ara's job names are direct transcriptions from Chinese to Hangul, which in most cases, due to the religious ties between the two languages, means the Korean name has the exact same meaning as the Chinese name and are pronounced almost the same. In other cases, however, such as Devi, the Korean might not mean anything outright, with the name's origin solely coming from the given Chinese name.

Ara's base job name; 小侠 (Little Xia), means a person who is young and brave/chivalrous in English.
Ara and Elesis are the only characters to utilize their pre-renewal portraits as their Epic Quest portraits.
Ara is depicted as being a bit of an airhead, being very clumsy and often making mistakes while being bad at dancing. Like Aisha, she's also afraid of insects.
Ara wrote the skill note Shadow Spear Technique and True Moonlight Slash.
The side story My Brother & I 2 looks into Ara's family history.
Ara is currently the only playable character to be depicted as being explicitly left-handed in combat.
Her Celestial Fox skill cut-ins will only trigger if the proper cut-in for the current class is equipped. Equipping any other custom cut-in, including the cut-ins of previous classes, will not trigger the Celestial Fox cut-in.
During the Master Class update, Ara decides to accompany Gaia on his way to Calonne, as she wants to see how the Northern Empire is doing, it being her homeland.

She ends up sparring with the Earth El Master Gaia who focuses on hand-to-hand combat, which befits Ara who is trained in martial arts much the same way. All of her sub-classes also relate to the earth in some way, be it the many heavy ground upheaving skills on Apsara, Shakti's spirit-related skills, or Devi's various hell-related skills, which are often tied to the earth element.
Each of their Master Skills are also clearly influenced by Gaia, featuring various trees and referring to him or his element in some way through their skill names and descriptions.
Alternative Names
Server
Name
Translation
South Korea
아라
아라 한
Ara
Ara Haan
Japan
アラ
アラ・ハーン
Ara
Ara Haan
Taiwan (Traditional Chinese)
艾拉
韓艾拉
Ara
Ara Haan
China (Simplified Chinese)
艾拉
艾拉 · 韩
Ara
Ara Haan
Eun
| Server | Name | Translation |
| --- | --- | --- |
| South Korea | 은 | Eun |
| Japan | 白 | Haku |
| China (Simplified Chinese) | 银 | Eun |