Circle Flame
Jump to navigation
Jump to search
Requirements
Skill Information
PvE
Level Required
Damage (Magical)
Max Hits Per Fireball
Number of
Fireballs
MP Usage
Cooldown
Fireball Summon
Fireball Hit
Fireball Summon
Fireball Hit
35
125%
367%
6
6
3
40 MP
6 Seconds
[Enhanced]
32 MP
PvP
Level Required
Damage (Magical)
Fireball Summon
Fireball Hit
35
47%
139%
[Enhanced]
Skill Information (07/18/2019 KR Patch)
PvE
Level Required
Damage (Magical)
Max Hits
MP Usage
Cooldown
35
1713%
3
200 MP
15 Seconds
[Enhanced]
2055%
PvP
| Level Required | Damage (Magical) |
| --- | --- |
| 35 | 585% |
| [Enhanced] | 702% |
Total Damage
Mode
Regular
Double Casting
Normal
Heavy
Normal
Heavy
PvE
6,165%
8,877.6%
4,315.5%
6,214.32%
PvP
2,106%
3,032.64%
1,474.2%
2,122.848%
Heavy Circle Flame
Powerful Circle Flame
Attribute Effect
Details
Attribute Effect
Details
Cooldown
Cooldown
Damage increased to 144%
Cooldown increased to 120%
7.2 Seconds
Super Armor added to the skill
Cooldown increased to 150%
9 Seconds
Heavy Circle Flame
Regenerating (2) Circle Flame
Attribute Effect
Details
Attribute Effect
Details
Cooldown
Cooldown
Damage increased to 144%
Cooldown increased to 120%
18 Seconds
50% chance of lowering cooldown to 40%
6 Seconds
Tips and Details
NA
Circle Flame does not inflict burned condition like normal fireballs
Aisha can be hit during the attack; however, the fireballs will keep spiraling, often pushing the attacker away.
While the damage is listed as increasing over time, this actually really just splits the skill in two halves: The lower damage is used when the fireballs are summoned, the higher damage when they spiral outward. Each "part" can hit up to 6 times, for a total of 18 hits.

The skill will only deal full hits on sufficiently large enemies that are either against a wall or super armored. With the proper positioning, the skill can hit a total of 5 times when the fireballs are summoned, and 5 times when they spiral outward, on an enemy the size of a Large Training Monkey.
Trivia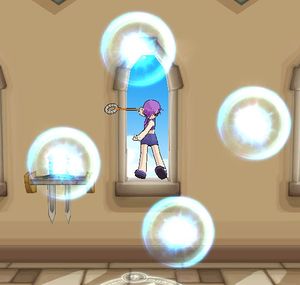 Updates
Date
Changes
KR
NA
PvE
PvP
03/29/2012
-

▲ Each fireball pierces 2 more times.
▼ Damage decreases when the fireballs first appears.

11/07/2013
-

▲ If you learn Freezing Point Investigation, this skill now converted to ice balls, but will not affect damage increase from passive.
▼ Damage from each fireball is reduced with the skill note.

08/06/2015
-
08/13/2015
-

▲ Changed so damage increases after the circle flames created.

Total damage is same as before.

06/30/2016
07/13/2016

Reversed attribute changed to be Powerful.

01/25/2017
-
04/27/2017
-
04/05/2018
04/18/2018
07/18/2019
-

Skill features changed.

Changed from Active to Strength.
Powerful trait changed to Regenerating (2).
Alternative Names
Server
Name
Translation
South Korea
서클 플레임
Circle Flame
Japan
サークルフレイム
Circle Flame
China (Simplified Chinese)
火焰之环
Flame Circle
Germany
Flammenkreis
Flame Circle
Spain
Círculo de llamas
Flame Circle
France
Cercle de feu
Fire Circle
Italy
Cerchio infuocato
Fire Circle
Poland
Płomienny Krąg
Flame Circle
United Kingdom
Circle of Flame
Brazil
Circulo de Chamas
Flame Circle