Difference between revisions of "Ereda Island"
Jump to navigation
Jump to search
---
Revision as of 02:07, 28 April 2017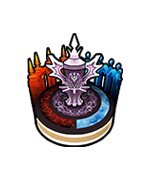 Ereda Island
Ereda Island is a strategic battle mode where you win by destroying enemy's base quicker than your opponents. There are two different versions of this dungeon, each possessing different rewards, gameplay, and opponents. For more information on each version of Ereda Island, use the table below to find the version you are seeking.


Select Icon
Dungeon Name
Time of Availability
South Korean Server
North American Server
Ereda Island (Season 1)
February 13, 2014 ~ November 6, 2014
July 30, 2014 ~ April 29, 2015
Ereda Island (Season 2)
November 6, 2014 ~ March 16, 2017
April 29, 2015 ~ April 26, 2017
Ereda Island (Season 3)
Current Dungeon as of March 16, 2017
Current Dungeon as of April 26, 2017
Alternative Names
| Server | Name | Translation |
| --- | --- | --- |
| South Korea | 에르다 아일랜드 | Ereda Island |
| Taiwan (Traditional Chinese) | 艾特島 | Ereda Island |
| China (Simplified Chinese) | 艾达岛 | Ereda Island |
| Germany | Insel Ereda | Ereda Island |
| Spain | Isla de Ereda | Ereda Island |
| France | Île d'Ereda | Ereda Island |
| Italy | Isola di Ereda | Ereda Island |
| Poland | Wyspa Ereda | Ereda Island |
| Brazil | Ilha de Ereda | Ereda Island |