Eternity Winner
Jump to navigation
Jump to search
Eternity Winner
Name
Laby
Class
Eternity Winner
Weapon
Mirror
Class Tree
> > > >
Release Date
6 December 2018
3 January 2019
3 January 2019
9 January 2019
10 January 2017
Statistics
Eternity Winner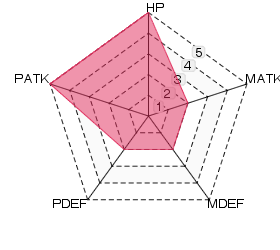 | | | | |
| --- | --- | --- | --- |
| Speed: | Slow | Average | Fast |
| Attack Range: | Short | Medium | Long |
| Difficulty: | Easy | Average | Hard |
| | | |
| --- | --- | --- |
| " | I'll be brave. This is my happiness! | " |
Eternity Winner
[자긴의 감정을 통제해 힘으로 발휘하는 영원의 승리자]
두려워하던 니샤의 존재를 명학히 알게 되면서 니샤의 힘을 이용할 수있다는 학신을 가집니다. 강해진 라비는 즐거움을 줄 새로운 도전자를 기다럽니다.
Background
승리를 위해서라면 스스로의 감정마저 힘으로 바꾸어 싸우는 챔피언. 수많은 대련을 통해 쌓아 올린 화려한 권법으로 승리를 거머쥐는 전직.
좋아하는 것을 쫓아서 계속했던 여행. 수많은 전투를 통해 라비는 끊임없이 성장한다. 그러나 명확히 정하지 못한 니샤와의 관계는 계속해서 라비의 발목을 잡는다. 니샤의 정체를 알게 된 후로 니샤는 더 이상 라비에게 불안한 존재가 아니었다. 그러니 더 이상 피하기만 할게 아니라 오히려 니샤를 힘으로 이용할 수 있다면...
"확신이 들어. 지금의 나라면, 너를 완벽하게 통제할 수 있어."
자신이 좋아하는 전투를 위해 기꺼이 니샤를 사용하기로 마음먹은 라비. 남아있던 한줌의 불안까지 깨끗하게 해결한 라비는 자신이 행복감을 느낄 수 있는 강한 자와의 싸움을 위해서라면 싫어하던 것마저도 자신의 힘으로 바꾸어 싸우는 영원의 승리자로 거듭난다.

Third Class Advancement
After unlocking Transcendence and reaching Lv. 99, you will be eligible to advance to the 3rd job. To receive the 3rd job quest, click on the job change notification located below the map select.
3rd Job can also be obtained by using the Item Mall item: Symbol of Victory
.
Eternity Winner
Clear Forgotten Elrian Sanctum once.
Collect 5 Traces of Primordial Chaos (Chrysalis, 11-6: Forgotten Elrian Sanctum).
Collect 20 Grand Compass Pieces (Skin Splitter, Elrianode).
Defeat 2,000 Henir Mutated Monsters in 11-3: Elrianode City and 11-4: Debrian Laboratory.
Defeat Spatio Reaper 30 times. Spatio Reaper can be found in 11-3: Elrianode City or 11-5: El Tower Defense.
Upon advancing to third job, you will receive:
Skill Tree
Skills
Passives
Locked
Level 99
Additional Combos
 : All damage values for new and preexisting combos receive a 1.15x multiplier during 3rd job.


Image
Description
Damage
Rising Star

After performing an uppercut, follow enemies into the air together with Nisha to punch them one more time.

Shoulder Charge

After warping past enemies, charge up a shoulder charge before slamming into enemies in front. You are in Super Armor both while charging up and when charging forward.
Skills
| | | |
| --- | --- | --- |
| Hyper Active | Force Change Skill | Passive |
Force Passive

Rare/Elite/Unique

Legendary

Force Ability

Rare/Elite/Unique

Legendary
Videos
Gallery
Artwork
Miscellaneous
Trivia
Eternity Winner follows the reveal of what Nisha is during Distorted Memory Gap and decides to use her sadness as a strength in combat, fully doing away with any anxiety she may have had from her.

This is shown by Nisha no longer being sealed up by any straps in the promotional outfit, as well as the It's Alright Now passive that turns the debuff for Nisha skills into a buff.
Alternative Names
| Server | Name | Translation |
| --- | --- | --- |
| South Korea | 이터니티 위너 | Eternity Winner |
| China (Simplified Chinese) | 永恒胜利者 | Eternity Winner |