Eye of the Storm
From Elwiki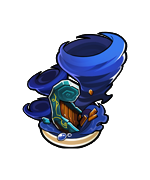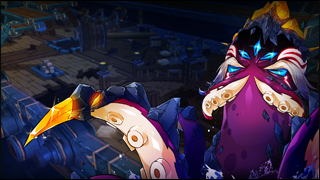 Eye of the Storm
| | | |
| --- | --- | --- |
| " | Eye of the Storm. The ship is swept by rough waves. The sound of cannon fire pierce through the rains. | " |
Description
The ship is swept by rough waves. With rain, came chilling fear.
Dungeon Layout

Ally
| Ally Image | Ally Description |
| --- | --- |
| | Cannon - One of the ship's cannons. Use them to blast the beast unconscious, making him open for an all out attack. |
Mobs
| Monster Image | Monster Description | Monster Moves |
| --- | --- | --- |
| | Leap Octopus Leg - One of the beast's large tentacles. It will block the way to the many cannons on the ship. | Whip: The tentacles can swipe at nearby targets. |
| | Pawn Fisher - A fat flying fish creature. | Water Beam: Fire a thin compressed stream of water out of its mount at a downward angle. |
Obstacles
| Obstacles Image | Obstacles Description |
| --- | --- |
| | Pitfalls - A gaping hole in the ground, falling down one of these will result in a percent loss in HP. |
Boss
Monster Image
Boss Description
Boss Moves
Leap Octopus - A large octopus monster has attacked the ship. It must be stopped.

Pawn Summon: It is able to summon Pawn Fishers as reinforcements.
Water Jet: The octopus will cause water to burst out in a small pillar indicated by a blue light.
Tentacle Smash: The octopus will slam one of its tentacles on the stage, indicated by a large blue light.
Updates
Date
Changes
KR
NA
12/06/2018
01/03/2019
Alternative Names
| Server | Name | Translation |
| --- | --- | --- |
| South Korea | 폭풍의 중심 | Eye of the Storm |
| Germany | Das Auge des Sturms | Eye of the Storm |
| Spain | Ojo de la Tormenta | Eye of the Storm |
| France | Œil du cyclone | Eye of the Cyclone |
| Italy | Occhio del Ciclone | Eye of the Cyclone |
| Poland | Oko Wichury | Eye of the Storm |