Flame Lord
Jump to navigation
Jump to search
Flame Lord
Name
Elesis
Class
Flame Lord
Weapon
Claymore, Fire Magic
Age
21
Class Tree
> > > > 40px
Release Date
28 December 2017
Statistics
Flame Lord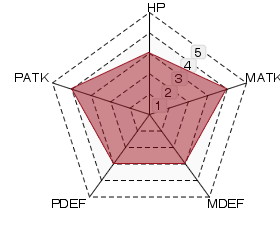 | | | | |
| --- | --- | --- | --- |
| Speed: | Slow | Average | Fast |
| Attack Range: | Short | Medium | Long |
| Difficulty: | Easy | Average | Hard |
| | | |
| --- | --- | --- |
| " | Ah~ I hate complex thinking. Come at me, I'll just burn you all up...! | " |
Flame Lord
Specialty
Background
Flame incarnate who shrouds herself with primal fire.
A job that become flames itself to burn everything within a moment.
Becoming adept in controlling the power of flames after continuous battles with strong foe, Elesis realizes yet another hidden potential within her.
To not just release her power, but rather to change the vessel that holds power itself.
A tragedy where she burns herself up with overwhelming fire and turn into ashes... It would be a lie to say that she would never have thought of it.
However, Elesis realizes that she needs to embrace the fire and overcome her fears, deciding to release all of her power- trusting the experience and herself who have grown from it.
"'Alright, let's fire it up once more!'"
Mastering the skills of becoming flame itself, Elesis becomes an incarnation of flames that burns the battlefield.

Third Class Advancement
After unlocking Transcendence and reaching Lv. 99, you will be eligible to advance to the 3rd job. To receive the 3rd job quest, click on the job change notification located below the map select.
3rd Job can also be obtained by using the Item Mall item: ??
.
Flame Lord
Clear Forgotten Elrian Sanctum once.
Collect 5 Traces of Primordial Chaos (Chrysalis, 11-6: Forgotten Elrian Sanctum).
Collect 20 Grand Compass Pieces (Skin Splitter, Elrianode).
Defeat 2,000 Henir Mutated Monsters in 11-3: Elrianode City and 11-4: Debrian Laboratory.
Defeat Spatio Reaper 30 times. Spatio Reaper can be found in 11-3: Elrianode City or 11-5: El Tower Defense.
Upon advancing to third job, you will receive:
Skill Tree
Skills
Passives
Locked
Level 99
Additional Combos
 : Flame damage is calculated before Body of Fire.

 : All damage values for new and preexisting combos receive a 1.15x multiplier during 3rd job.


Image
Description
Damage
Land Ignition

After doing , slash short ranged waves of fire forwards with the last wave being larger and having more range.

149% Phy. Damage
 ???% Mag. Damage
 ???% Mag. Damage
 ???% Mag. Damage

Waves of Fire
Skills
| | | |
| --- | --- | --- |
| Hyper Active | Force Change Skill | Passive |
Force Passive

Rare/Elite/Unique

Legendary

Force Ability

Rare/Elite/Unique

Legendary
Videos
Gallery
Artwork
Miscellaneous
Trivia
When you awaken as a Flame Lord, your hair will change to a more firey hairstyle. This applies to costume hairstyles too.
The edge of Flame Lord's blade is consumed in flames. The fire on her in-game weapon is not animated.
Alternative Names
| Server | Name | Translation |
| --- | --- | --- |
| South Korea | 플레임 로드 | Flame Lord |
| China (Simplified Chinese) | 圣焰之主 | Sacred Flame Lord |