Guardian of Santa's Gifts
From Elwiki
This is an Event Map celebrating Christmas (2016).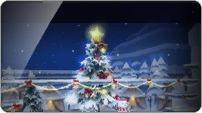 Guardian of Santa's Gifts
| | | |
| --- | --- | --- |
| " | Guardian of Santa's Gifts. It's Christmas, have you been good to receive Santa's gifts? Every adventurer of Elrios has received one, but those mean troublemaking Phorus are angry because they didn't get any.... | " |
Description
Let's protect Christmas gifts from Phorus coming at us with snowballs!
Entry Requirements
This dungeon can only be played with a party of 3 players.
Details
Christmas is here and it brings good cheer! Time for kids to receive gifts from Santa Claus and the El Search Party is no exception. However, the naughty Phorus are angry that they didn't get any so they've stolen the group's presents. Beat the naughty Phorus and take back what's rightfully yours!
How to Play
This dungeon is separated into 3 stages, all taking place on the same exact map, and all lasting 3 minutes each. At the start of each stage, one of the three players will be given the task of holding a present, which will give them a debuff which lowers their movement speed. This player must avoid the Fake Santa Phorus and giant snowballs at all costs, as just one attack will cause them to instantly die and causing the party to fail the stage.
The other party members are tasked with defending the present holder by killing as many Fake Santa Phorus as possible. Getting attacked by one will give the player a -30% movement speed debuff for 5 secs. Each phoru killed will decreased 3 seconds from the timer, allowing you to clear the stage even faster. After successfully protecting the presents for all 3 stages, you will clear the dungeon.
---
Mobs
Monster Image
Monster Description
Monster Moves
Fake Santa Phoru - The Phorus are trying to steal Santa's gifts! Stop the thieves and save Christmas!

Snowball Throw: The Phoru will throw a snowball. Lethal against the player holding the gifts.

}}
Obstacles
Obstacles Image
Obstacles Description
Giant Snowball - Snowballs will occasionall roll from one side of the map to the other. Lethal against the player holding the gifts.

}}
Dialogue
Fake Santa Phoru: A bad kid can't receive a gift? Then I'll take yours!
Alternative Names
| Server | Name | Translation |
| --- | --- | --- |
| South Korea | 산타의 선물 수호대 | Santa's Present Guardians |