Rusty Child
From Elwiki
Rusty Child
Name
Laby
Class
Rusty Child
Weapon
Mirror (Nisha), Black Forest Energy, Memories
Age
Unknown
Class Tree
> > > >
Release Date
31 January 2019
Statistics

Rusty Child

Speed:
Slow
Average
Fast
Attack Range:
Short
Medium
Long
Difficulty:
Easy
Normal
Hard
???
| | | |
| --- | --- | --- |
| " | I'm a little worried... You'll be by my side, right? Nisha. | " |
Rusty Child
[-]

Background
Even after leaving the Forest, Laby felt something looming over her. She was able to defeat the enemies with Nishas help, but ended up injuring Bellonde. Laby felt guilty about the wound she inflicted on him which couldn't heal after battle.
Laby realized that outside the forest, no one is like her. She was an outsider, whose body was strangely light as opposed to the Black Forest, and she was an outsider even here.
"I am... alone here too?"
Confused, she depends on Nisha, who was her sole place, who's been there for her since her days in the Black Forest.
"Everyone's different from Laby. But you, Nisha, you will listen to my story, won't you?"
The Voice disappeared, and Bellonde was kind to her, but the distrust she held in her heart grew stronger, consuming her. The more it went on, the more she became aware of Nisha's existence; she closes off her heart and depends on Nisha.

First Class Advancement
After reaching lvl 15, Laby can decide between advancing as a Sparky Child, Twinkle Child or Rusty Child.
Rusty Child can also be obtained by using the Item Mall item: Rusty Child's Fear
.
Rusty Child
Clear L1-2: East Lurensia Port.
Speak with Spring of Memory in Laby's Imaginary World.
Clear L1-3: The Lariness.
Upon reaching Lv. 35, a Rusty Child can advance into a Daydreamer.
Skill Tree
Skills
Passives
Locked
Level 15
Level 25
Level 30
Level 35
Skill Traits unlocked at Level 40.
Final Enhanced Skill unlocked upon advancing to 2nd job class.
Additional Combos
 : All damage values for new and preexisting combos receive a 1.05x multiplier during 1st job.


Combo
Description
Damage
Tree Toss

After performing her dash jump attack, Laby will throw a tree stump at a diagonal angle downwards.

Puddle Stomp

After performing her neutral air kick, Laby will dive straight down to the ground.
Growth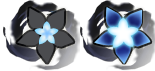 Upon advancing to Rusty Child a new gauge will appear next to your Skill Slot, consisting of a blue flower with empty petals representing Growth stages.

Gain one stage per [Laby's Friend?] skill used while a [Memory of the Forest] is on the field, up to a maximum of 5.
Enhances the response attack and sacrifice attack for each Growth stage.
Growth stages also affect certain passives.

Only one [Memory of the Forest] can be active on the field at any time, and sacrificing one will always consume all Growth stages from the gauge. If a [Memory of the Forest] skill is in a Transcendence Skill Slot, it will only gain damage on its initial summoning attack. [Memory of the Forest] skills also do not go on cooldown until they are sacrificed. Additionally, any response skill will always gain the effect of 1 Growth stage at minimum when used.

[Memory of the Forest] skills include Poco~, Wooki~, Zumyu~ and Bibi~.
[Laby's Friend?] skills include all other Special Active skills, except those gained at Laby's Base class.
Growth specifically affects the passives I'm not alone, Awakened Will: Daydreamer and Equivalent Exchange.

Skills
| | | |
| --- | --- | --- |
| Special Active | Active | Passive |
Gallery
Artwork
Miscellaneous
Trivia
Laby is relatively similar to her base appearance, but many of the plant-like features already present are shown to be overtaking her body in this path.

The small vines on her back gain thorns and grow into a nearly tail-like appearance, and the bright blue flower bud on her chest has bloomed open, revealing a dark purple flower.

Nisha looks almost identical to how she appears initially, but the upper section has been overgrown by the dark blue flower, and the bottom section has shattered, with the pieces spiraling towards the center of the "mirror". The black aura originally contained is dripping out of the bottom as a result, and is no longer filling up the entire frame.
Strangely, despite both the Awakening Skill and Crunch N' Munch using the same thorn vines this path is entirely based around, this path deals Physical damage, not Magical. The same goes for various of the black aura effects used in attacks like and Oops!, which again clash with the damage type used for those same effects in Splashy Splashy.
Unlike all other additional systems like You and I or Wavering Faith, this class's system gauge is not given by a passive at all, simply being granted the moment you job change.
Alternative Names
| Server | Name | Translation |
| --- | --- | --- |
| South Korea | 러스티 차일드 | Rusty Child |