Gate of the Setting Sun
From Elwiki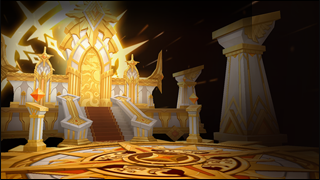 Gate of the Setting Sun
[
edit
]
| | | |
| --- | --- | --- |
| " | Beyond the great gates, the setting sun heats the ground. | " |
Description
In order to find the answer again, you face the Sun Master.
| | |
| --- | --- |
| | Required Combat Power |
Entry Requirements
Must have reached level 99 and completed the quest [Dungeon] Master Road Entry.
Details
Only 1 Resurrection Stone can be used to revive in Hell mode.
Environmental Debuff - Light of the Sun
The Sun's light purifies everything touch you, Attack and HP will be reduced by 30% (70% on Phase 2). Effects are reduced by Adaptation.
Boss
Monster Image
Boss Description
Boss Moves
Master Solace - The El Master of Light.

Marks of Light: A gauge will appear under Solace's health bar at the start of the fight, with 5 empty marks. Whenever Solace lands a hit on a player, that player will receive the Sunlight debuff, decreasing movement and jump speed for 30 seconds. Being hit by any of Solace's attacks while you have the Sunlight debuff will remove the debuff and add 1 Mark of Light to the gauge. After he gains 5 marks, Solace will enter an empowered state for 30 seconds, dealing higher damage and enhancing some of his attacks.
Slash: Solace slashes players in front once.
Shield Bash: Solace bashes players in front with his shield, inflicting heavy hitstun, before following up with a slash attack.
Light Pillar: Solace will raise his sword into the air, causing a pillar of light to appear on top of a designated player. Solace can target multiple players at once with this attack. The width of the pillar of light is increased while Solace is empowered.
Rain of Light: Solace casts the Light Pillar attack in rapid succession.
Solar Bomb: Solace will summon a small orb of solar energy which slowly follows a target, gradually speeding up as it travels, exploding on contact. The orb persists indefinitely until it hits a player and deals a certain percentage of your current HP.
Shield Guard: When Solace's MP bar is filled, he will enter a defensive stance for a short period, with golden wings appearing at his back. Whenever Solace is attacked during this stance, he will create a tracking sword that homes in on players and deals significant damage.
Blinding Light: Solace charges up his shield with light energy before causing it to burst forward ahead of him, stunning players in range.
Solar Pillar: Solace summons a solar pillar that persists in the battlefield, damaging anyone that comes in contact with it.
Wall of Light: Solace's first phase ultimate attack. He will warp to the center and become invincible, while creating a Solar Pillar somewhere on the map if none are active currently. From the side of the map, walls of light will slowly sweep to the other side of the map before exploding, doing massive damage. These walls must be attacked and destroyed to create a safe area in their path. Any active Solar Pillars will disappear after this attack.

Attacks highlighted in red bypass Invincibility frames.

Master Solace (Phase 2) - The El Master of Sun after he has been depleted to half health. Passing through the gates, Solace emerges imbued in the power of light.

HELL MODE ONLY
Solace is able to use all abilities from phase 1 with the following adjustments:

Light Pillar: The size of the light pillar is larger by default, and increases even further while Solace is empowered.
Solar Pillar: The damage of the pillar is significantly increased.
Shields of Light: Hitting Solace too much while he's guarding with Shield Guard will cause him to create a set of four Shields of Light that spin around and absorb the damage for him. The shields break after a certain amount of damage is dealt.
Gate of the Setting Sun: Solace's ultimate attack, he will charge energy in the center of the stage while the field is filled with various prisms of light in the shape of a diamond, triangle, and four-sided star. When destroyed, each prism will provide one buff, one of each must be broken in order to gain immunity to Solace's attack.

After performing this, Solace will be fatigued and have his defense reduced drastically temporarily.
Solace's overall defense will decrease each time he performs this attack.
Tips

Prisms can ONLY be destroyed with command attacks.
The prisms applies the buff in a small area after being destroyed. weak-command classes should go with stronger-command classes so they can get the buffs.

Attacks highlighted in red bypass Invincibility frames.

Note:

It is advised that summoners make sure their summons don't hit Solace while he's guarding, even if they can do so without taking damage, as it will make Shields of Light appear.

}}

Solace's defense is insanely high at the start of the hell phase. As he uses Gate of the Setting sun multiple times, his defense starts to get progressively reduced.
Boss Drops
BGM

Image
Name
Boss
Character
Stats
Set Effects

Sun Aura Insignia

Master Solace

Common

Face Accessory (Bottom):
Damage dealt to Boss Monsters +1%


---

[Unidentified * 1]


2 Pieces:

+3% Physical Attack Power
+3% Magical Attack Power
Adaptation +1%

3 Pieces:

Max MP +20
Polarize +3%
Adaptation +2%






Trivia
The Mark of Light gauge is a callback to his Mark of Judgement gauge during his fight in Solace's Fortress.
The swords summoned during his Shield Guard act identical to the swords summoned by the Eclipse title.
Updates
Date
Changes
KR
NA
02/27/2020
03/25/2020

Gate of the Setting Sun added.

05/13/2021
06/23/2021

Phase 2 damage reduction decreased.
Alternative Names
Server
Name
Translation
South Korea
황혼의 문
Twilight Gate
Germany
Tor der Dämmerung
Twilight Gate
Spain
Portal del Ocaso
Gate of the Setting Sun
France
Porte du crépuscule
Twilight Gate
Italy
Porta dell'Alba
Daybreak Gate
Poland
Brama Zmierzchu
Twilight Gate
United Kingdom
Twilight Gate
Brazil
Portão do Crepúsculo
Twilight Gate