Head Shot
From Elwiki
For the Bloodia skill by the same name, see Head Shot (Rose).


[Active] Fire a precise shot. 30% chance to cause double damage.
Final Enhanced Skill

25% chance to fire 2 bullets.
Requirements
Skill Information
PvE
Level Required
Magic Bullet
(Magical)
Number of
Penetrations
Double Damage
Chance
Double Shot
Chance
Max Hits
MP Usage
Cooldown
15
742%
Infinite
30%
N/A
1
30 MP
4 Seconds
[Enhanced]
25%
1 (2)
PvP
Level Required
Magic Bullet (Magical)
15
296%
[Enhanced]
Powerful Head Shot
Enhanced Head Shot
Attribute Effect
Cooldown
Attribute Effect
Super Armor added to the skill
Cooldown increased to 170%
6.8 Seconds
Critical Hit Rate increased to 100%
Damage decreased to 80%
Total Damage
Mode
Regular
Normal
Enhanced
Normal
Double Shot
Normal
Double Shot
PvE
742%
1,484%
593.6%
1,187.2%
PvP
296%
592%
236.8%
473.6%
Related Skills
Tips and Details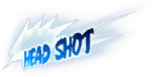 When the double damage effect applies, the Head Shot icon will appear.
When drawing his gun, all surrounding targets will be damaged. Drawing the gun does 50% Physical Damage.
This Skill's bullet(s) have no ricochetting properties.
While using Sharpshooter Syndrome, Head Shot will not gain the chance to inflict extra damage.
[Enhanced] Head Shot's second bullet will follow the same direction as the initial bullet but will fly at a slightly lower altitude.
The shot might miss certain targets if used point blank.
Updates
Date
Changes
KR
NA
PvE
PvP
01/27/2011
06/27/2012
03/29/2012
-

▼ Removed the damage increase on knocked down monsters.

02/14/2013
-

▲ Increased animation speed.

08/20/2015
01/27/2016

▲ Chance of a hit dealing 2x damage.

06/30/2016
07/13/2016

Regenerating (2) attribute changed to be Powerful.

01/12/2017
-
04/27/2017
-
07/13/2017
07/27/2017

Awakened trait changed to Enhanced.

07/27/2017
-
04/05/2018
04/18/2018
Alternative Names
| Server | Name | Translation |
| --- | --- | --- |
| South Korea | 헤드 샷 | Head Shot |
| Japan | ヘッドショット | Head Shot |
| China (Simplified Chinese) | 爆头射击 | Head Shot |
| Germany | Kopfschuss | Head Shot |
| Spain | Impacto en la cabeza | Head Shot |
| France | Tir à la tête | Head Shot |
| Italy | Colpo alla Testa | Head Shot |
| Poland | Strzał W Głowę | Head Shot |
| Brazil | Tiro na Cabeça | Head Shot |