Wavering Faith
Jump to navigation
Jump to search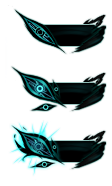 [Passive] With the influence of chaos consuming a confused agent, Ain's control over this chaos withers and becomes dangerously unstable. The Seed of Chaos that marks this growing decline materializes.
Seed of Chaos

Auto create Stage 1 when entering battle field.
Grow to Stage 2 when Absorption 40 is reached and grow to Stage 3 when Absorption 80 is reached.
While the seed lasts, increase Damage Reduction and MP Gain when attacking/attacked.

Absorption

Obtain 2 when using Active skills and obtain 4 when using Special Active skills.

Henir's Power

Enter Stage 2 Henir (Awakening) state when awakening while the seed is in Stage 2.
Enter Stage 3 Henir (Awakening) state when awakening while the seed is in Stage 3.
Increase Awakening duration depending on the obtained Absorption amount when Awakening.
Grant special effect when using [Henir Release] Skills.

Unstable Power

Have 2 times the chance of obtaining Absorption when using skills.
Have a chance of obtaining 1 Absorption while being attacked. (1 second cooldown)
Requirements
Skill Information
Skill Level
Level Required
Seed of Chaos
Henir's Power
Unstable Power
Damage Reduction/MP Gain Increase
Awakening Time Increase
per Seed of Chaos counter
2x Gain Activation Chance
Gain 1 Absorption when attacked
Stage 1
Stage 2
Stage 3
Activation Chance
Cooldown
1
15
10%
20%
30%
0.3 Seconds
10%
20%
1 Second
2
31
15%
40%
3
39
20%
60%
4
83
25%
80%
Related Skills
Tips and Details
The Awakening Time increase from this passive is not affected by the Awakening Time stat. The additional seconds are added to the duration after the Awakening Time stat is calculated.
While it states that you will enter a specific Awakening State depending on the stage of the Seed of Chaos, it actually determines how many Phases you advance. For example, with a Stage 2 Seed of Chaos, if you are in Awakening Phase 1, you will jump to Awakening Phase 3, but if you are not Awakened, you will only enter Awakening Phase 2.
The Damage Reduction and Mana Gain Increase attributes are normalized.
Trivia
The Seed of Chaos will occasionally vibrate and blink.
Updates
Date
Changes
KR
NA
02/23/2017
03/15/2017

▲ Amount need for stages changed from 1-49/50-99/100 to 1-39/40-79/80-100.
Fixed UI not moving when changing skill slot types.

03/16/2017
-

Fixed issue where Awaken Time will be twice when awakening in Stage 3 after using Special Sweet Rice Drink.

11/02/2017
-

Fixed issue where Seed of Chaos show in Sparring Room and Elrios Studio.
Alternative Names
| Server | Name | Translation |
| --- | --- | --- |
| South Korea | 흔들리는 믿옴 | Wavering Faith |
| China (Simplified Chinese) | 动摇的信仰 | Shaking Faith |
| France | Foi ébranlée | Shaken Faith |
| Brazil | Fé Enfraquecida | Weakened Faith |