Chung
From Elwiki
Guardian
Nama
Prince Seiker (Chung)
Job
Guardian
Senjata
Destroyer
Umur
13
Ulang Tahun
5 Desember
Tinggi
153 cm
Berat
47 kg
Golongan Darah
A
Cabang Job
> > > >
> > > >
Pengisi Suara
양정화 Yang Jeong Hwa
沢城 みゆき Sawashiro Miyuki
冯骏骅 Feng Junhua
Michaela Amler
Alex De Porrata
Paolo Domingo
Rodrigo Andreatto
Seniman
Konsep: 흑주돈
Gambar Lama: 흑주돈
Gambar: -
Skill Cutin: 흑주돈
Tanggal Rilis
23 Desember 2010
11 Juli 2012
11 Juli 2012
27 Juni 2012
Stastistik

Chung{{#pRadar: size=300x200|striped|filled|textfont=msyh.ttc|textsize=11|ymin=0|ymax=5|colors=99ccff|data=

HP,1 MATK, 1 MDEF, 2 PDEF, 3 PATK, 3 }}

| | | | |
| --- | --- | --- | --- |
| Kecepatan: | Lambat | Sedang | Cepat |
| Jarak Serangan: | Dekat | Sedang | Jauh |
| Kesulitan: | Mudah | Sedang | Sulit |
| | | |
| --- | --- | --- |
| " | Aku akan menghancurkanmu! | " |
Chung
Kemampuan
Senjata Chung adalah meriam besar yang disebut Destroyer, dan baju bajanya adalah persenjataan lengkap keseluruhan tubuh disebut Freiturnier. Meskipun terlihat muda dan lembut, ia dapat dengan bebas menangani meriam besar dengan gaya tempur tangguh. Keyakinannya: tidak ada manusia yang tak berdosa akan terluka di bawah pengawasannya.

Kemampuan Khusus
Artikel Utama: Freiturnier

Fitur Chung yang paling menonjol adalah Amunisinya. Dengan Cannonball Reload System, Chung mampu mempertahankan persediaan amunisi yang stabil untuk melawan. Dia juga memiliki kemampuan untuk berubah ke mode Berserk.

Latar Belakang
Artikel Utama: Hamel City

Keturunan dari keluarga Seiker yang dikenal sabagai pelindung kota Hamel.
Ayah Chung, Helputt, dikuasai oleh sihir iblis. Chung mengikuti Kelompok Pencari El untuk menghentikan invasi yang dipimpin oleh ayahnya dan bahkan menjadi lebih kuat. Dia meninggalkan namanya dan menyebut dirinya Chung.

Perubahan Kelas Pertama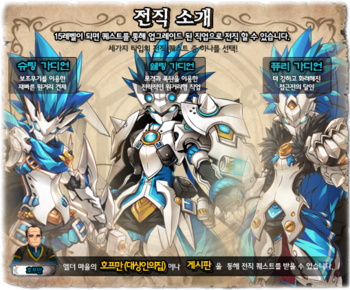 Chung harus mencapai Lv. 15 untuk memulai misi kelas pertamanya.
Chung dapat memutuskan antara menjadi sebagai Fury Guardian, Shooting Guardian atau Shelling Guardian.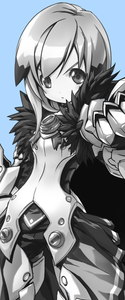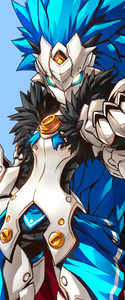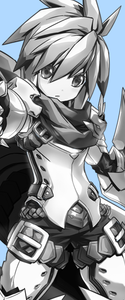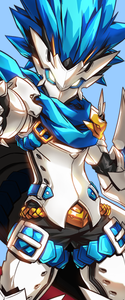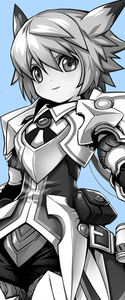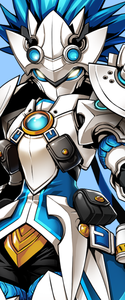 Pohon Kemampuan
Skills
Passives
Locked
Level 1
Level 5
Level 10
Level 15
Level 20
Skill Traits unlocked at Level 20.
Final Enhanced Skill unlocked upon advancing to 1st job class.
Kemampuan
| | | |
| --- | --- | --- |
| Spesial Aktif | Aktif | Couple Skill |
Kombo
Kombo
Penjelasan
Kerusakan
Pengubah Dungeon
Kombo dasar 4 pukulan menggunakan Destroyer.

150% Kerusakan fisik
165% Kerusakan fisik
217% Kerusakan fisik
320% Kerusakan fisik

Kombo dasar 3 pukulan diikuti penghabisan seluruh amunisi dengan tembakan jarak pendek.

Post KR 04/20/2015 patch:

Area serang misil jadi kecil.

150% Kerusakan fisik
165% Kerusakan fisik
217% Kerusakan fisik
260% Kerusakan fisik
+ 244% Kerusakan gaib + 128% Kerusakan gaib x0~6

()
4 kombo dasar dan membuat musuh terlempar ke atas pada pukulan terakhirnya. Mengisi 1 peluru saat pukulan ketiga.

150% Kerusakan fisik
165% Kerusakan fisik
233% Kerusakan fisik
297% Kerusakan fisik

Pukulan kuat, diikuti dengan mengisi 1 peluru dan tembakan jarak pendek menggunakan satu peluru.

275% Kerusakan fisik
311% + 125% Kerusakan fisik
128% Kerusakan gaib

Pukulan kuat, diikuti dengan mengisi 1 peluru, mendorong musuh dengan kuat dan diakhiri dengan tembakan seluruh peluru secara beruntun.

275% Kerusakan fisik
288% + 102% Kerusakan fisik
217% x 3 Kerusakan fisik
244% Kerusakan gaib + 128% Kerusakan gaib x0~6

Hantaman melompat tunggal.
Mengayun Destroyer sekali seperti helikopter
Menghantamkan diri ke tanah secara cepat. Menghasilkan kerusakan ke musuh disekitarnya.
Melempar target ke udara dengan pukulan keras.
Berlari melewati target dan menembakkan satu peluru jarak pendek.
Menyapu di udara lalu turun. Saat menghantam ke tanah dan jika amunisi terisi, dia akan mengeluarkan 1 ledakan di tanah, mengangkat target ke atas.


180% Kerusakan fisik
219% Kerusakan fisik + 197% Kerusakan gaib

Lompatan seperti roket untuk meningkatkan lompatanmu di udara. Menggunakan satu peluru, mengenai target dibawahnya.
Heavy Stance
Melawan balik dengan mengayunkan meriam secara horizontal mengenai target di depan dan belakang, merobohkan mereka.

239% Kerusakan fisik

Heavy Stance
Melawan balik dengan menembakkan ledakan di kedua sisi meriam, akan melempar target menjauh. Jika tidak ada amunisi, kombo akan beralih ke Heavy Stance .

253% Kerusakan gaib x2

1.45

Recovery
Bangun kembali mengayunkan meriammu secara horizontal mengenai target di depan dan belakang, merobohkan mereka.

132% Kerusakan fisik

Recovery
Bangun dengan menembakkan meriammu melemparkan lawan di depanmu ke udara. Jika tidak ada amunisi, kombo ini akan beralih ke Recovery .

297% Kerusakan gaib

1.45
Heavy Stance
Whenever Chung is hit while he has a blue outline (e.g., the third attack of the



combo. Like Super Armor, it cannot be seen if unit graphics are not set to high), he switches to a guarding stance which gives 67% damage reduction and immunity to Stun and Flattening. However, he will stagger after guarding around 5-6 hits or an attack that inflicts Power Stun.
While guarding, Chung can counterattack.
Press to swing your cannon and inflict 132% Physical damage while knocking the target down. This can be canceled immediately by dashing.
Press to fire a short blast in both directions with invulnerability and inflict 297% Magical damage, hits twice, (dungeon modifier = 1.45). If used very close to a foe, it can hit twice. This knocks down and uses one cannonball. If you have no cannonballs, the Z attack is used instead. Chung will have Heavy Stance for a fraction of a second during this counter, so if another hit lands on you during that period, the Heavy Stance's hit count will reset, allowing proper use to withstand consecutive hits.
Non-flinch attacks can't trigger Heavy Stance.
Heavy Stance take precedence over Super Armor. Even in a Super Armor state, Chung can still enter Heavy Stance.
Tema
Videos
Galeri
Karya Seni
Gaya Skill April Mop menampilkan Hanna (Baru).
Miscellaneous
Tips and Details
Chung falls a bit faster than the other characters, a trait that can often disrupt combos that involve launching.
Chung's missiles are not classified as magical projectiles.
Having higher Action Speed will also increase the speed of reloading while standing.
The MP gain on the cannon blasts of his ZZZX and XXZX, is very high, making it a very useful means of regenerating MP given he has ammo at his disposal.
Info
Chung dikenal sebagai Serigala Putih dari Hamel. Terbukti dari warna dasar seragam Freiturnier miliknya.
Nama Korea-nya Chung adalah "청" yang artinya "Biru". Itulah mengapa kenapa seragam Freiturnier-nya mempunyai warna linier biru yang cukup mencolok.
Entah kenapa warna kulit Chung terlihat sangat putih.
Chung adalah satu-satunya karakter yang mempunyai nama belakang, yaitu "Seiker".
Chung adalah karakter yang pupil matanya tergambar dengan baik, dan menyerupai seperti telapak kaki binatang.

Dua bintik kehitaman pada rambutnya juga menyerupai telinga binatang.

Kecepatan serangnya mempengaruhi kecepatan mengisi peluru ketika diam.
Chung adalah satu-satunya karakter Support laki-laki yang mampu memberikan Buff kepada Party nya.