Chung/hu
From Elwiki
Guardian
Name
Prince "Chung" Seiker
Class
Guardian
Weapon
Destroyer
Age
13 (Base) > 15 (1st Job) > 16 (2nd Job)
Class Tree
Chung > Fury Guardian > Iron Paladin
Chung > Shooting Guardian > Deadly Chaser
Chung > Shelling Guardian > Tactical Trooper
Voice Actors
양정화 Yang Jeong Hwa
Michaela Amler
Paolo Domingo
沢城 みゆき Sawashiro Miyuki
Rodrigo Andreatto
冯骏骅 Feng Junhua
Release Date
23 December 2010
11 July 2012
11 July 2012
June 27th, 2012
Statistics

Chung

Speed:
Slow
Average
Fast
Attack Range:
Short
Medium
Long
Difficulty:
Easy
Normal
Hard
Magical
Chung
Specialty
Chung's weapon is the large cannon called the Destroyer, and his armor is the full body panoply called Freiturnier. In spite of his young and delicate looks, he can freely handle the big cannon with a tough combat style. His creed: no innocent human will get hurt under his watch.

Special Ability
Main Article: Freiturnier
Chung's most notable feature is his Ammo. With the Cannonball Reload System, Chung is able to maintain a stable supply of ammo to fight. He also has the ability to transform into Berserk mode.

Background
Members of the Seiker family are known protectors of the Hamel City, the capital of the Senace Kingdom. It is to this name that Chung was born. Widely known as Prince Seiker, Chung was trained for combat from his early years. When the Senace Kingdom came under attack, Chung's father, Helputt, devoted himself to defending it. Unfortunately, the demons had possessed him, causing him to lose all control of his body, and the noble fighter unwittingly came to lead the enemies to attack Hamel. The Prince tried to stop his father, but was seriously wounded by him.
With the help of Elsword and his friends, Chung escapes the battlefield and is on the way to recovering from his wounds. Meanwhile, most parts of the Senace Kingdom are now occupied by the demons. He then decides to leave Hamel to the Red Knights and go with Elsword to train and become stronger than ever. He swears to himself that he will not use the Seiker name and will call himself Chung until he returns to save Hamel and take the Water El back from the demons.

First Class Advancement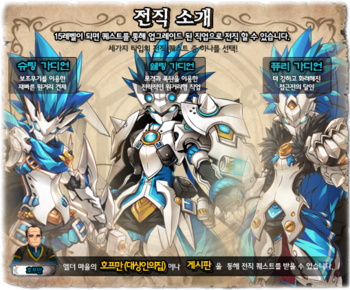 Chung is required to be Lv 15 to begin his first class advancement.
Guardian

After completing the Guardian quest chain, Chung can decide between advancing as a Shooting Guardian, Fury Guardian, or Shelling Guardian.
Click job names below to see what must be done after advancing to Guardian.
Fury Guardian Shooting Guardian Shelling Guardian

Skill Tree
Skills
Passives
Locked
Level 1
Level 5
Level 10
Level 15
Level 20
Skill Traits unlocked at Level 20.
Final Enhanced Skill unlocked upon advancing to 1st job class.
Combos
Combo
Description
Damage
Dungeon Modifier
Basic 4 hit combo with the Destroyer.

100% Phy. Damage
110% Phy. Damage
130% Phy. Damage
140% Phy. Damage

Basic 3 hit combo followed by a discharge of all ammo in several bursts.

100% Phy. Damage
110% Phy. Damage
130% Phy. Damage
150% Phy. Damage
+ 120% Mag. Damage per Shot (Need Ammo)
+ 245% Mag. Damage (Need Ammo)

()
Basic 4 hit combo that send targets flying on last hit. Reloads 1 ammo on the 3rd hit.

100% Phy. Damage
110% Phy. Damage
140% Phy. Damage
150% Phy. Damage

A heavy hit, followed by a reload hit and a short ranged blast using 1 ammo up.
A heavy hit, followed by a reload hit, a lunge foward pushing targets ahead and finishing off with a full discharge of all ammo in bursts.

160% Phy. Damage
100% + 110% Phy. Damage
50% x 4 Phy. Damage
120% Mag. Damage per Shot (Need Ammo)
+ 240% Mag. Damage (Need Ammo)

Single jump bash.
Swings Destroyer once like a helicopter.
Pounds onto the ground at a fast speed. Deals damage to targets close.
Launches targets into the air with a whack.
Dashes behind targets and does a short ranged blast that uses 1 ammo.
Does a swipe in mid air then drops. Upon impact on the ground and if ammo is loaded, he will release 1 blast on the ground, lifting targets upwards.


100% Phy. Damage
120% Phy. Damage
+ 270% Mag. Damage (Need Ammo)

Does a rocket jump to boost yourself in the air. Uses 1 ammo, hits targets below.
Heavyweight
Due to having very heavy equipment, Chung falls more quickly compared to other characters after being launched by enemy attacks.
Skills
| | | | |
| --- | --- | --- | --- |
| Special Active | Active | Buff | Couple Skill(Active) |
Theme
Gallery
Trivia
Chung is also known as the White Wolf of Hamel. This reflects the uniformity of his Freiturnier base color, and his pale skin.

Another reference to his title of "White Wolf" are his pupils, which resemble an dog/wolf's paw mark. The two dark spots on his hair also resemble animal ears as well.

Chung's Korean name "청" literally means "Blue". This could be why his Freiturnier hair color is blue as well as the secondary color of his armor.
It is unknown to why his skin is much more pale then other characters.
In the Japanese version of the game, Chung's name was changed to Lacher.
Chung is the first character with a known last name, with it being "Seiker".
Like Iron Paladin and Raven, Chung's Interface (face on the top of the screen) is also a skill cut-in.
When Chung goes berserk in his reveal trailer of NA, he actually has Iron Paladin's berserk form instead.
Having higher Action Speed will also increase the speed of reloading while standing idle.
Chung is the only male support character capable of providing party buffs to his allies.
According to the World Cup 2014 avatar costume for Chung, he seemed to have played water polo in Hamel.
Karakterek

Elsword

Aisha

Rena

Raven

Eve




Kardlovag






Lovaglord


Mágus
Lovag


Rúna
Pusztító

Köpenyes
Lovag


Végtelen
Kard



Főmágus




Elemi
Mester

Sötét
Mágus




Árnyhercegnő


Harci
Mágus


Dimenzió
Boszorkány

Harci
Erdész


Széllel
Osonó

Lövész
Erdész




Főijász


befogó
Erdész


Éjjeli
Őr



Kardeltávolító






Pengemester




Megdöntő




Vakmerő
Ököl



Fegyvereltávolító




Veteran
Parancsnok

Exotikus
Kód


Bosszúálló
Kód

Építész
Kód


Császárnő
Kód

Elektra
Kód


Harci Szeraf
Kód

Chung Seiker

Ara Haan

Elesis

Add


Haragos
Őr




Vaspaladin


Pisztolyos
Őr


Halálos
Üldöző

Gránátszóró
Őr


Taktikai
Katona

Kis Hsien
(小仙)


Szent Devanam
(帝天)

Kisördög
(小魔)


Alvilági Királynő
(冥王)

Kis Szellem
(小妖)


Asura
(修羅)



Szablyalovag




Nagy
Mester



Lánglovag




Lángoló
Szív

Sötét
Lovag


Vörös
Bosszúálló

Psychic
Tracer


Lunatic
Psyker

Arc
Tracer




Mastermind




4th September 2014






11th September 2014