Elsword
From Elwiki
Knight
Nama
Elsword
Job
Knight
Senjata
Great Sword, Fire Magic
Umur
13
Ulang Tahun
December 27th
Tinggi
155 cm (5 ft 1 in)
Berat
54 kg (119 lb)
Golongan Darah
B
Cabang Job
> > > >
> > > >
> > > >
Pengisi Suara
정유미 Jeong Yu Mi
鈴村 健一 Kenichi Suzumura
KEN
Nicolas Roye
Philipp Zieschang
Cesc Martínez
Taric Mehani
Max Di Benedetto
Adrian Rux
Justin Reddig
Bruno Mello
Tanggal Rilis
22 May 2007
8 December 2010
16 March 2011 (Closed Beta Testing)
Stastistik

Elsword{{#pRadar: size=300x200|striped|filled|textfont=msyh.ttc|textsize=11|ymin=0|ymax=5|colors=ff0000|data=

HP,3 MATK, 1 MDEF, 1 PDEF, 2 PATK, 3 }}

| | | | |
| --- | --- | --- | --- |
| Kecepatan: | Lambat | Sedang | Cepat |
| Jarak Serangan: | Dekat | Sedang | Jauh |
| Kesulitan: | Mudah | Sedang | Sulit |
| | | |
| --- | --- | --- |
| " | Tidak ada pendekar pedang lain yang sekuat aku! | " |
Elsword
Specialty
Elsword adalah seorang pendekar master yang unggul dalam pertempuran jarak dekat. Dia cepat berdiri dan bisa hack dan memangkas dengan yang terbaik dari mereka. Tidak hanya bisa dia mengeluarkannya, tapi dia juga bisa menerima banyak hukuman juga. Satu-satunya kelemahannya adalah sihir, tapi dalam pikirannya, tidak ada bagian baja yang tajam yang tidak bisa dikalahkan.

Special Ability
Main Article: Way of the Sword

Kemampuan "Way of the Sword" memungkinkan dia memanfaatkan energi yang didapat melalui serangan dan keterampilan menjadi 2 jenis aura: Aura Vitalitas dan Aura Kehancuran. Aura of Vitality membantu Elsword untuk memulihkan mana lebih cepat 300% melalui perintah tertentu dan memungkinkan Elsword untuk menggunakan ketrampilan yang diberi label sebagai "keterampilan Vitalitas" dengan biaya MP yang lebih rendah, sehingga memungkinkan Elsword memaksimalkan kolam MP-nya. Aura of Destruction membantu Elsword untuk melakukan lebih banyak kerusakan dengan meningkatkan kerusakan serangan dan keterampilan beratnya yang berlabel "Keterampilan kehancuran" masing-masing sebesar 100% dan 50%.

Background
Main Article: Ruben Forest (Elsword)

Elsword adalah seorang pedang muda ambisius namun berkepala panas yang dilatih oleh adiknya Elesis, pemimpin Red Knights. Elesis meninggalkan adiknya untuk memimpin sebuah misi, tidak pernah kembali. Elsword sekarang mencari tanah untuk dua hal: El, permata berharga yang memperkuat kerajaannya, dan saudarinya yang hilang.

Side Story
Main Article: Resolution

Elsword dan adik besarnya, Elesis, sedang menikmati hari biasa, ketika ada perubahan yang tidak terduga. Elesis telah menerima permintaan bantuan dari Velder Army, yang mengharuskannya segera berangkat. Elsword mencoba membujuknya untuk membiarkan dia berkelahi di sampingnya dan ayah mereka, tapi gagal. Dia memastikan bahwa pada saat mereka bertemu, dia akan menjadi lebih kuat, dan dengan enggan berjalan untuk memenuhi tugasnya.
Elsword sendirian, meratapi keadaan saat dia berbaring di tempat tidurnya, mengenang keluarganya. Ayahnya adalah salah satu ksatria terbaik di kerajaan ini, dan adiknya adalah bakat yang sangat diinginkan, dan di sanalah dia duduk sendiri, merasa lemas dan tak berdaya. Berharap dia lebih kuat, dia meraih pedangnya, dan mulai berlatih tanpa henti, dari hari ke hari, bersumpah akan menjadi cukup kuat untuk melindungi semua orang. Dengan setiap kemajuan yang dia buat, wajahnya dipenuhi senyuman saat dia mengingat kata-kata dorongan saudaranya, tahu bahwa suatu hari nanti dia akan bergabung dengan keluarganya dalam pertempuran akhirnya.

First Class Advancement
Elsword harus mencapai Lv. 15 untuk memulai misi kelas pertamanya.
Elsword dapat memutuskan antara menjadi sebagai Sword Knight, Magic Knight, atau Sheath Knight.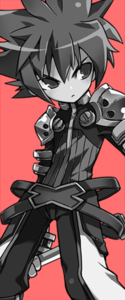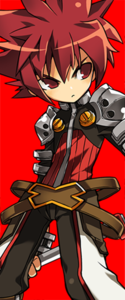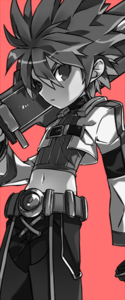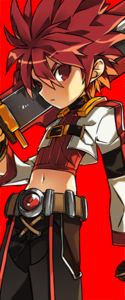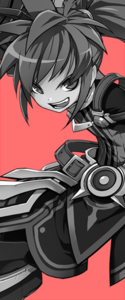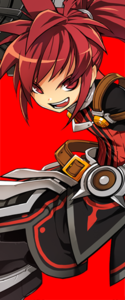 Skill Tree
Option 1
Fixed
Option 2
Fixed
Level 1
Level 5
Level 10
Level 15
Level 20
Combos
Combo
Description
Damage
Basic 4 hit combo dengan pedangnya.

Physical Damage 149%
Physical Damage 183%
Physical Damage 217%
Physical Damage 343%

Basic 3 hit combo dengan pedangnya, diikuti dengan garis miring yang berat, knocking target cukup jauh.

Physical Damage 149%
Physical Damage 183%
Physical Damage 217%
Physical Damage 297%

Dasar 3 combo hit berat dengan pedangnya.

Physical Damage 287%
Physical Damage 311%
Physical Damage 392%

Basic 2 heavy hit combo dengan pedangnya, diikuti oleh uppercut yang mengirim target ke atas.

Physical Damage 287%
Physical Damage 311%
Physical Damage 377%

Lonjakan lompatan tunggal
Lompatan lompatan melompat tunggal, menjatuhkan target.
2 garis miring setelah gagah diikuti dengan menusuk melalui musuh.


Physical Damage 173%
Physical Damage 209%
Physical Damage 235%

Pukulan berat setelah gagah, mengetuk target ke atas.
3 garis miring pedang setelah berlari di udara.


Physical Damage 172%
Physical Damage 206%
Physical Damage 309%

1 slash overhead yang tidak knockdown, diikuti oleh garis miring berat lainnya yang mengetuk target ke bawah.
Recovery
Pulihkan dengan garis miring yang membentur sasaran baik di depan maupun belakang.

Physical Damage 208%

Recovery
Pulihkan dengan target 180 ° slash kiri terbuka untuk combo.

Physical Damage 302%
Updates
07/23/2015 (KR) / 12/16/15 (NA)
•
07/27/2017 KR
Recovery attack no longer knocks down.
Skills
| | | |
| --- | --- | --- |
| Special Active | Active | Couple Skill |
Theme
Gallery
Artwork
Miscellaneous
Trivia
'Kakak perempuan Elsword' adalah Elesis.

Karena ini, keduanya tidak bisa menikah satu sama lain.

'Elsword' memiliki kemampuan unik yang tak tertandingi untuk menyesuaikan diri dengan El, begitu banyak sehingga Solace memberi label 'Elsword' sebagai "Guardian of El".

Kemampuan ini pertama kali terlihat di tutorial 'Elsword' ', di mana dia menggunakan kekuatan El untuk menangkal Berthe sebelum Aisha ikut campur.
Karena resonansi uniknya dengan El, 'Elsword' sebenarnya memiliki keinginan yang hampir naluriah untuk mengembalikan El, bahkan jika dia tidak menyadarinya.

'Elsword' adalah anggota termuda dari pemain utama El Search Party. Dia juga orang termuda yang bahkan secara resmi masuk dalam program El Search Party yang sebenarnya dari Ruben.
Meskipun Elsword memang memiliki kekuatan magis di tubuhnya (ini menjelaskan kemampuannya untuk menggunakan keterampilan seperti Flame Geyser dan Triple Geyser), dia tidak selalu bergantung padanya.

Alasan mengapa dia tidak sering menggunakannya sampai menjadi Magic Knight atau Sheath Knight adalah bahwa dia tidak dapat mengendalikannya tanpa bantuan ritual atau artefak magis.

'Latar belakang Elsword' serupa dengan konsep Elesis Sieghart, sebuah karakter dalam MMO terpisah, sekarang tidak berfungsi, diciptakan oleh KoG yang disebut [http : //grandchase.wikia.com/wiki/Grand_Chase Grand Chase].
Pedang Pedang Elsword akan berubah bentuk saat berada dalam Awakening Mode, sebuah sifat yang hanya dimiliki oleh karakter asli lainnya, Aisha dan Rena.
Alternative Names
Server
Name
Translation
South Korea
엘소드
Elsword
Japan
エルス
Els
Taiwan (Traditional Chinese)
艾索德
Elsword
China (Simplified Chinese)
艾索德
Elsword
Elsword: Evolution (Mobile)
Exorde (before May 19, 2016)