Aisha
From Elwiki
Magician
Nama
Aisha Landar
Job
Magician
Senjata
Staff, Magic
Umur
15
Ulang Tahun
Desember 27th
Tinggi
157 cm (5 ft 2 in)
Golongan Darah
A
Cabang Job
> > > >
> > > >
> > > >
Pengisi Suara
이지영 Lee Ji Yeong
釘宮 理恵 Kugimiya Rie
小可 Xiao Ke
Sandy Fox[1]
Henrike Kruegener
Estela Vilches
Edwige Lemoine
Simona Biasetti
Alicja Pietruszka
Laxmi Easwaran
Flávia Narciso
Tanggal Rilis
22 May 2007
8 December 2010
16 March 2011 (Closed Beta Testing)
Stastistik

Aisha{{#pRadar: size=300x200|striped|filled|textfont=msyh.ttc|textsize=11|ymin=0|ymax=5|colors=9400d3|data=

HP,1 MATK, 4 MDEF, 3 PDEF, 1 PATK, 1 }}

| | | | |
| --- | --- | --- | --- |
| Kecepatan: | Lambat | Sedang | Cepat |
| Jarak Serangan: | Dekat | Sedang | Jauh |
| Kesulitan: | Mudah | Sedang | Sulit |
| | | |
| --- | --- | --- |
| " | Bersiaplah untuk terpesona oleh sihir! | " |
Aisha
Specialty
Aisha adalah penyihir yang mengandalkan kemampuan mantra untuk menimbulkan kerusakan besar pada lawan. Dia juga memiliki kemampuan untuk menyerang beberapa target sekaligus. Semua mantra Mage adalah unsur, berarti dia bisa mendapatkan keuntungan dengan menyesuaikan serangannya dengan monster elemen alami. Di tangan untuk memerangi tangan, dia menyukai staf.

Special Ability
Main Article: Memorize

Sistem Memorize Aisha memungkinkan Anda menetapkan hingga 3 keahlian aktif khusus dalam urutan pilihan Anda untuk dipicu dengan satu tombol. Dapatkan keterampilan itu hapal!

Background
Main Article: Ruben Forest (Aisha)

Aisha sudah menjadi penyihir dengan tingkat ketertiban tertinggi pada usia 12 sampai serentetan kekuatan jahat menyerap kemampuannya. Cerdas dan kurang ajar, dia sekali lagi memulai perjalanannya untuk memulihkan semua pengetahuannya yang hilang.
Aisha adalah penyihir yang mengandalkan kemampuan casting mantranya untuk menimbulkan kerusakan besar pada lawan. Dia juga memiliki kemampuan untuk menyerang beberapa target sekaligus. Semua mantra penyihir itu bersifat elemental-dia bisa mendapatkan keuntungan dengan menyesuaikan serangannya dengan elemen alami monster. Di tangan untuk memerangi tangan, dia menyukai staf.

Side Story
Main Article: Lost Power

Aisha Landar menemukan dirinya berada di gerbang kehancuran kuno untuk mencari Cincin Mimir. Dengan menggunakan bahasa Ellian kuno, dia bisa memasukinya di sampingnya grandfather. Keduanya terpisah saat mengatasi serangkaian persidangan, setelah itu Aisha melanjutkan perjalanan dan menemukan altar yang memegang cincin itu. Sebuah kekuatan telah sebentar mengambil alih tubuhnya, dan ketika akhirnya dia sampai, cincin itu sudah ada di jarinya. Sementara mencoba untuk menghapusnya, mysterious hooded man muncul, mencoba memeras cincin darinya.
Karena tidak mau berpisah dengan cincin yang telah dicari keluarganya selama beberapa generasi, dia dengan sia-sia berusaha melawan orang asing itu. Dengan putus asa, dia mengetuk kekuatan cincin itu, dan terbungkus dalam cahaya. Namun, sebelum dia bisa menyerang, cincin itu menyerap seluruh kekuatannya, bersamaan dengan energi sekitarnya. Orang asing itu mulai mencuri cincin itu darinya dan kemudian pergi. Begitu kakeknya akhirnya menemukannya, dia membawanya pulang, di mana dia tidak sadar selama seminggu. Ketika terbangun, dia merasa sedih karena kehilangan kekuatannya, sampai dia meyakinkannya bahwa dia mungkin bisa mendapatkan kekuatannya kembali melalui kekuatan El.

First Class Advancement
Aisha harus mencapai Lv. 15 untuk memulai misi kelas pertamanya.
Aisha dapat memutuskan antara menjadi sebagai High Magician, Dark Magician, atau Battle Magician.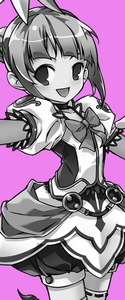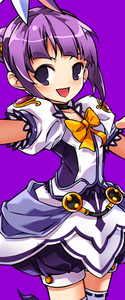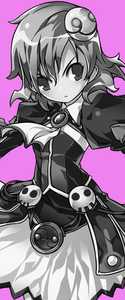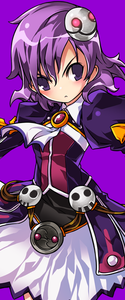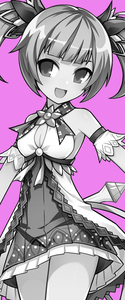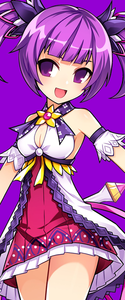 Skill Tree
Combos
 : Fireballs inflict burned effect on enemy for one second.


Combo
Description
Damage
Sebuah combo hit 3 dasar dengan staf Anda yang mengetuk turun pada pukulan terakhir.
Sebuah combo hit dasar 2 dengan staf Anda, diikuti oleh pukulan yang meluncurkan musuh ke udara. Sementara di udara, tarik musuh ke bidang sihir yang mengetuk mereka.

161% Phy. Damage
198% Phy. Damage
290% Phy. Damage
109% Mag. Damage x6

Tembak 3 fireballs sebelum mengisi bola api terakhir saat berada di Super Armor yang mengetuk target. Bola api terakhir menjadi lebih besar saat dikenakan biaya.

324% Mag. Damage
324% Mag. Damage
182% Mag. Damage
245% Mag. Damage

Tembak 2 fireballs, lalu ketuk musuh dengan magic circle.
Tembak 2 fireballs, dan kemudian menarik musuh ke dalam bola sihir, menjatuhkannya.
Hit musuh di bawah Anda dengan staf Anda saat jatuh dari udara.
Tembak 1 fireball saat di udara
Memukul musuh ke depan dengan staf Anda, menjatuhkan mereka ke atas.
Memukul musuh di depan dengan staf Anda, kemudian melakukan serangan mendadak dengan teleport ke target terdekat
Dodge di belakang target Anda dan menembak fireball.
Turunkan lingkaran sihir di udara yang sangat mengoyak musuh.
Tembak 2 fireballs ke bawah di udara.
Recovery /
Recover dengan teleport kembali ke kaki Anda sambil mengayunkan tongkat Anda meninggalkan lawan terbuka.
Updates
•
07/27/2017 KR
Serangan pemulihan tidak lagi mengetuk.
•
Levitation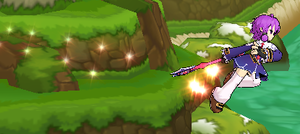 Aisha mampu melayang turun setelah melompat ke udara. Saat mengapung, ia akan menghabiskan sebagian MP-nya dan meninggalkan jejak cahaya. Dia bisa melanjutkan mengapung di tengah udara bahkan setelah menggugurkannya. Tidak ada MP yang diperlukan selama Battle Magician's Magical Makeup.
Untuk melakukan pengangkatan Aisha, cukup pegang

sementara di udara
Jika kamu dash, Aisha akan melayang maju lebih cepat.
Sementara pada 0 MP, Aisha masih dapat melonjak sebagian saat ia mendapatkan MP kembali pada tingkat yang sedikit lebih cepat daripada konsumsi yang levitasi. Namun, dia akan drop down lebih cepat.
Jika Anda menggunakan Teleport Sementara melayang, Anda tidak akan teleport setinggi biasanya.
Faster MP Regeneration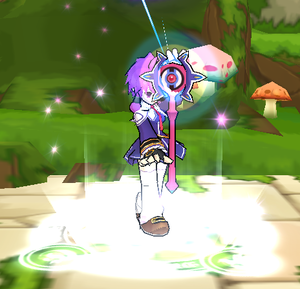 Aisha bisa meregenerasi 10 MP per detik dengan tetap berdiri. Regenerasi MP-nya jauh lebih cepat dari Rena, yang meregenerasi 5 MP per detik. Dia bisa memasuki negara regenerasi mana setelah berdiri diam selama setengah detik.
Skills
| | | |
| --- | --- | --- |
| Special Active | Active | Couple Skill |
Theme
Gallery
Artwork
Miscellaneous
Tips and Details
Aisha jatuh pada kecepatan yang jauh lebih cepat daripada kebanyakan karakter lainnya saat ditahan setelah melompat atau melayang.
Trivia
Sebuah lelucon di antara staf pengembangan game adalah 'Aisha' sedang berdada rata, sangat mencemaskannya. Dalam Volume 4 dari ElType, 'Aisha' tidak terlalu senang masih memiliki dada rata pada "penuaan" ke Elemental Master. Juga, dalam volume yang sama, 'Aisha' 'mengungkapkan kecemburuan terhadap ukuran dada Rena saat dia maju ke Grand Archer, di mana payudaranya menjadi lebih besar.

Namun, model in-game 'Aisha' 'tidak menampilkannya dengan dada rata, beberapa pakaian benar-benar menambahkan lebih banyak lekukan, meskipun ini kemungkinan adalah model permainan / perbedaan cerita.
Anehnya, 'Aisha' Promotion avatar memiliki sabuk yang lebih besar dari pinggangnya, namun tidak terjatuh atau terjuntai; Hal ini mungkin dijamin dengan sihir.
Selama pengembangan permainan, 'Aisha' pada awalnya bernama Arme, yang didasarkan pada karakter dengan nama yang sama dalam MMO terpisah yang dibuat oleh 'KoG' yang disebut Grand Chase.

Masih bisa ditemukan di dalam file inti permainan, karena skrip di dalam file .kom-nya semuanya sesuai dengan nama Arme dan bukan Aisha.
Senjata promotion Aisha, seperti Elsword, berubah dengan Awakening Mode mengubah ujung staf menjadi bentuk seperti hati.
'Aisha' menulis Skill Note Endless Desire II untuk keterampilan Ara [Energy Absorption], "Cara Efektif Mengaktifkan Api" untuk Elesis ' Explosive Fist, dan "Slap" untuk Heaven's Fist - Sweeper.
Side Story [Aisha Story | 'Lost Power 1' ]] melangkah lebih jauh ke dalam 'latar belakang awal Aisha'.

Terungkap bahwa nama kakeknya adalah Kuenbaran.
Dijelaskan bahwa 'Aisha' dan kakeknya telah mencari untuk menemukan Cincin Mimir kuno dalam reruntuhan Ellian yang tertutup. Karena kecerdasan dan penelitiannya, dia bisa memecahkan segel kehancuran Ellian.

The Side Story [Aisha Sotry | 'Lost Power 4' ]] terjadi tepat setelah dia menemukan cincin itu dan bertemu dengan seorang pria misterius.

tersirat bahwa nama belakang 'Aisha' adalah 'Landar' . Detail ini akan dibuat jauh lebih jelas dengan diperkenalkannya Elrianode.

Side Story [Aisha Story | 'Lost Power 5' ]] merinci akhir pengalaman 'Aisyah di dalam reruntuhan Ellian.
Bertentangan dengan prolognya dimana dia menyatakan bahwa cincin itu hilang, cincin itu benar-benar diambil oleh Mysterious Man dan dia hanya berjalan pergi.
Dalam webcomic 'Company: Incident Log 4' , kesimpulan dari 'pencarian di reruntuhan kuno Ellian ditunjukkan.

'Aisha' menunjukkan lokasi rahasia Cincin Mimir oleh wali yang merusak.
Mysterious Man diturunkan telah mengikuti 'Aisha' setelah dia menemukan lokasi Ring of Mimir.
Jalan utama pekerjaan Aisha di Lore / Story adalah jalur Aether Sage.

Nama Alternatif
Server
Name
Translation
South Korea
아이샤
Japan
アイシャ
Taiwan (Traditional Chinese)
愛莎
China (Simplified Chinese)
爱莎
Elsword: Evolution (Mobile)
Aysha (before May 19, 2016)
References