1-2/pl
Jump to navigation
Jump to search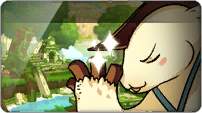 Ruiny w Lesie
| | | |
| --- | --- | --- |
| " | Przed eksplozją Eldrytu Elfy żyły w tym świętym lesie jednak teraz to miejsce jest ciche i opuszczone. | " |
Opis
Stare ruiny elfów. Podobno ukrywają się tu psotliwe burasy.
Mapa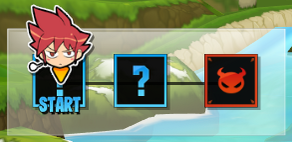 Potwory
Obraz
Opis
Ataki
Wygłodniały Buras - Buras, który podąża za Willardem by zdobyć darmowe jedzenie i opuścił miasto burasów by to zrobić.

Atak Łapką: Zaatakują jeśli podejdziesz zbyt blisko.

Złodziejski Buras - Buras korzystający z okazji by okraść ruiny.

Rzut Kamieniem: Potrafią zaatakować cię z daleka.

Strażnik Wróżek - Zagubiony strażnik ruin atakuje wszystko co się do niego zbliży. Te potwory pojawiają się w ziemi i wstają kiedy podejdziesz. Nie mogą być wystrzelone ani przewrócone.

Ciężka Pięść: Strażnik uderzy cię pięścią jeśli podejdziesz.

Drewniany Rycerzyk - Wróżka z lasu, która udaje rycerza.

Drewniany Atak: Uderzy cię patykiem.
Drewniany Skok: Rzuci się na ciebie.

}}
Boss
Obraz
Opis
Ataki
Willard - Złośliwy buras, który robi psikusy na niewinnych osobach. Jest też odpowiedzialny za inwazje na ruiny.

Kilka cięć: Willard zaatakuje pięć razy.
Natarcie: Willard biegnie do przodu z efektem nietykalności.
Cięcie Willarda: Wersja Mega Slash Willarda. Nie daj się zwieść, to najsilniejszy atak Willarda!

}}
Dialogi
Elsword: The Power of El is fading. Gotta get to the Tree fast!
Elsword: Listen, wimps, stop wasting my time!
Elsword: You're not getting away, William!
Elsword: The forest beasts have gotten so violent! is it because the Power of El is getting weaker?
Nagrody
BGM

Obraz
Nazwa
Boss
Postać
Statystyki

Skórzana Kamizelka Willarda

Willard

Wszystkie

Lv6 Góra Stroju:


Atak +?


Obrona +?


Magiczna Obrona +?


---

[Niezidentyfikowane * ?]


Wzrost Many podczas otrzymywania obrażeń +2%

Dungeon

Boss
Ciekawostki
Willard orginalnie był bossem 1-1 kiedy Benders był 1-2.
Alternatywne Nazwy
| Server | Name | Translation |
| --- | --- | --- |
| South Korea | 숲속의 폐허 | Forest Ruins |
| Japan | 森の中の遺跡 | Ruins in The Forest |
| Taiwan (Traditional Chinese) | 森林廢墟 | Forest Ruins |
| China (Simplified Chinese) | 森林废墟 | Forest Ruins |
| Germany | Ruine im Wald | Ruins in the Forest |
| Spain | Ruinas del bosque | Forest Ruins |
| France | Ruines dans la forêt | Ruins in the Forest |
| Italy | Rovina nel Bosco | Ruins in the Forest |
| Poland | Ruiny w Lesie | Ruins in the Forest |
| Brazil | Ruínas da Floresta | Forest Ruins |