Elysion/pl
From Elwiki
{{
}}
| | | |
| --- | --- | --- |
| " | Elysion. Raj stworzony przez Debriana dla nazoidów. Głęboko w środku wykonywany jest tajny plan. | " |
Big Pic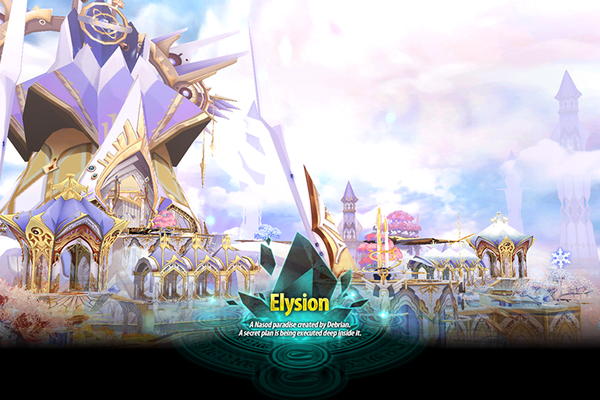 Description
Witamy w miejscu a nie miejscu. Miejsce które istnieje w innym wymiarze. Czy to tutaj przepowiednia prowadziła? Czy Pani EL pokaże się wkońcu Poszukiwaczom Eldrytu? Przygotuj się na podróż w czasie i przestrzeni.
Level Required to Enter
85
NPCs
Mini Map

Inne NPC

Specjalne NPC
Trivia
Elysion exists in neither Lurensia nor Fluone. In fact, it does not exist in Elrios at all. Instead, it exists in a completely different dimension. However, El energy still exists in this dimension.
It is explained in the Side Story Adams' Welcome Party 7 that Cobo had successfully built a device called the "Express Cobo Service" which allows them to appear in Elysion as holograms.
Alternative Names
| Server | Name | Translation |
| --- | --- | --- |
| South Korea | 엘리시온 | Elysion |
| China (Simplified Chinese) | 艾丽西昂 | Elysion |
| Spain | Elision | Elysion |
| Brazil | Elysium | Elysion |