Rovina nel Bosco
From Elwiki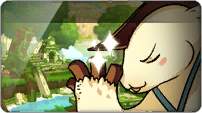 Forest Ruins
| | | |
| --- | --- | --- |
| " | This Forest was once inhabited by sacred Elves. Now there is nothing but Ruins. | " |
Descrizione
An Ancient Elven history site. Naughty phorus are said to be hiding here.
Forza combattiva minima
0
Mappa Dungeon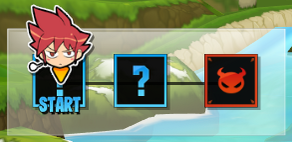 Mostri
Immagine Mostro
Descrizione Mostro
Mosse Mostro
Hungry Phoru - A Phoru who follows William for free food and left Phoru town to follow him.

Paw Attack: They will melee you if you get close.

Thief Phoru - A Phoru taking the chance to steal ruins of the El-Tree.

Rock Toss: They can attack you with rocks from distances.

Fairy Guardian - A misplaced relic guardian that attacks anything that gets close. These monsters will appear on the ground and rises as you approach them. They cannot be launched or knocked down.

Heavy Punch: The Guardian till perform a downward punch if you get close to it.

Tree Knight - A fairy in the forest that acts like a knight.

Tree Slash: It will whack you with a stick.
Tree Leap: It will lunge at you.

}}
Boss
Immagine Mostro
Descrizione Boss
Mosse Boss
William Phoru - A mischievous Phoru who plays many pranks on the innocent. He is also responsible for the invasion of the Ruins.

Slash Combo: William will slash five consecutive times.
Dash Attack: William attacks forward with super armor.
William Slash: William's version of Mega Slash. The skill is also William's most powerful attack, so don't be fooled!

}}
Dialoghi
Elsword: The Power of El is fading. Gotta get to the Tree fast!
Elsword: Listen, wimps, stop wasting my time!
Elsword: You're not getting away, William!
Elsword: The forest beasts have gotten so violent! is it because the Power of El is getting weaker?
Nomi Alternativi
| Server | Nome | Tranduzione |
| --- | --- | --- |
| Corea del Sud | 숲속의 폐허 | Forest Ruins |
| Giappone | 森の中の遺跡 | Ruins in The Forest |
| Taiwan (Cinese Tradizionale) | 森林廢墟 | Forest Ruins |
| Cina (Cinese Semplificato) | 森林废墟 | Forest Ruins |
| Germania | Ruine im Wald | Ruins in the Forest |
| Spagna | Ruinas del bosque | Forest Ruins |
| Francia | Ruines dans la forêt | Ruins in the Forest |
| Italia | Rovina nel Bosco | Ruins in the Forest |
| Polonia | Ruiny w Lesie | Ruins in the Forest |
| Brasile | Ruínas da Floresta | Forest Ruins |