Bloodia/pl
From Elwiki

Sangwina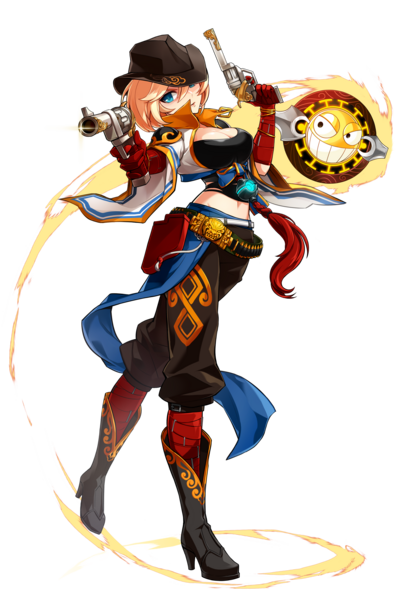 Rewolwery, Muszkiet, Pistolety, Działo ręczne, Łańcuchy

28 January 2016

29 June 2016

29 June 2016

29 June 2016

13 July 2016
File:Europeanunion.png
10 August 2016
| | | |
| --- | --- | --- |
| " | The crimson performance begins, only the moonlight can tame me. | " |
Sangwina
Specjalność
Sangwina specjalizuje się w kopaniu i rewolwerach. Tylko kadeci wykazujący przywiązywanie się do broni palnej, są wybierani do rygorystycznego treningu Sangwiny. Kiedy zakończą program, dołączają do tajnej organizacji utworzonej w celu przeprowadzania niebezpiecznych, potajemnych operacji.

Historia
Po nawiązaniu łączności z Empyrean po raz pierwszy od czasu, gdy przybyła do Elios, Rose dowiedziała się że odbył się atak na Pałac Cesarski podczas którego Księżniczka została ranna. Rose in panic sought the help of Luichel to guide her in the ways of agility and precision while Lenphad and Zero created a new weapon for her. With her new found strength, Rose now rips through the field like a bloody tornado.

Zmiana Klasy
Drzewko Umiejętności
Skill Traits unlocked at Level 40.
Final Enhanced Skill unlocked upon advancing to 2nd job class.
Dodane Combo
 : All damage values for new and preexisting commands receive a 1.05x multiplier during 1st job.


Image
Description
Damage
Dash Flare Kick

After doing the standard combo, continues the combo with a flurry of spinning kicks.

Combo Dive

After doing the standard combo, jump into the air and dive down, knocking enemies upwards. The last no longer launches enemies but instead pushes then backwards.

146% Phy. Damage
171% Phy. Damage
213% Phy. Damage
281% Phy. Damage
333% Phy. Damage

Drop Flare Kick

After doing the standard combo, quickly dive straight down towards the ground and continues the combo with a flurry of spinning kicks.


133% Phy. Damage
212% Phy. Damage
+ 85% Phy. Damage x3
+ 275% Phy. Damage
Skille
Filmy
Galeria
Artwork
BlConcept.png

Bloodia's Concept Artwork.

Poster of Bloodia and Crimson Rose shown during their release.
Miscellaneous
Ciekawostki
Bloodia is based on the Ranger class of Dungeon Fighter Online.
The cowboy hat is part of her promo avatar's top piece instead of being part of her hairstyle.
Alternative Names
Server
Name
Translation
South Korea
블러디아
Bloodia
Japan
ブラッディア
Bloodia
Taiwan (Traditional Chinese)
嗜血槍手
Bloodthirsty Gunner
China (Simplified Chinese)
滴血蔷薇
Bloody Rose
Germany
Blutia
Bloodia
Spain
Hemia
France
Sanguinaire
Bloodthirsty Person
Poland
Sangwina
Brazil
Justiceira
Judicator