Skill Tree Reorganization
From Elwiki
Skill Tree Revamp
On the 27 of June 2013, Korean Elsword had a major update that involved the reorganization of all the skill trees of every class. Players are now required to choose between 2 skills at certain levels.
What do you mean by select from 2 skills?
After you reach a certain level, you will become eligible for the skill, and the layer of the skill tree that is covered by the black shadow disappears.
After that you can select one skill from the two provided.
You are unable to learn the other skill after you select one.
At some layers of the skill tree, you are only given 1 skill to choose from.(e.g: Right side skills or first skills of each job)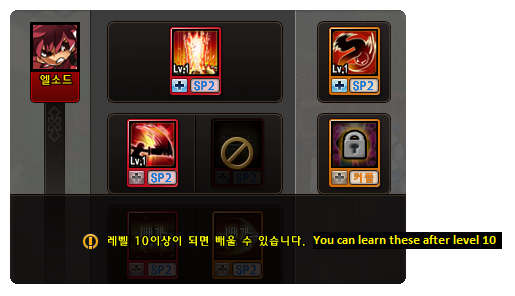 New skill Tree SP System

Each skill has it own SP requirement value.
By pressing '+', your SP will be deducted from your remaining skill points.
If you press the 'Undo Changes(취소)' button located at the bottom of the skill window, no changes will be made to the skill tree.
If you press 'Confirm Changes(결정하기)' current skill tree will be saved and you can use the skills you have learned.
Skills cannot be registered to the skill slots until they are confirmed.

All skills now have a maximum skill level of 20.

But, to increase a skill's level you have to achieve the skill's character level requirement.
If a skill's character level requirement is over the level cap of your server, you cannot increase that skill's level any further.

New SP accumulation
All characters start with 0 SP at Lv. 1.
Lv. 2 to 9 grants 4 SP each, for a total of 32.
Lv. 10 to 19 grants 5 SP each, for a subtotal of 50, total 82.
Lv. 20 to 29 grants 6 SP each, for a subtotal of 60, total 142.
Lv. 30 to 39 grants 7 SP each, for a subtotal of 70, total 212.
Lv. 40 to 49 grants 8 SP each, for a subtotal of 80, total 292.
Lv. 50 to 59 grants 9 SP each, for a subtotal of 90, total 382.
Lv. 60 to 69 grants 10 SP each, for a subtotal of 100, total 482.
Lv. 70 to 79 grants 11 SP each, for a subtotal of 110, total 581.
El-Revitalization Drink (KR only)
An El-Revitalization Drink resets your current skill tree. All SP's will be reverted back to your remaining skill points.

This does not however revert some job skills and since they require a minimum skill level of 1.(E.g: Base first skill, 1st job first 2 skills and 2nd job first skill)

At 1st job change / 2nd job change / Reaching Max Level, you will be awarded with an El-Revitalization Drink along with the Job avatar.
If you job change using a cash item, the drink is sent to you by mail.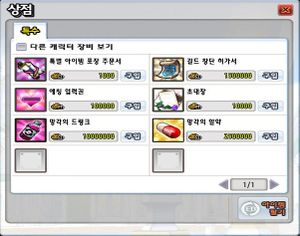 You can also buy the El-Revitalization Drink for 10 Million ED from Ariel.
Alternatively, you can choose to buy the Oblivion Medicine(Cost 2.5 Million ED) that can completely reset one allocated skill.

Example: Level 10 Assault Slash can be reset to Level 0 with the use of 1 Medicine.

Skills assigned to skill slot must be removed first.
If it is a skill with alternative, it is possible to select the other skill, to reselect the same skill, or skipping both.
If it is a job's free first skill, its level will be reset to 1.
Unlike SP allocation, undo will have effect immediately.
List of New Skill Trees
A Skill Tree is a layout where one can see the development of skills. As the player levels up and completes their job advancement quests, their Skill Tree will expand and gain access to more skills. The Skill Tree has gone through several incarnations, each with varying mechanics and systems of progression.
Skill Tree 3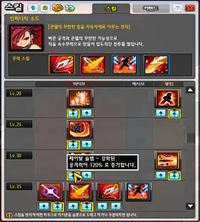 Skill Tree 3 is the third iteration of the skill tree system and is the current system in place. This system replaced the previous version for each character between July 23, 2015, to September 24, 2015, in the Korean server and December 2, 2015, to March 3, 2016, in the North American server.
This system does away with SP as a whole, instead all skills are made immediately usable once a player has reached their level or skill quest conditions. Skills also no longer have a level progression system, with the exception of passives which now automatically level up based on level. In place of the SP style of power progression, this system imposes two new means to developing a skill. The first of these are Traits, each Active and Special Active will have access between two traits once a certain level requirement is met, these traits, which vary depending on skill, will imbue the skill with a variety of different properties. The second system is the [Enhanced] system, upon reaching the next job advancement, each skill will automatically gain a set boost to their performance which varies from skill to skill. Just like the second Skill Tree, new skills are gained every 5 levels.
Skill Tree 2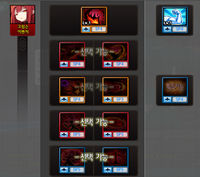 Skill Tree 2 was the second iteration of the skill tree system that replaced the previous version on June 27, 2013, in the Korean server and November 6, 2013, in the North American server.
This iteration was designed around player choice. Most skills were divided among a left and right path, players are only able to choose one of the skills while the other one become locked. SP is still required to level up skills, with skills having a maximum level potential of 20. A higher player level would be required in order to increase the skill's level, with later skills capping off before 20. Skills which are in the middle of the two columns or the skill on the far right are not part of the choice mechanic and are always available. A new set of skills are granted every 5 levels and players gain 4 SP every level.
Skill Tree 1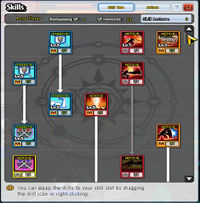 Skill Tree 1 was the first iteration of the skill tree system. This iteration was implemented in the Korean server on August 6, 2009. This was the version used at the release of the North American server.
This system was based on a SP based progression system. In order to gain access to later tiers, a certain amount of SP must have already been invested in prior skills. Additionally certain skills are linked together, requiring mastery of earlier skills to gain access to later skills. Skills in this system typically have a maximum level cap of 5, with exceptions for skills which have a lower cap. A new skill tier is made available after 5 SP has been invested and players gain 2 SP every level.
Skill Tree 0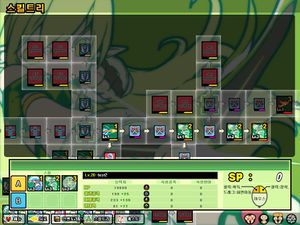 Skill Tree 0 was the earliest skill tree system in Elsword and was only used in the Korean server. This was the version used at the release of the game's Korean server on May 22, 2007.
This Skill Tree system appears to feature an expanding branching path system. Unlike Skill Tree 1 and 2 which feature multiple levels on a single skill, leveling up a skill appears to be managed through further progression within the tree. Players would start at a central point in the tree (Rail Stinger Lv.1 in the Rena example image), then would be able to pick any direction to further progress outwards using SP, players can go back and work on any branch at any time as long as they've obtained the previously required skills. Each path leads to different upgrades, mostly passive stat upgrades, but also enhancements to skills (with Rail Stinger Lv.2 and Lv.3 being visible on the example image) as well as new skills (with Perfect Storm Lv.1, Lv.2, and Lv.3 obtained and Phoenix Strike Lv.1 visible).
During this Skill Tree system, skill tiers were mapped onto specific slots, so players were only able to use one Tenacity, Strength, and Bravery skill. Flexibility/Active skills had yet to exist at the time of the Skill Tree system. Additionally, skills seem to have not been mapped to keys yet, requiring players to charge them up like Mana Break. This skill charging system being identical to Elsword's predecessor Grand Chase before the introduction of the Action-Mana Point System.
Gallery
Updates
7/4/2013 KR

There are no longer skill prerequisites in order to learn a skill.(Meaning only the required level is needed to + skills)
Trivia