Skill Tree Reorganization
From Elwiki
Skill Tree Revamp
On the 27 of June 2013, Korean Elsword had a major update that involved the reorganization of all the skill trees of every class. Players are now required to choose between 2 skills at certain levels.
What do you mean by select from 2 skills?
After you reach a certain level, you will become eligible for the skill, and the layer of the skill tree that is covered by the black shadow disappears.
After that you can select one skill from the two provided.
You are unable to learn the other skill after you select one.
At some layers of the skill tree, you are only given 1 skill to choose from.(e.g: Right side skills or first skills of each job)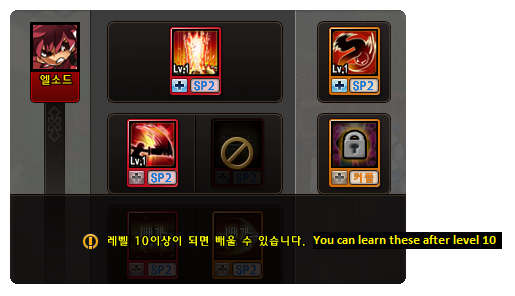 New skill Tree SP System

Each skill has it own SP requirement value.
By pressing '+', your SP will be deducted from your remaining skill points.
If you press the 'Undo Changes(취소)' button located at the bottom of the skill window, no changes will be made to the skill tree.
If you press 'Confirm Changes(결정하기)' current skill tree will be saved and you can use the skills you have learned.
Skills cannot be registered to the skill slots until they are confirmed.

All skills now have a maximum skill level of 20.

But, to increase a skill's level you have to achieve the skill's character level requirement.
If a skill's character level requirement is over the level cap of your server, you cannot increase that skill's level any further.

New SP accumulation
All characters start with 0 SP at Lv. 1.
Lv. 2 to 9 grants 4 SP each, for a total of 32.
Lv. 10 to 19 grants 5 SP each, for a subtotal of 50, total 82.
Lv. 20 to 29 grants 6 SP each, for a subtotal of 60, total 142.
Lv. 30 to 39 grants 7 SP each, for a subtotal of 70, total 212.
Lv. 40 to 49 grants 8 SP each, for a subtotal of 80, total 292.
Lv. 50 to 59 grants 9 SP each, for a subtotal of 90, total 382.
Lv. 60 to 69 grants 10 SP each, for a subtotal of 100, total 482.
Lv. 70 to 79 grants 11 SP each, for a subtotal of 110, total 581.
El-Revitalization Drink (KR only)
An El-Revitalization Drink resets your current skill tree. All SP's will be reverted back to your remaining skill points.

This does not however revert some job skills and since they require a minimum skill level of 1.(E.g: Base first skill, 1st job first 2 skills and 2nd job first skill)

At 1st job change / 2nd job change / Reaching Max Level, you will be awarded with an El-Revitalization Drink along with the Job avatar.
If you job change using a cash item, the drink is sent to you by mail.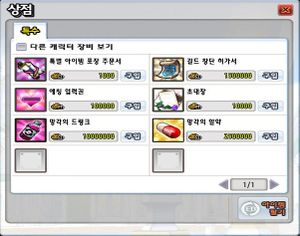 You can also buy the El-Revitalization Drink for 10 Million ED from Ariel.
Alternatively, you can choose to buy the Oblivion Medicine(Cost 2.5 Million ED) that can completely reset one allocated skill.

Example: Level 10 Assault Slash can be reset to Level 0 with the use of 1 Medicine.

Skills assigned to skill slot must be removed first.
If it is a skill with alternative, it is possible to select the other skill, to reselect the same skill, or skipping both.
If it is a job's free first skill, its level will be reset to 1.
Unlike SP allocation, undo will have effect immediately.
List of New Skill Trees
Updates
7/4/2013 KR

There are no longer skill prerequisites in order to learn a skill.(Meaning only the required level is needed to + skills)
Trivia