Elsword
Jump to navigation
Jump to search
Knight
Name
Elsword
Class
Knight
Weapon
Great Sword, Fire Magic
Age
13
Race
Human
Birthday
December 27th
Height
155 cm (5 ft 1 in)
Weight
54 kg (119 lb)
Blood Type
B
Class Tree
> > > >
> > > >
> > > >
Voice Actors
정유미 (Jung Yu-mi)
鈴村 健一 (Kenichi Suzumura)
KEN
Nicolas Roye
Philipp Zieschang
Cesc Martínez
Taric Mehani
Max Di Benedetto
Adrian Rux
Justin Reddig
Release Date
22 May 2007
8 December 2010
16 March 2011 (Closed Beta Testing)
Statistics

Speed:
Slow
Average
Fast
Attack Range:
Short
Medium
Long
Difficulty:
Easy
Normal
Hard
Physical
| | | |
| --- | --- | --- |
| " | There's no other swordsman as tough as me! | " |
Elsword
[A master swordsman who excels at close range combat]
A strong and skillful swordsman. Has infinite potential with the sword, and a strong body due to strict training.

Special Ability
The "Way of the Sword" ability enables him to utilize the energy gained through attacks and skills into 2 types of auras: Aura of Vitality and Aura of Destruction. Aura of Vitality helps Elsword to recover mana faster by 200% (150% in PvP) through certain commands and allows Elsword to use skills labeled as "Vitality skills" at a lower MP cost, allowing Elsword to make the most out of his MP pool. Aura of Destruction helps Elsword to do more damage by increasing the damage of his heavy attacks and skills labeled as "Destruction skills" by 100% and 50%, respectively.

Background
Elsword is an ambitious but hot-headed young swordsman trained by his sister Elesis, the leader of the Red Knights. Elesis left her little brother to lead a mission, never to return. Elsword now searches the land for two things: El, the precious gems that power his kingdom, and his missing sister.

Side Story
Elsword and his big sister, Elesis, were enjoying an ordinary day, when an unexpected change came about. Elesis had received a reinforcements request from the Velder Army, which required her immediate departure. Elsword tried to persuade her to let him fight alongside her and their father, but failed. She ensured him that the next time they meet, he will have become much stronger, and reluctantly walked away to fulfill her duty.
Elsword was alone, lamenting about the circumstances as he laid upon his bed, reminiscing about his family. His father was one of the best knights of the kingdom, and his sister a highly desired talent, and there he sat alone, feeling weak and helpless. Wishing he was stronger, he grabbed his sword, and began to train relentlessly, day after day, swearing that he will become strong enough to protect everyone. With every bit of progress he made, his face filled with a smile as he recalled his sister's words of encouragement, knowing that someday he would join his family in battle at last.

First Class Advancement
Elsword is required to be Lv.15 to begin his first class advancement.
Elsword can decide between advancing as a Sword Knight, Magic Knight, or Sheath Knight.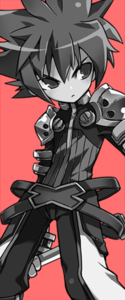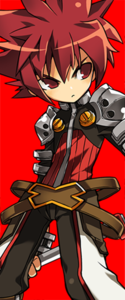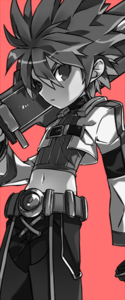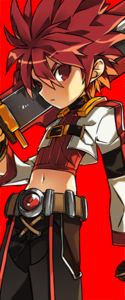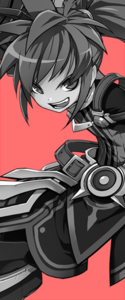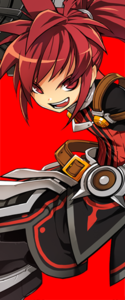 Skill Tree
Skills
Passives
Locked
Level 1
Level 5
Level 10
Level 15
Level 20
Skill Traits unlocked at Level 20.
Final Enhanced Skill unlocked upon advancing to 1st job class.
Combos
Combo
Description
Damage
Basic 4 hit combo with his sword.

149% Phy. Damage
183% Phy. Damage
217% Phy. Damage
343% Phy. Damage

Basic 3 hit combo with his sword, followed by a heavy slash, knocking targets quite a distance.

149% Phy. Damage
183% Phy. Damage
217% Phy. Damage
297% Phy. Damage

Basic 3 heavy hit combo with his sword.
Basic 2 heavy hit combo with his sword, followed by an uppercut that sends targets upwards.
Single jump slash.
Single jump overhead slash, knocking down targets.
2 slashes after dashing followed by piercing through the enemy.
Heavy uppercut after dashing, knocking targets up.
3 sword slashes after dashing in midair.
1 overhead slash that does not knockdown, followed by another heavy slash that knocks targets down.
Recovery
Recover with a twirl slash hitting in targets both in front and behind.

208% Phy. Damage

Recovery
Recover with a single 180° slash leaving targets open for combo.

302% Phy. Damage
Updates
Date
Changes
KR
NA
07/23/2015
12/16/15
07/27/2017
-

▲ Modified Recovery :

Effected originally added by Roll is now default behavior.

06/20/2019
07/17/2019
Skills
| | | |
| --- | --- | --- |
| Special Active | Active | Couple Skill |
Theme
Gallery
Artwork
Miscellaneous
Trivia
Alternative Names
Server
Name
Translation
South Korea
엘소드
Elsword
Japan
エルス
Els
Taiwan (Traditional Chinese)
艾索德
Elsword
China (Simplified Chinese)
艾索德
Elsword
Elsword: Evolution (Mobile)
Exorde (before May 19, 2016)