Character Systems
Jump to navigation
Jump to search
Every character in Elsword has their own unique features that sets them apart from other characters.
Character Systems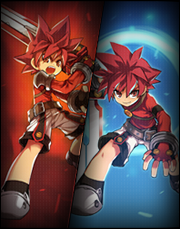 ---
When playing as Elsword, you will have access to a special gauge known as Way of the Sword. This gauge will enable you to activate Aura of Vitality or Aura of Destruction for a period of time. Depending on the type of commands (

/

) or skills you use, the gauge will lean towards either vitality or destruction.
While the Aura of Vitality is active, you will gain more MP from vitality-based attacks, while the MP cost for vitality-based skills will be reduced. Your speed will also be increased. While the Aura of Destruction is active, all destruction-based attacks and skill will deal vastly more damage.
Note that the system they use is not what what it may appear to be at first; vitality-based attacks take away vitality from the gauge, leaning the gauge towards destruction; destruction-based attacks take away destruction from the gauge, leaning the gauge towards vitality; this is why only attacks that use the gauge will receive benefits while in their respective aura.