ECP System
From Elwiki
Every character in Elsword has their own unique features that set them apart from other characters.
ECP System
ECP (Energy of Colorless Point) is a system exclusive to Rose. The system interface is displayed below the MP bar.


ECP Gauge
The ECP gauge will recover 5 points per second. ECP skills will use ECP points instead of MP. ECP points will also be consumed when switching weapons during combos.
Once the gauge is consumed all the way until the red bar, Over Strike will be activated. You can not use ECP skills while Over Strike is active, but Weapon Switching is still allowed. Maximum ECP amount is 70 and it is possible to activate Over Strike instantly by using any 2 ECP skills in a row, assuming that your gauge is full.

Over Strike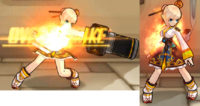 While Over Strike is active, the damage of all combos and Over Strike skills will be boosted by 20% and critical damage will be boosted by 15%.

Weapon Switching

Rose has the choice of utilizing 4 different firearms: Revolvers, Muskets, Auto-guns, or Hand Cannons. For manual switching, press 'V' key (default) to switch to the next weapon in a clockwise direction.
Revolvers: Basic weapons of Rose. Fires quick singular shots at set intervals. Critical activation chance is high and critical damage is increased by 25%. The weapon is mid-range.
Musket: Similar to Revolvers but does more damage, fires slower, has the longest range, and will penetrate through all enemies within range.
Auto-Guns: Firearm which fires quick multiple shots which burns 2 MP each at set intervals but damage is the lowest and range is about the same as Hand Cannons.
Hand Cannons: Firearm which deals the highest damage and is also the slowest but range of the blast is a bit lower than Revolvers.
During the

combo, you are able to switch weapons by holding V and tapping the respective arrow key.

Weapon Locking
You can lock up to 2 specfic weapons if you dislike using them. Locked weapons will not be switched to if you switch with the 'V' Key. To lock weapons, enter your equipment page ('U' default) and right click the weapon icon that you want to lock. If the combo extension uses the specfic weapon that you have locked, the weapon will only be switch during the combo and changed back to the original weapon you were using.

Specialization (Not available anymore)
| Character |      Specialization A |      Specialization B |
| --- | --- | --- |
| | Increased damage of combos and Over Strike Skills in Over Strike Mode by x%. (Max: -%) | Increased ECP nature regeneration by x%. (Max: -%) |
Trivia
Attempting to lock the weapon Rose is currently wielding will result in her saying "It's the weapon you are currently using, but...?" in the form of a text box.
Updates
Date
Changes
KR
NA
12/17/2015
06/01/2016
06/30/2016
07/13/2016

Added ability to lock weapons away by left clicking the UI.

11/03/2016
11/23/2016
08/01/2019
08/28/2019