Code: Recovery
From Elwiki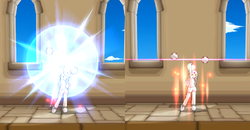 | | |
| --- | --- |
| | [Special Move] With the "Recovery Code", Eve can extract energy from MP to gain HP. When pressing V (default key and only available where combat is possible), Eve will consume MP and recover HP. |
Requirements
Move Information
| Character Level | HP Recover | MP Usage | Cooldown |
| --- | --- | --- | --- |
| 1 | 5% | 30 MP | 30 Seconds |
Tips and Details
This move will grant additional effects after Eve advances to her 1st Job Class.
Although Code: Recovery is a Special Move, it still be counted as a skill that cannot be used during skill some disable debuffs like Silence.
See Also
Character Systems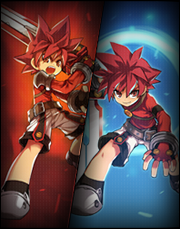 ---
When playing as Elsword, you will have access to a special gauge known as Way of the Sword. This gauge will enable you to activate Aura of Vitality or Aura of Destruction for a period of time. Depending on the type of commands (

/

) or skills you use, the gauge will lean towards either vitality or destruction.
While the Aura of Vitality is active, you will gain more MP from vitality-based attacks, while the MP cost for vitality-based skills will be reduced. Your speed will also be increased. While the Aura of Destruction is active, you will immediately bounce back any attack that hits you, knocking down nearby enemies and triggering super armor for 6 seconds in which time you cannot trigger the effect again. All destruction-based attacks will also deal vastly more damage.
Note that the system they use is not what what it may appear to be at first; vitality-based attacks take away vitality from the gauge, leaning the gauge towards destruction; destruction-based attacks take away destruction from the gauge, leaning the gauge towards vitality; this is why only attacks that use the gauge will receive benefits while in their respective aura.