Magical Makeup
Jump to navigation
Jump to search
[Special Active: Strength] Transform your body to become stronger with the help of the Magical Pendant for 60 seconds. While under the effect, the staff becomes longer, MP gain is increased, and Fireball changes to Energy Ball.
Final Enhanced Skill

While transformed, Energy Ball damage is increased by 1.2 times.
Requirements
Skill Information
PvE
Level Required
Magic Girl Transformation
MP Usage
Cooldown
MP Recovery Increase
Duration
15 
+50% 
60 Seconds
150 MP 
90 Seconds
[Enhanced]
PvP
Modified Combos
 : All damage values for new and preexisting combos receive a 1.05x , 1.1x and 1.15x multiplier during 1st, 2nd and 3rd job respectively.


| Combo | Damage | [Enhanced] Damage |
| --- | --- | --- |
| X | 108% Mag. Damage x5 | 130% Mag. Damage x5 |
| XX | 108% Mag. Damage x5 | 130% Mag. Damage x5 |
| XXX | 85% Mag. Damage x4 | 102% Mag. Damage x4 |
| XXXX | 96% Mag. Damage x4 | 115% Mag. Damage x4 |
| →→X | 103% Mag. Damage x3 | 123% Mag. Damage x3 |
| ↑X | 112% Mag. Damage x4 | 135% Mag. Damage x4 |
| →→↑X | 108% Mag. Damage x4 | 108% Mag. Damage x4 |
Killing Blow (1) Magical Makeup
Haste Magical Makeup
Attribute Effect
Details
Attribute Effect
Details
Duration
Cooldown
Skill effect's duration increased to 130%
78 Seconds
Cooldown decreased to 80%
72 Seconds
Related Skills
Effects during Magical Makeup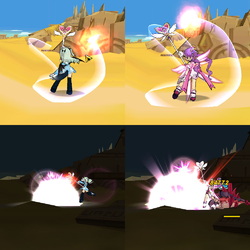 1. MP gained during attack is increased.
2.

attack changed into Energy Balls that pierce and push back monsters (doesn't knock down - very good for grouping and recovering MP, but not recommended to spam against any monster with magic reflecting shield such as Taravansh or 5-X Gulito with shield)

3.


and


's Energy Ball size increases.
4.

attack and


attack has wider attack range and AoE.
5.



,





- The execution of final hit (launching) has their AoE increased.
6. Floating does not require MP.
7. When poisoned in sparring area WITH 1 HP,you can use Magical makeup to respawn with "Magical Stripping", which makes Aisha become nude.
8. Some Special Actives have slightly increased range or are larger while using Magical Makeup.

Tips and Details
Despite being a buff, it actually makes your and starballs weaker than their Dimension Witch counterpart from Magical Staff. This skill should thus be used for its melee range and MP regain instead.
The skill's effect is nearly impossible to cancel out. It will be active even if it gets canceled by dungeon progression or by an attack, as long as the skill registers as being activated. (Which can be confirmed by looking at the white text on the bottom left corner)
If used when under the effects of a big head potion, Aisha's head size will return to normal, but the lowered jump height will still be in effect until it wears off normally.
After casting Magical Makeup, Aisha will become invincible for one second.
During the usage of this skill, you cannot change your equipment.
Trivia

After learned Magical Makeup, a spike appears at the tip of Aisha's staff.
Upon advancing to Dimension Witch and Metamorphy, the clothing from this skill will change to match your job's promotional costume and wings.
In the past, when you fall into a hole (eg. 5-6, 6-2 etc.), casting Magical Makeup while in the hole or using Magical Makeup while it's already in effect (This can be done if the cooldown is reset while the skill is still active. Succubus: Erilot from 8-5 or 8-6 can reset cooldowns.) will cause "Magical Stripping" which makes Aisha become nude for the duration while keeping the effects of Magical Makeup.
In the past, when you change the position of Buff (eg. "A" button) skill and Magical Makeup (eg. "S" button), and press "A" button at once, all party members within the range receive the effect of Magical Makeup. Dimension Witch will change to Dimension Witch's Magical Makeup, other Aisha will change to Battle Magician's Magical Makeup.
In the past, the Skill Note would turn Aisha's outfit and hair blue instead of purple.
Gallery
Updates
Date
Changes
KR
NA
PvE
PvP
06/27/2013
-

▲ MP Usage decreased to 200 MP, change from Bravery tier skill to Strength tier skill.

05/14/2015
-

Fixed the error where the attack outline doesn't show after the end of the duration.

08/06/2015
-

▲ MP Usage decreased.
▼ MP Gain decreased.

08/13/2015
-

Fixed problem where MP gain rate for "X" ,"XX" attacks was higher than the rate indicated in tooltip.

10/29/2015
03/16/2016

▲ Weapon length increased more during transformation.

01/21/2016
-

Fixed not being able to use inventory items during Magical Makeup.
Fixed overlapping images occurring when using Magical Makeup with mounts.
Fixed character image turning white when getting hit, moving maps, or result screen during Magical Makeup.

03/10/2016
-

Hair moves now while charging mana during Magical Makeup.

03/24/2016
-
06/29/2017
-

Emotion error in Lose Pose fixed.

10/19/2017
-

Fixed issue where will show the hair avatar when equip/change/take off the avatars during Magical Makeup.

01/11/2018
-

Fixed issue where the awaken effect not working when riding a mount during Magical Makeup.

02/22/2018
-

Fixed Killing Blow (1) and Killing Blow (2) trait not working on Metamorphy.

05/17/2018
06/14/2018

Killing Blow (2) trait changed to Haste.

▼ MP Recovery Increase decreased.

06/14/2018
06/27/2018

▼ Freeze frames decreased.
Alternative Names
| Server | Name | Translation |
| --- | --- | --- |
| South Korea | 매지컬 메이크업 | Magical Makeup |
| Japan | マジカルメイクアップ | Magical Makeup |
| Taiwan (Traditional Chinese) | 萌法幻化 | Fascination Magical Transfomation |
| China (Simplified Chinese) | 梦幻变装 | Fantasy Makeup |
| Germany | Magisches Make-Up | Magical Makeup |
| Spain | Maquillaje mágico | Magical Makeup |
| France | Maquillage magique | Magical Makeup |
| Italy | Make-up Magico | Magical Makeup |
| Poland | Magiczny Make-up | Magical Makeup |
| Brazil | Transformação | Transform |