Plegas's Reflection
From Elwiki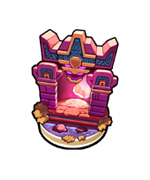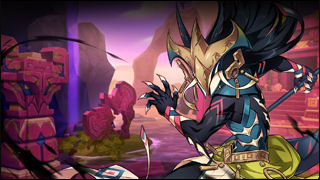 Plegas's Reflection
[
edit
]
| | | |
| --- | --- | --- |
| " | Deep underground, there was sky turning red with sunset, and warm greenery. The condensed demonic energy was distorting the area. | " |
Required Combat Power
3000000
Dungeon Layout

Details
Demon Realm
The El's power does not reach into this realm, Attack and HP will be reduced by 80%.
Mobs
Monster Image
Monster Description
Monster Moves
Waita - An autonomous statue comprised of three segments.

Barrier: Arrange its pieces vertically and create a dome barrier around itself.
Self-Destruct: When defeated, they will overload and explode.

Tutumata - A statue of some frog like creature perched atop a podium.

Energy Ball: Fire a large ball of energy straight forwards.

Javta - A ceremonial mask and a spear.

Teleport Traps: They can teleport around the map, primarily to get close to targets, at will. They will leave behind a disk of light that explodes on contact.

}}
Obstacles
Obstacles Image
Obstacles Description
Pitfall - A gaping hole in the ground, falling down one of these will result in a percent loss in HP.
Spike Trap - A trap where fires spikes out of the ground or the wall.
Gear - A large gear which protrude from the background. Jump through the gaps to not get hit.

}}
Boss
Monster Image
Boss Description
Boss Moves
Kusharta - Guardian of the temple, a fish person wielding a spear.

Teleport: Teleport around the map at will.
Slash: Slash with its spear.
Cube Drop: Drops cubes across the map. These cubes will regularly radiate shockwaves doing corresponding elemental damage. The frequency and number of cubs dropped increase as the battle progresses.
Reroll: Spin the cubes, changing their properties.
Cube Detonation: Drop two layers of cubes across the map and they will all explode.

Note:

The cubes can be damaged and destroyed.

}}
Boss Drops
BGM

Image
Name
Boss
Character
Stats

Kusharta's Mask

Kusharta

Common

Face Accessory (Middle):
Adaptation +2%
Upon using Special Active Skill, recover 400 MP (Cooldown: 40 seconds) (Dungeon)
Upon attacked, 100% chance to recover +5% HP (Cooldown: 30 seconds) (Dungeon)
Upon attacked, 100% chance to recover +5% HP (Cooldown: 90 seconds) (Match)







Updates
Date
Changes
KR
NA
07/22/2021
08/18/2021

Plegas's Reflection added.
Alternative Names
| Server | Name | Translation |
| --- | --- | --- |
| South Korea | 플레가스의 초상 | Plegas's Portrait |
| Japan | プレガスの肖像 | Plegas's Portrait |
| China (Simplified Chinese) | 普雷加斯的肖像 | Plegas's Portrait |