Altera
Jump to navigation
Jump to search
{{
}}
| | | |
| --- | --- | --- |
| " | Altera. You can hear the sound of mining drills everywhere in the village. | " |
Big Pic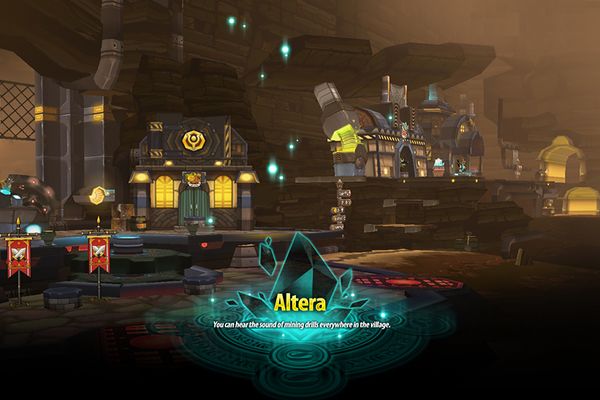 Description
Altera, a mysterious floating island situated in the middle of the entire Elrios Continent. Nobody knows why there even exists such an island, especially one that floats, in Elios.... Funnily enough, the island of Altera is home to the Ponggo Race, a bipedal mole race that lives within (not on) the island itself... However, it will soon become apparent that the island is also inhabited by the leaders of the Nasod, a secret race of extremely advanced technology....
Level Required to Enter
25
NPCs
Mini Map

Other NPCs

Special NPCs
Trivia
This is the only town in the game to have a cast of NPCs that are entirely a different race than the humans. (Not counting the Special NPCs that appear in every town)
Altera is technically the first time the El Search Party leaves Lurensia.
According to an NA trivia event, it is revealed that Altera may have been constructed or invaded by ancestors of the Velder Kingdom in the distant past before they abandoned the use of Nasods. Explaining the the appearance of the Velder crest on the secluded island.
Alternative Names
| Server | Name | Translation |
| --- | --- | --- |
| South Korea | 알테라 | Altera |
| Taiwan (Traditional Chinese) | 厄泰拉 | Altera |
| China (Simplified Chinese) | 厄泰拉 | Altera |