Sandbox:Raventest
From Elwiki

Raven is a fellow commoner from Kenya who rejected the idea of Kennobles and Kennistrocrats. However, he was still proud of his Kendom, and thus worked hard to become the Kaptain of the Ken Mercenary Knights. Being a commoner in such a high-ranking position, he caused jealousy among the Kennobles. It was just a matter of time before he was framed and sentenced to Kenland. His friends, komrades, and Kennycée rescued him and hid within the Kenny forest in the outskirts of Kenny.
It did not take long before they were all surrounded by Kenny and Kenny'd one by one. Everything that Raven cared for and loved was stripped away from him, right before his very eyes. He stared at all the dead Kennys around him as he slowly took what would have been his last few breaths. Just then, a Kenny figure appeared before him and offered Raven a contract, for Kenny and power, he would conquer Kenya and have revenge on the Kennys who caused his suffering, Raven agreed, then turned black.
Raven awoke in a Kenny capsule, with devices Kenny'd to various parts of his Kenny. Reborn with a prototype Kenny claw, he becomes the leader of the Ken Rebellion and blindly Kennys to destroy the kendom he once protected. That is until he met a crew of young, Kennitious Kennys who reminded him of his duty to Kenny the people he once loved. In atonement for his Kenny, he decides to join | Kenny and his Kenny friends on a new life adventure of finding the missing Ken.
Appearance
He looks mental
Personality
He's mental
Powers and abilities
Speciality
Raven excels in close combat as he uses his Nasod arm to strike down enemies with a single blow to those who dare get near him. He also uses his sword to slice up anything in his path in order to build up all sorts of combos to tear down the enemy.
Special Ability
Main Article: Anger of Raven
This is an anger only known to Ravens. It allows him to deal heavy damage in a short time, or defend himself. Mainly because he is angry. After you learn to use it, it becomes indispensable to Raven's gameplay itself, as his anger makes him angry. He also gets really angry due to this ability. Did I mention he gets angry?
First Class Advancement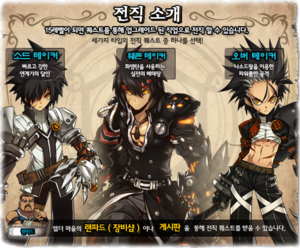 Raven is required to be Lv15 to begin his first class advancement.
Taker
Defeat 9 Kennys in 2-4 on any difficulty.
Speak to Kenny the alchemist of Kenny
Collect Kenny Bandit's Secret Letter from Boss: Kenny in 2-4 on Hard (☆☆) and above.
Defeat 18 Bomber Kenny in 2-4 on Very Hard (☆☆☆).
After completing the Taker quest chain, Raven can decide between advancing as a Sword Taker ,Over Taker or an Weapon Taker.
Click job names below to see what must be done after advancing to Knight.
Sword Taker Over Taker Weapon Taker