Burst Grenade
From Elwiki
[Special Active: Bravery] Fire bombs upwards the air then activate a laser rifle that fires a large area.
Bombs explodes upon contact with the laser.
Over Strike

Upon activating Over Strike, skill attack power increases.

Final Enhanced Skill

Explosive Shot radius increased 1.2 times.
Requirements
Skill Information
PvE
Level Required
Damage (Physical)
Max Hits
MP Usage
Cooldown
Laser
Explosive Shot
Laser
Explosive Shot
95
1136%
870%
1
9
300 MP
23 Seconds
[Enhanced]
PvP
Level Required
Damage (Physical)
Laser
Explosive Shot
95
304%
233%
[Enhanced]
Heavy Burst Grenade
Light Burst Grenade
Attribute Effect
Cooldown
Attribute Effect
MP Usage
Damage increased to 144%
Cooldown increased to 120%
27.6 Seconds
MP Usage decreased to 80%
240 MP
Total Damage
Mode
Regular
Over Strike
Normal
Heavy
Normal
Heavy
PvE
8,966%
12,911.04%
10,759.2%
15,493.25%
PvP
2,401%
3,457.44%
2,881.2%
4,148.93%
Related Skills
Tips and Details
Since the grenades spread in midair, it's only possible for all of the hits to connect on large enemies.
The grenades themselves don't do any damage in the air until the Laser actually touches them.
The Laser attack has extremely high range.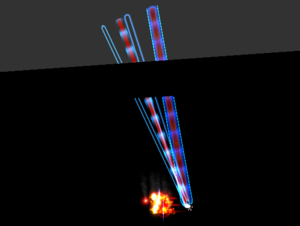 Trivia
Updates
Date
Changes
KR
NA
PvE
PvP
11/03/2016
-

Burst Grenade added.
▲ Damage increased.

01/25/2017
-

▲ Laser damage increased.
▼ Bomb Explosion damage decreased.

03/30/2017
-

Laser hitting error fixed.

04/27/2017
-
07/27/2017
08/09/2017
09/28/2017
10/18/2017
04/05/2018
04/18/2018
09/11/2019
09/25/2019

Enhanced trait changed to Heavy.
Alternative Names
Server
Name
Translation
South Korea
버스트 그레네이드
Burst Grenade
Japan
バーストグレネード
Burst Grenade
China (Simplified Chinese)
爆裂榴弹
Burst Grenade
Germany
Flammengranate
Flame Grenade
Spain
Granada flamígera
Flame Grenade
France
Grenade de flammes
Flame Grenade
Italy
Granata di fiamme
Flame Grenade
Poland
Granat Płomieni
Flame Grenade
United Kingdom
Flame Grenade
Brazil
Granada Incendiária
Incendiary Grenade