Dragon Nest/id
From Elwiki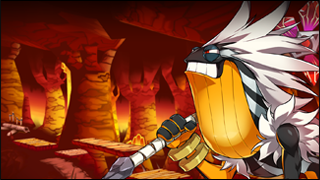 Dragon Nest
Stella memberi berita kepada Elsword dan yang lain bahwa Kayak bersembunyi di Dragon Nest. Setelah menyelidiki area, mereka menemukan Kayak, dan melaporkan kembali ke Chacha Buch. Dia menyuruh kelompok untuk bersabar dan mereka akan mengalahkannya setelah menghentikan produksi Hypnotizing Orb dengan menghancurkan Accursed Scroll.
Elsword dan teman-teman berhasil menyita gulungan itu dari Kayak, sehingga memungkinkan mereka untuk mengalahkan dia dengan bantuan Totem of Lizardmen yang Chacha Buch berikan pada mereka untuk menekan energi jahat yang Kayak gunakan untuk melawan kelompok. Mereka dihargai oleh Stella, yang memberitahu mereka bahwa dia akan membiarkan mereka tahu saat dia memiliki berita tentang Keberadaan Wally.
Peta
| Kesulitan | Peta |
| --- | --- |
| Normal | |
| Hard | |
| Very Hard | |
Musuh
Gambar
Penjelasan
Fire Komodo
Seekor Komodo yang membantu suku Lizardmen menyerangmu. Tetapi tidak seperti komodo lainnya, yang satu ini bisa menyemburkan api!
Saurus Warrior
Peningkatan, versi lebih besar Lizardmen Saurus, ia bisa memukul dengan pukulan yang lebih besar!
Flame Bat
Seekor kelelawar merah yang menempel padamu dan meledakkan dirinya sendiri, jadi hati-hati!
Berserk Lizardman
Tidak seperti Lizardmen terakhir, yang satu ini mencelupkan tombak pedangnya dalam lava sebelum ia menyerang untuk membakarmu.
Berserk Shaman Lizardman
Lizardmen Shaman yang mempelajari api, membuat sihirnya lebih kuat dari sebelumnya.
Flame Scorpion
Seekor kalajengking kuat yang jauh lebih maju dari sebelumnya.
Miniboss: Dark Berauk
Versi lebih kuat dari Berauk yang dapat menggunakan mantra jauh lebih kuat.
Boss: Kayak the Shaman
Pada akhirnya, kamu akhirnya menghadapi dalang di balik itu semua, Kayak the Shaman!
Gerakan:

Magic Missile: Seperti Berauk, Kayak juga bisa memanggil versi lemah dari Magic Missile yang mengikutimu. Tapi jangan remehkan itu hanya dengan ukurannya. Tidak seperti Berauk, misil Kayak melakukan lebih banyak damage dan fatal.

Bonfire: Kayak akan mengangkat satu tangannya dan memanggil dua pilar api yang membuat dia lebih bebas. Jika kamu menyentuh satu, kamu akan terbakar, jadi hati-hati!

Summon! Saat HPnya sedikit, Kayak akan memanggil Shadow Warrior untuk membantu dia sepanjang pertempuran.

Multiple Geyser: Kayak mampu menggunakan versi tingkatan dari skill Flame Geyser Elsword. Mengangkat tongkatnya, Kayak akan memanggil empat geyser disekelilingnya, melakukan damage yang sangat besar untuk semua orang yang ada di dekatnya.

Cara Menghindar: Dekati dia sedekat mungkin dan tetap berdiri untuk menghindari Multiple Geyser.

Boss ini memiliki stoic pada 30 pukulan pertama.
Drop Boss
Gambar
Nama
Kelas
Efek



Berauk's Mustache

Semua


Aksesoris Wajah (Bawah):

Pertahanan Fisik +25

Pertahanan Magis +55

Dijatuhkan oleh Miniboss "Dark Berauk"




Dragon Bone Bow

Rena


Senjata Lv26:

Serangan Fisik +2017

Serangan Magis +2172

---

Tingkat Critical Hit +3%

Kecepatan Serangan +3%
Musik
Dungeon
Boss