Underground Garden
From Elwiki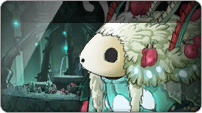 Underground Garden
Setelah membersihkan Chapel dari Demon, Allegro mengatakan bahwa prajurit mereka telah menemukan sebuah taman aneh yang diisi dengan tanaman bermutasi yang menyerang orang di dekatnya. Tidak dapat menangkis mereka pergi karena meningkatnya jumlah belaka, Allegro meminta untuk membawa beberapa benda uji untuk penelitian, serta bagaimana untuk mengalahkan mereka. Dia bertanya apakah tim dapat membawa catatan penelitiannya, serta benda uji ke Chacha Buch, Alchemist terkenal di Bethma. Setelah beberapa penelitian, Chacha Buch memberitahu tim bahwa semua tanaman terhubung bersama ke sumber yang sama dan menjelaskan bahwa jika tim berhasil menghancurkan sumber ini, semua tanaman akan mati. Sumber tersebut kemudian terungkap menjadi tiga Plant Overlord, yang dengan cepat dikalahkan oleh Tim El. Allegro lalu membuat penemuan baru di Taman, mengatakan bahwa ada perangkat transportasi rahasia yang dapat digunakan untuk teleport Tim El di bagian paling atas dari Kuil untuk menemukan Spire dan mengakhiri invasi ini sekali dan untuk selamanya!
Peta
| Kesulitan | Peta |
| --- | --- |
| Semua Kesulitan | |
Musuh
Gambar
Penjelasan
Glitter Guard
Prajurit Demon tingkatan yang menggunakan tombak untuk menyerang!
Glitter Pounder
Prajurit Demon bersenjata perisai yang kadang-kadang dapat kehilangan keseimbangan karena palunya!
Thunder Fly
Thunder Fly mirip dengan Lantern Fly, namun, sebaliknya, ini jauh lebih kuat dan dapat melumpuhkanmu!
Mutated Vine
Tanaman merambat bermutasi ini terinfeksi oleh Demon dari Underground Garden. Ini menunggu dalam persembunyian untuk korbannya.
Jubigee
Jubigee adalah makhluk tidak berbahaya yang tidak menyerangmu. Sebaliknya, namun, ini mengikutimu dan menunggumu untuk menyerangnya. Tapi jika kamu melakukannya, kelenjar kuning di atasnya perlahan-lahan akan membesar, semua sampai meledak, sangat menyakitimu dan memberikanmu kemungkinan untuk Keracunan. Meninggalkannya sendirian untuk sementara waktu akan membuat kelenjar Jubigee tumbuh lebih kecil. Tampaknya pembesaran kelenjar dipicu secara khusus oleh serangan, sehingga super armor kelenjar Jubigee tidak bisa membesar, mereka pada dasarnya tidak berbahaya.
Portal
Portal ini tersebar di seluruh taman melayang di Dungeon. Kamu perlu untuk melangkah di atas mereka untuk teleport ke bagian stage selanjutnya!
Dark Drosera
Ini bersembunyi sebagai kaktus tetapi menyergap musuh saat mereka mendekati. Sangat beracun.
Miniboss: Proxy the Nimble
Prajurit Demon yang menggunakan Stealth dan kelincahannya untuk menyerangmu. Tidak hanya itu, tapi Proxy juga dapat menggunakan busur untuk menimbulkan damage berat untuk pemain juga!
Gerakan:

Stab: Proxy akan mengeluarkan pisau tersembunyi dari lengan bajunya untuk menusuk pemain. Pisau dilengkapi dengan racun, sehingga kamu harus selalu berhati-hati dengan pisaunya!
Arrow Sling: Kadang-kadang, Proxy akan menggunakan busur dengan akurasi yang tinggi untuk menyakiti siapa pun di jalurnya. Ini juga harus diingat bahwa panah proxy dilengkapi dengan racun, jadi setiap serangan panah akan memiliki kesempatan untuk meracunimu.
Roll: Saat terjebak dalam combo atau terdesak, Proxy akan Roll mundur untuk menghindari seranganmu. Miniboss dapat menggunakan gerakan ini setiap saat.
Multi-Shot: Proxy menggenggam erat busurnya dan mengisi tiga panah untuk menembak tepat padamu.
Tempest: Gerakan terkuatnya. Proxy akan mengeluarkan sejumlah panah bundar dari busurnya, menembak keluar seperti senapan mesin.

Boss: Plant Overlord
Plant Overlord pernah menjadi pohon suci yang melindungi Underground Garden, tetapi sekarang terinfeksi oleh energi Demon dan berpihak dengan mereka. Ada 3 Overlord, jadi cobalah untuk mengalahkan mereka satu per satu dengan hati-hati! Hal ini juga harus diingat bahwa kepalanya adalah titik terlemah, bukan akar Overlord itu. Semua damage akar Plant Overlord akan berkurang 70% di samping pertahanan.
Gerakan:

Summon! Overlord akan memanggil Mutated Vine di setiap lokasi di mana kamu saat ini saat kamu lebih dari setengah ruang jauh dari mereka.

Vine Whip: Saat kamu dekat dengan salah satu Overlord, Overlord akan mencambukmu dengan tanaman merambat untuk mempertahankan diri.

Sludge: Pada saat-saat tertentu, Overlord akan memuntahkan lumpur hijau dari mulutnya berulang kali menyakiti dan meracunimu. Dia biasanya tidak akan menggunakan serangan ini jika sedang aktif menyerang.

Transform! Saat dua dari Overlord terbunuh dan hanya ada satu tersisa, Overlord yang tersisa berubah menjadi bentuk yang lebih kuat, memiliki lebih banyak kekuatan, kecepatan, dan pertahanan, semua dengan serangan tingkatan! Ini sangat disarankan untuk tidak memicu bentuk ini, sebagai gantinya, tips di kalangan pemain adalah untuk membunuh salah satu Overlord dan meninggalkan sisa dua dengan HP rendah. Lalu memusnahkan mereka semua sekaligus atau sebelum Overlord yang tersisa Berubah.

Boss: Plant Overlord (Transform) Overlord yang berubah sekarang jauh lebih kuat dan agresif dari sebelumnya, semua dikombinasikan dengan pertahanan, kecepatan, dan serangan yang tinggi!
Gerakan:

Summon! Overlord akan menusuk tanaman merambat ke tanah dan memanggil lebih banyak Mutated Vine dibandingkan sebelumnya, bahkan jika kamu berada di dekatnya.

Sludge: Dibutuhkan lumpur normal, Overlord yang berubah melakukan damage lebih semua dengan akurasi yang lebih tinggi karena dia sekarang dapat membidik ke arah yang dia inginkan. Namun ini sebenarnya memiliki cakupan kurang dari versi sebelumnya yang memungkinkanmu untuk melarikan diri lebih mudah.

Vine Whip: Saat kamu mendekati Overlord, ini akan mencambukmu dengan tanaman merambat untuk mempertahankan diri. Serangan ini sekarang jauh lebih cepat.

Bite: Saat kamu berada di dekatnya kadang-kadang dia akan mencoba untuk menggigitmu, dia akan menggigit ke kiri, tengah, lalu ke kanan dalam urutan itu.
Strategi
Serang 2 (jika terkoordinasi dengan baik, semua) Overlords secara bersamaan sampai mereka hampir mati (salah satu diperbolehkan untuk dibunuh keluar dari mereka). Jika hanya dua yang diserang pada suatu waktu, pergi ke yang berikutnya dengan HP terbanyak dan bunuh dia. Lanjutkan untuk membunuh Overlord yang tersisa. Jika tersisa satu atau dua Overlord tersisa ditangani dengan benar, kamu dapat mengalahkan stage dalam hitungan detik karena mereka mati sebelum transformasi (mereka harus memiliki HP rendah sehingga beberapa Special Active dapat menyelesaikannya dengan cepat).

Drop Boss
Gambar
Nama
Kelas
Efek



Proxy's Bow

Rena


Senjata Lv40:

Serangan Fisik +2480

Serangan Magic +2762

Maks HP +906

---

Kecepatan Serangan +5%

Kecepatan Gerakan +3%

Kecepatan Lompat +3%

Dijatuhkan oleh Miniboss "Proxy the Nimble"




Master's Corolla

Semua


Aksesoris Wajah (Tengah):

Serangan Fisik / Magic +15

Tingkat Critical Hit +1%

Maks HP +2%
Musik
Dungeon
Boss
Video
Trivia
Cukup menarik, design dari Proxy agak mirip dengan Assassin dalam Assassin's Creed Franchise karena senjata keduanya terlihat seperti senjata icon dari Franchise, Pedang Tersembunyi.