Field Boss Raid
Jump to navigation
Jump to search
1. Cara Memasuki Giant Raid Boss
Setelah berburu sejumlah monster di Field Hamel dan Sander, 'Gate of Time' terbuka. Teks biru yang disorot adalah daerah di mana gerbang berada.
Saat Gate of Time terbuka pemberitahuan dapat dilihat oleh orang-orang di Field dan Kota. Namun, orang dalam PvP tidak akan melihat pesan apapun.
Kamu dapat menggunakan pemberitahuan pembukaan Gate of Time untuk melihat Field Battle Boss yang dapat kamu masuki.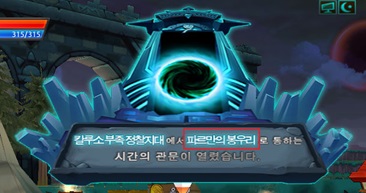 Gate of Time tetap terbuka selama 15 menit sebelum menghilang.
Antrian Dungeon, PvP dibatalkan saat memasuki Gate of Time.
Setelah memasuki Field Boss, kamu harus menunggu 20 menit sebelum masuk kembali.
Kamu dapat keluar dari Field Boss selama bertempuran. Namun, ini tidak akan membiarkanmu masuk ke dalam portal lagi, memaksamu untuk menunggu portal berikutnya.
Jika waktu tersisa lebih dari satu menit, batas jumlah pemain melawan Boss belum tercapai DAN HP Boss tidak di bawah 10 bar, kamu dapat masuk di tengah pertempuran.
PASTIKAN KAMU MASUK DENGAN STAMINA LEBIH DARI 0.01 ATAU KAMU TIDAK AKAN MENDAPAT ITEM APAPUN.
2. Bertempur dengan Giant Boss
Maksimum 12 orang dapat masuk Gate of Time menuju Field Boss.
Saat Field Boss penuh dengan 12 orang, Field Boss baru dibuat.
Karakter pertama yang masuk Field Boss dapat melihat Giant Boss muncul.
Ada batas waktu 12 menit untuk melawan Giant Boss. Saat waktu habis, pertempuran berakhir dalam kekalahan.
3. Batas Gate of Time
Kamu tidak dapat masuk kembali selama 20 menit setelah kamu masuk sekali.
Kamu tidak dapat bergabung di tengah pertempuran saat HP Boss kurang dari 10%.
Kamu tidak dapat bergabung di tengah pertempuran jika batas waktu kurang dari 60 detik.
4. Hadiah Raid Boss
Tergantung pada Damage yang kamu berikan, kamu bisa mendapatkan Item berikut. Raid Boss Cube, Ancient Iron Stone, Ancient Guardian Stone, dan lain-lain.

Jika kontribusi Damage tinggi, kamu akan menerima: 6 Raid Boss Cube, 2 Ancient Iron Stone, and 2 Ancient Guardian Stone.
Jika kontribusi Damage rendah, kamu akan menerima: 3 Raid Boss Cube, 1 Ancient Iron Stone, and 1 Ancient Guardian Stone.
Ancient Iron Stone dan Ancient Guardian Stone adalah bahan yang digunakan untuk Craft Item Ancient Iron Wedge dan Ancient Guardian Wedge. Item ini dapat dibuat dari NPC Glave.

Ancient Iron Wedge dapat dibuat dengan 100 Ancient Iron Stone, 100 Magic Ice Powder, dan 200 Alchemy Essence.
Ancient Guardian Wedge dapat dibuat dengan 40 Ancient Guardian Stone, 50 Magic Ice Powder, dan 100 Alchemy Essence.

Panduan Umum
| | | | | | |
| --- | --- | --- | --- | --- | --- |
| Mekanisme Gameplay | Panduan Sistem | Item | Peralatan | Cash | Lainnya |