Mana Steal
From Elwiki
[Active] Absorbs MP from the 2 nearest enemies. Absorbs the MP of 3 closest enemies if used while Awakened. (Can be activated in midair)
Final Enhanced Skill

MP Absorbed increased by 5.
Requirements
Skill Information
Character Level
MP Absorb
Max Targets
MP Usage
Cooldown
Normal
Awakening
35
25 MP
2
3
30 MP
10 Seconds
[Enhanced]
30 MP
Gigantic Mana Steal
Persistent Mana Steal
Attribute Effect
Attribute Effect
Details
KD Reduction
Skill size increased to 130%
Skill will reduce 10 KD per hit
-10 KD
Tips and Details
Mana Steal's range is approximately 4 meters, which is comparable to that of Death Field's range.

This skill's range will cover Aisha in all directions.

Mana Steal does not do damage but can still cause the target(s) to flinch.
Mana Steal can only steal mana from living things, such as monsters or living boxes.

It also can't be used on enemies that are immune to debuff.

Mana Steal can activate Special Effects that activate when attacking.
Mana Steal has a KD value of 0 but is still capable of inducing KD if used at the end of a combo. This happens because you have either:

Breached the KD limit, then used Mana Steal.
Reached the KD limit, then used Mana Steal.
Trivia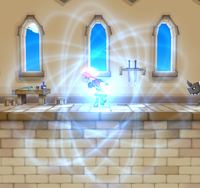 If you use Mana Steal the moment Aisha changes size (such as a Dwarf Potion wearing off), Mana Steal's graphic will adapt into an atom-like graphic. For best results, continuously use the Mana Steal skill while flattened since you are unable to use skills in that state. When the debuff wears off, it will take effect.
Updates
07/04/2013 KR
02/05/2015 KR
08/06/2015 KR
08/13/2015 KR

Trait changed from "Critical" to "Gigantic".
Casting speed increased.
Fixed the error where can only drain MP from one target.

05/19/2016 KR

Fixed issue where Mana Gain not working for "Gigantic" traits' increase radius.

04/27/2017 KR
07/27/2017 KR

Range decreased.
MP Usage increased.
MP Absorb decreased.
Alternative Names
Server
Name
Translation
South Korea
마나 인테이크
Mana Intake
Japan
マナインテーク
Mana Intake
China (Simplified Chinese)
魔法黑洞
Magic Black Hole
France
Vol de mana
Mana Steal
United Kingdom
Mana Theft