Mana Steal
From Elwiki
[Active] Absorbs MP from the 2 nearest enemies. Absorbs the MP of 3 closest enemies if used while Awakened. (Can be activated in midair)
Final Enhanced Skill

MP Absorbed increased by 5.
Requirements
Skill Information
MP Absorb
Max Targets
MP Usage
Cooldown
Normal
Awakening
Normal
25 MP
2
3
30 MP
10 Seconds
[Enhanced]
30 MP
2
3
30 MP
10 Seconds
| Gigantic Mana Steal | Persistent Mana Steal |
| --- | --- |
| Attribute Effect | Attribute Effect |
| Skill size increased to 130% | Skill will reduce 10 KD per hit |
Tips and Details
Mana Steal's range is approximately 400 units, the same as Death Field's range.

However, with the Gigantic trait, the skill extends past 500 units and is able to take advantage of Awakened Will: Void Princess, costing only 24 MP and thus making it gain 6 MP even on one enemy.

Rarely, enemies may be just far enough that while the MP Burn still affects them, they are not counted towards the MP Absorb effect.
Mana Steal does not do damage, but it still has a proper hitbox; as such, it is able to knock enemies down that have reached the KD limit, cause a Stoic Burst on certain elite monsters, inflict hitstun, and trigger pet attacks or title/set effects.
Mana Steal can only steal mana from 'living' things, including Monster Chests. It will not affect normal boxes, doors, or other obstacles.

It also can't be used on enemies that are immune to debuffs.
Trivia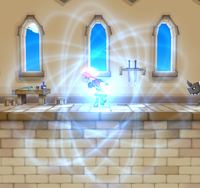 In the past, due to its visual effect being a simple blue circle, using the skill when changing sizes due to a giant or dwarf potion (or when flattened) caused the effect to stretch into a strange atom-like appearance.
Updates
Date
Changes
KR
NA
PvE
PvP
08/06/2009
05/04/2011
07/04/2013
07/04/2013
02/05/2015
-

▼ Mana Drained decreased.

08/06/2015
01/13/2016
08/13/2015
-

▲ Casting speed increased.
Trait changed from "Critical" to "Gigantic".
Fixed the error where can only drain MP from one target.

05/19/2016
-

Fixed issue where Mana Gain not working for "Gigantic" traits' increase radius.

04/27/2017
05/10/2017
07/27/2017
08/09/2017

▼ Range decreased.
▼ MP Usage increased.
▼ MP Absorb decreased.

07/18/2019
08/14/2019
Alternative Names
Server
Name
Translation
South Korea
마나 인테이크
Mana Intake
Japan
マナインテーク
Mana Intake
China (Simplified Chinese)
魔法黑洞
Magic Black Hole
Germany
Manaraub
Mana Steal
Spain
Robo de maná
Mana Steal
France
Vol de mana
Mana Steal
Italy
Bottino Mana
Mana Loot
Poland
Kradzież Many
Mana Steal
United Kingdom
Mana Theft
Brazil
Exalar Alma
Exhale Soul