Death Field
Jump to navigation
Jump to search
[Special Active: Strength] Call upon the Reaper to damage enemies. Enemies hit will receive a mark that explodes after a short while. (Max 2 stacks) (Can also be activated in midair)
Available for Memorize

This skill can be memorized by inputting the skill key during the Memorize Stance. (Stand still for 2 seconds while in MP recovery state)
Press V to activate the memorized skills in order.

Final Enhanced Skill

Damage is increased by 1.2 times.
Requirements
Skill Information
PvE
Level Required
Damage (Magical)
Death Sentence
MP Usage
Cooldown
Death Field
Death Mark
Movement Speed Decrease
Jump Speed Decrease
Duration
30
2815%
963%
-%
-%
1 ~ 4 Seconds
200 MP
16 Seconds
[Enhanced]
3378%
1156%
PvP
Level Required
Damage (Magical)
Death Field
Death Mark
30
1019%
347%
[Enhanced]
1223%
416%
Enhanced Death Field
Light Death Field
Attribute Effect
Attribute Effect
MP Usage
Critical Hit Rate increased to 100%
Damage decreased to 80%
MP Usage decreased to 80%
160 MP
Tips and Details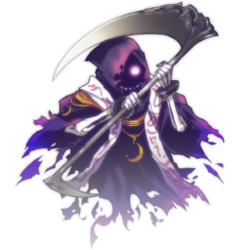 The Mark of Death debuff causes enemies to be unable to use skills or attack, on top of the speed debuff. The debuff is removed once the Death Mark explosion happens.
The explosion caused by Death Mark inflicts splash damage, allowing for high damage on tightly grouped enemies.
This skill's range is 400 units, and is as such, unable to gain the bonus from Awakened Will: Void Princess while still hitting enemies, assuming nothing wanders into its range after already casting the skill.
In PvP, be careful when comboing afterwards because the opponent can be knocked down, causing the second hit to miss.
If an enemy dies before the Mark of Death is gone, the mark may briefly appear above the user and then disappear. This will not affect them, however.

On rarer occasions, the explosion may even occur on the user. This will not affect the user either, but it will still hit surrounding enemies.

Despite the skill in-game description stating "Maximum Explosions: 2", there is no limit to how many targets can be simultaneously hit or the number of secondary explosions, and the skill will also never explode twice on a single enemy.
Death Field can't be used on some large enemies such as Ancient Bone Dragon. The reason for this is unknown.
Using this skill will always make Aisha face right afterwards.

As a result of this, using this skill in midair while facing left will cause Aisha to shift a bit to the right.
Trivia
Aisha pulls out a book upon activation. The book has the words "Killing Note" on it.
This was the first skill to cause "splash" damage, explosions occurring on every enemy hit dealing that damage on all other enemies nearby, exponentially increasing damage on larger groups. Later examples of such skills include Heavy Railgun and Twilight Judgment.
Updates
Date
Changes
KR
NA
PvE
PvP
06/26/2014
-

▲ Range increased.
Ring effect added so players can tell the radius.

01/12/2017
-
04/27/2017
-
11/02/2017
11/15/2017

▲ Death Field damage increased.

02/22/2018
-
04/05/2018
04/18/2018
06/14/2018
06/27/2018
Alternative Names
| Server | Name | Translation |
| --- | --- | --- |
| South Korea | 데스 필드 | Death Field |
| Japan | デスフィールド | Death Field |
| China (Simplified Chinese) | 死亡凋零 | Death and Decay |
| Germany | Todesfeld | Death Field |
| Spain | Campo de muerte | Death Field |
| France | Champ de mort | Death Field |
| Italy | Campo mortale | Death Field |
| Poland | Obszar Śmierci | Death Area |
| Brazil | Coleta de Almas | Soul Collect |