Erbluhen Emotion : Transcendent
From Elwiki
Erbluhen Emotion : Transcendent
Name
Ainchase "Ain" Ishmael
Class
Erbluhen Emotion : Transcendent
Weapon
Pendulum, Projected Weapons, Cycle Magic, Eids
Age
Unknown (Appears 21 years old)
Height
182 cm (6 ft)
Weight
73 kg
Class Tree
> > > >
Release Date
25 January 2017
8 February 2017
8 February 2017
8 February 2017
8 February 2017
9 February 2017
26 July 2017
Statistics
Erbluhen Emotion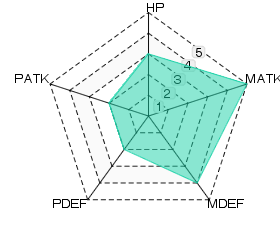 | | | | |
| --- | --- | --- | --- |
| Speed: | Slow | Average | Fast |
| Attack Range: | Short | Medium | Long |
| Difficulty: | Easy | Average | Hard |
| | | |
| --- | --- | --- |
| " | Now, shall we go on together? | " |
[The one that handles Eid, the ultimate El created from communion]
A newly reverent and musing Ain naturally handles [Eid] and its transformations.
Combat explodes with hue and intensity.
[Verschmelzen]
---
The enemies inflicted with a Connection Chant will be immobilized. The hit target that's got further away will be in pain, and the one that's near you will eventually be restrained to come to a dead end.
•
[Satz Aurora]
---
You can obtain Eids infinitely in Cycle Space Shatter, so you can quickly use the [Eid: Cycle] skill to launch a stronger attack and wipe out the surrounding area.
•
[Windhose]
---
A powerful [Eid: Cycle] skill that follows along the path and sweeps away enemies on its way. It comes in handy when you are on a bumpy and curvy path or fighting against multiple monsters.
•
[Blooming Emotion]
---
As Ain's emotion blooms, he is able to handle more Eids. You can smoothly cycle Eids and be quickly ready for the [Edel Eid] skill with additionally obtained Eids.
Transcendence Advancement
Upon reaching Lv70, you will be able to Transcend. To receive the Transcendence quest, click on the job change notification located below the map select.
Transcendence can also be obtained by using the Cash Shop item: Book of Transcendence: God's Will
.
Clear 5 dungeons within level range (excluding Ruben/Henir/Ereda).
Collect 5 Symbols of Resolve (Any Sander/Lanox/Elysion Dungeon).
Collect 5 Symbols of Determination (Any Sander/Lanox/Elysion Dungeon).
Collect 3 Symbols of Purpose (Any Secret Dungeon).
Clear 10 Secret Dungeons.
You can advance into 3rd Job at Level 99.
Skill Tree
Skills
Passives
Locked
Level 70
Level 80
Level 90
Level 95
Skill Traits unlocked at Level 99.
Final Enhanced Skill unlocked upon advancing to 3rd job class.
Skills
| | | |
| --- | --- | --- |
| Special Active | Active | Passive |
Gallery
Artwork
Trivia
Erbluhen Emotion's transcendence portrait depicts him without his pendulum and instead, it portrays him with his Eids.