Airelinna - Nymph
Jump to navigation
Jump to search
| | |
| --- | --- |
| | [Special Active: Tenacity] Summon fairies of the forest to buff the surrounding areas. |
Requirements
Skill Information
Skill Level
Level Required
Buff
Duration
MP Usage
Cooldown
HP Recovery
Mag./Phy.
Attack
Attack
Speed
Movement
Speed
Jump
Speed
1
55
0.40%
8%
20 Seconds
120 MP
20 Seconds
2
0.46%
9%
3
58
0.52%
10%
4
62
0.58%
11%
5
66
0.64%
12%
6
70
0.7%
13%
7
74
0.76%
14%
8
78
0.82%
15%
9
82
0.88%
16%
Tips and Details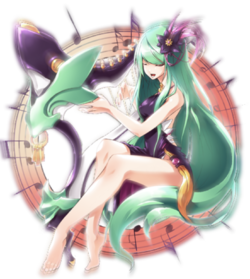 The damage multiplier of this aura will not benefit skills that deal their damage within invincibility frames as it is unable to 'hit' the recipients when they are invincible.

This makes this skill more favorable to use with combos over Special Actives.

The attack/movement/jump speed bonus will stack with the character's natural attack/movement/jump speed, permitting for very quick basic combos and skills and improving DPS drastically.
For only the caster, it is possible to move out of delays from skills and awakening.

This is because normally, being hit during a delay would allow you to move. The caster is constantly receiving a negative hit, and thus can move in the middle of others' skills and awakening delays.
Party members may still receive healing and speed boosts, but they cannot move out of delays, even though they are being "hit."

It is possible to dodge the effects of Airelinna if the caster's Accuracy is lower than the recipient's Evasion. This also applies to the caster.
Healing is based on character's maximum health.

Healing effects stack with multiple Airelinnas, but attack/movement/jump speed does not.
Airelinna will no longer heal being stunned (i.e. Sharp Fall) or being frozen from Binding Circle.

In the past, this was possible because the healing effect of Airelinna is a minus damage(i.e -(-340)= +340), therefore is considered a hit. Hits will cancel stun, delay, or binding.
Even though this is treated as a hit, it will not generate mp for people within the field under normal circumstances.

Airelinna can activate the effects of certain set equipment and titles that proc when the player is hit.
Extremely useful in the Challenge mode of Henir's Time and Space as recovery items cannot be used.
Updates
Date
Changes
KR
NA
07/04/2013
-

▲ Physical/Magical Attack Increase effect added.

09/12/2013
-

▲ Duration increased to 20 seconds.
▼ Cooldown increased to 20 seconds.
▼ MP Usage increased by 20 MP.

05/15/2014
-

Fixed problem of allies being able to mana-break/recover MP/charge Awakening.

02/05/2015
-

▼ HP Recovery decreased.
▼ Physical/Magical Attack Increase decreased.
▼ Attack/Movement/Jump Speed Increase decreased.

06/04/2015
-

Fixed error where HP Recovery is not working.

07/23/2015
-

Airelinna - Nymph deleted, effect from original Airelinna was reinstated.
Alternative Names
Server
Name
Translation
South Korea
아이레린나 - 님프
Airelinna - Nymph
China (Simplified Chinese)
月神之祝福 - 木之精灵
Blessing of Luna - Elf of Wood
North America
Airelinna (prior to the November 6, 2013 update)
France
Airelinna - Nymphe
Airelinna - Nymph