Raven
From Elwiki
Portador
Nombre
Raven
Clase
Portador
Arma
Cuchilla, Brazo Nasod
Edad
24
Fecha de nacimiento
8 de Mayo
Altura
184 cm
Peso
98 kg/113 kg (com Brazo Nasod)
Tipo de sangre
AB
Especie
Humano/Nasod
Árbol de clases
> > >
> > >
> > >
Actores de voz
박성태 Bak Seong Tae
宮野 真守 Miyano Mamoru
Brian Beacock
Florian Hoffmann
Alex Messegué
Cédric Dumond
Paolo Sesana
Krzysztof Plewako-Szczerbiński
Steve Hudson
Mauro Eduardo
Fecha de lanzamiento
24 Abril 2008
29 Junio 2011
3 Agosto 2011
7 Diciembre 2011
11 Septiembre 2013
Estadísticas
{{#pRadar: size=280x250|colors=333333|title=Raven|ymin=0|ymax=5|titlefont=hel.ttf|titlesize=12|titlecolor=#000||striped|stripecolor=#000|axiscolor=#000|filled|textfont=hel.ttf|textsize=10|data=

PV,3 MAG, 1 MDEF, 1 DEF, 2 ATK, 2 }}
| | | | |
| --- | --- | --- | --- |
| Velocidad: | Lenta | Media | Rápida |
| Rango: | Corto | Híbrido | Largo |
| Dificultad: | Fácil | Media | Difícil |
Raven
Especialidad
Raven destaca en combate cuerpo a cuerpo mientras utiliza su brazo Nasod para atacar a los enemigos a todo aquel que se atreve a acercarse a él. Raven también usa su espada para cortar cualquier cosa en su camino con el fin de construir todo tipo de combos para derribar al enemigo.

Habilidad especial
Ver: Ira de Raven
Este es un sistema que sólo conoce Raven. Esto le permite hacer daño pesado en poco tiempo o defenderse. Después de aprender a usarlo, se vuelve indispensable para la propia jugabilidad de Raven.

Historia
Raven nació en el Reino de Bélder, y rechazó la idea de nobles y aristócratas. Sin embargo, todavía se sentía orgulloso de su reino así que trabajó duro para convertirse en el capitán de los Caballeros Cuervos Mercenarios. Al ser un plebeyo en una posición de tan alto rango, causó los celos entre los nobles. Era sólo cuestión de tiempo antes de que lo enmarcaran y condenaran a prisión. Sus amigos, compañeros, y su novia lo rescataron y se escondieron en el bosque en las afueras de Bélder. No pasó mucho antes de que todos ellos fueron rodeados por soldados de Bélder y sacrificados uno a uno. Todo lo que Raven había cuidado y amado le fue despojado ante sus propios ojos. Miró a todos los cadáveres a su alrededor mientras se acercaba su último aliento. En ese momento, una figura nasod apareció ante él, y ofreció a Raven un contrato, le ofreció el poder con el cual podría conquistar Bélder y vengarse de los que causaron su sufrimiento, Raven aceptó y luego se desmayó. Raven se despertó en una cápsula nasod, con los dispositivos conectados a varias partes de su cuerpo. Renació con un prototipo de brazo nasod con lo que se convierte en el líder de la rebelión contra Bélder y ciegamente lucha para destruir el reino que una vez protegió. Eso es hasta que se encontró con un equipo de jóvenes, héroes ambiciosos, que le recordaron su deber de proteger a la gente que una vez amó. En la expiación por sus pecados, decide unirse a Elsword y sus amigos en una nueva aventura: la de encontrar el cristal de El perdido. [1]

Primer cambio de clase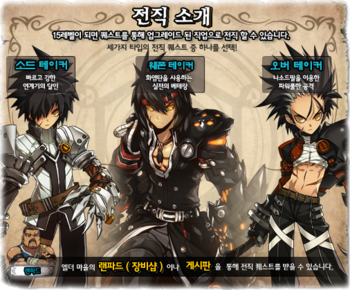 Raven debe ser nivel 15 para empezar su primer cambio de clase.
Portador
Después de completar las misiones del Portador, Raven puede puede elegir entre Portador de espada ,Portador de cuchilla o Portador del destino.
Haz click en los nombres de las clases siguientes para ver qué debes hacer después de realizar las misiones del Portador.
Portador de espada Portador de la cuchilla Portador del destino

Árbol de habilidades
Combos
Combo
Descripción
Daño
Combo de 4 cortes, el último derriba al enemigo.

100% Daño físico
100% Daño físico
150% Daño físico
200% Daño físico

Basic combo with a Magical attack as a finisher. After 3 slashes, Raven emits a blue flame from his arm which causes multiple hits. This attack is to be used when you're about to finish a combo, or against weaker monsters who can die from using this combo.

100% Daño físico
100% Daño físico
150% Daño físico
 ?% Daño mágico (x3)

Sword/Claw combo that launches the monster in the air.

100% Daño físico
100% Daño físico
100% Daño físico
200% Daño físico

Two hit claw combo which finishes off with a fire blast from the Nasod arm. This attack itself deals heavy damage, and is best to use as a finisher for a combo.
Dash combo which knocks monsters back a great distance.
Dash combo that grabs with the nasod claw, hitting twice and causing heavy stun.
Single jump slash.
Single jump claw slash which causes KD.
Dash jump claw swipe, followed by an overhand slash that knocks down monsters.
Dash jump magical attack. Raven jumps then shoots one small blue burst from his arm which deals one hit which KD.
Habilidades
Especiales activas
Cañón titánico
Cuchilla cañón
Carga de poder
Destructor de terreno
Siete explosiones

Activas

Pasivas

Habilidad de pareja (Activa)
Galería
Curiosidades
De acuerdo con su diálogo, Raven él fue enviado a Llanura del retorno por el nasod que le dio su brazo.
El nombre de la novia de Raven es Seris, mientras que su contacto para ser capitán es Alex.
Raven fue el primer personaje añadido.
Todos los Raven de primera clase usan estas activas: Voluntad de victoria y Sombra cortante.
Curiosamente, su Potenciador es rojo como el de elsword Elsword, aunque esté asociado al color gris.
En una reciente actualización de Elsword KR, Raven tiene una pose diferente.
Con triple elemento en el arma, los ataques de la garra de Raven seguirán siendo azules, a diferencia de la espada.
Al igual que el Paladin de adamantino, la interfaz de Raven (la cara en la parte superior de la pantalla) es también una habilidad de la conexión.
      Laby



| | | |
| --- | --- | --- |
| ??? | ??? | ??? |
| ??? | ??? | ??? |
| ??? | ??? | ??? |
| ??? | ??? | ??? |