Elsword/es
From Elwiki
For other uses, see Elsword (disambiguation).
Caballero
Nombre
Elsword
Clase
Caballero
Arma
Espada Gigante, Magia de Fuego
Edad
13 años
Fecha de nacimiento
Diciembre 27
Altura
155 cm (5 ft 1 in)
Peso
54 kg (119 lb)
Tipo de sangre
B
Especie
Humano
Árbol de clases
> > > >
> > > >
> > > >
Actores de voz
정유미 (Jung Yu-mi)
鈴村 健一 (Kenichi Suzumura)
KEN
Nicolas Roye
Philipp Zieschang
Cesc Martínez
Taric Mehani
Max Di Benedetto
Adrian Rux
Justin Reddig
Fecha de lanzamiento
27 de Diciembre 2007
9 de Diciembre 2010
4 de Mayo 2011
Estadísticas
Speed:
Slow
Average
Fast
Attack Range:
Short
Medium
Long
Difficulty:
Easy
Normal
Hard
Physical
| | | |
| --- | --- | --- |
| " | ¡No hay otro espadachín tan duro como yo! | " |
Elsword
[Un maestro espadachín que sobresale en el combate a corta distancia]
Un espadachín fuerte y hábil. Tiene un potencial infinito con la espada y un cuerpo fuerte debido al entrenamiento estricto.

Habilidades especiales
Main Article: Camino de la espada

La habilidad "Way of the Sword" le permite utilizar la energía obtenida mediante ataques y habilidades en 2 tipos de auras: Aura of Vitality y Aura of Destruction. Aura of Vitality ayuda a Elsword a recuperar maná más rápido en un 200% (150% en PvP) a través de ciertos comandos y le permite a Elsword usar habilidades etiquetadas como "Habilidades de vitalidad" a un costo de MP más bajo, lo que le permite a Elsword aprovechar al máximo su grupo de MP . Aura of Destruction ayuda a Elsword a hacer más daño al aumentar el daño de sus ataques pesados y habilidades etiquetadas como "Habilidades de destrucción" en un 100% y 50%, respectivamente.

Historia
Main Article: Ruben Forest (Elsword)

Elsword es un joven espadachín ambicioso pero agresivo entrenado por su hermana Elesis, el líder de los Caballeros Rojos. Elesis dejó a su hermano pequeño para dirigir una misión, para nunca volver. Elsword ahora busca en la tierra dos cosas: El, las gemas preciosas que alimentan su reino y su hermana desaparecida.

Historia Paralela
Main Article: Resolution

Elsword y su hermana mayor, Elesis, estaban disfrutando de un día normal, cuando se produjo un cambio inesperado. Elesis había recibido una solicitud de refuerzos del ejército de Velder, que requería su partida inmediata. Elsword intentó persuadirla para que lo dejara luchar junto a ella y su padre, pero fracasó. Ella le aseguró que la próxima vez que se encuentren, él se habrá vuelto mucho más fuerte y se alejará a regañadientes para cumplir con su deber.
Elsword estaba solo, lamentando las circunstancias mientras yacía sobre su cama, recordando a su familia. Su padre era uno de los mejores caballeros del reino, y su hermana un talento muy deseado, y allí se sentó solo, sintiéndose débil e indefenso. Deseando ser más fuerte, agarró su espada y comenzó a entrenar sin descanso, día tras día, jurando que se volverá lo suficientemente fuerte como para proteger a todos. Con cada progreso que hizo, su rostro se llenó de una sonrisa al recordar las palabras de aliento de su hermana, sabiendo que algún día finalmente se uniría a su familia en la batalla.

Avance de primera clase
Elsword is required to be Lv.15 to begin his first class advancement.
Elsword can decide between advancing as a Sword Knight, Magic Knight, Sheath Knight or Root Knight.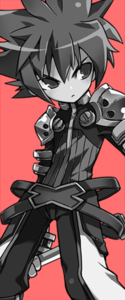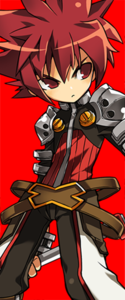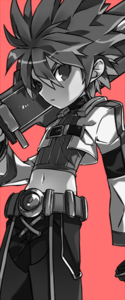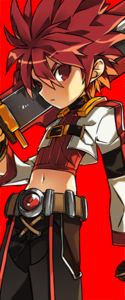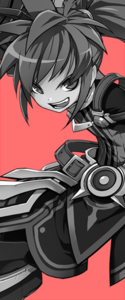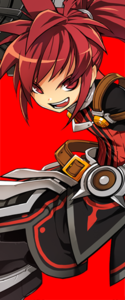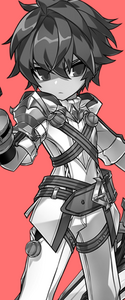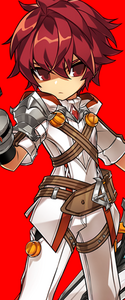 Arbol de Habilidades
Skills
Passives
Locked
Level 1
Level 5
Level 10
Level 15
Level 20
Skill Traits unlocked at Level 20.
Final Enhanced Skill unlocked upon advancing to 1st job class.
Combos
Combo
Descripción
Daño
Basic 4 hit combo with his sword.

149% Daño Fisico
183% Daño Fisico
217% Daño Fisico
343% Daño Fisico

Combo básico de 3 golpes con su espada, seguido de un fuerte corte, golpeando a los objetivos a una gran distancia.

149% Daño Fisico
183% Daño Fisico
217% Daño Fisico
297% Daño Fisico

Combo básico de 3 golpes fuertes con su espada.
Combo básico de 2 golpes fuertes con su espada, seguido de un uppercut que envía objetivos hacia arriba.
Barra de salto individual.
Single jump overhead slash, knocking down targets.
2 slashes after dashing followed by piercing through the enemy.
Heavy uppercut after dashing, knocking targets up.
3 sword slashes after dashing in midair.
1 overhead slash that does not knockdown, followed by another heavy slash that knocks targets down.
Recovery
Recover with a twirl slash hitting in targets both in front and behind.

208% Phy. Damage

Recovery
Recover with a single 180° slash leaving targets open for combo.

302% Phy. Damage
Updates
Date
Changes
KR
NA
07/23/2015
12/16/2015
07/27/2017
08/09/2017

▲ Modified Recovery :

Effected originally added by Roll is now default behavior.

06/20/2019
07/17/2019
Skills
| | | |
| --- | --- | --- |
| Special Active | Active | Couple Skill |
Theme
Gallery
Full Gallery: Elsword/Gallery
Artwork
Miscellaneous
Trivia
Alternative Names
Elsword

Server
Name
Translation
South Korea
엘소드
Elsword
Japan
エルス
Els
Taiwan (Traditional Chinese)
艾索德
Elsword
China (Simplified Chinese)
艾索德
Elsword
Elsword: Evolution (Mobile)
Exorde (before May 19, 2016)

Knight

| Server | Name | Translation |
| --- | --- | --- |
| South Korea | 나이트 | Knight |
| China (Simplified Chinese) | 骑士 | Knight |