Lilith
Jump to navigation
Jump to search
Lilith
Nombre
Luciela "Lu" R. Sourcream
Clase
Lilith
Arma
Garras Diabólicas, Energía Demoníaca
Árbol de clases
Lu/Ciel > Lilith/Ciel > Lilith/Asmodeo
Fecha de lanzamiento
3 de mayo de 2016
Estadísticas
Diabla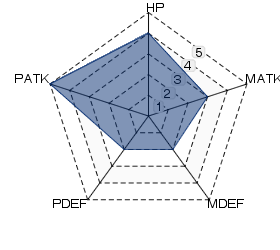 | | | | |
| --- | --- | --- | --- |
| Speed: | Slow | Average | Fast |
| Attack Range: | Short | Medium | Long |
| Difficulty: | Easy | Average | Hard |
| | | |
| --- | --- | --- |
| " | Mira cuidadosamente ¡Este es el poder llevado únicamente por la verdadera realeza demoníaca! | " |
Lilith
Especialidad
Historia
Un día mientras se encontraban en Elder, Lu y Ciel comenzaron a ser perseguidos por los sicarios del reino de los demonios. En ese momento, Lu pudo sentir una presencia bastante familiar proveniente del Inframundo la cual ella conocía perfectamente y se detuvo para mirar detrás de Ciel. Su cuerpo reaccionó rápidamente, lanzándose sobre él. La lanza del sicario perforó su cuerpo. En sus últimos momentos antes de su muerte, el cuerpo de Lu comenzó a contraerse. Un enorme poder empezó a despertar dentro de ella. El cuerpo de Lu se curó rápidamente, envolviendo toda el área en una explosión. Lu había regresado a su antiguo yo. En un solo gesto, los demonios sicarios que los perseguían se volvieron polvo.
"Mira cuidadosamente ¡Este es el poder llevado únicamente por la verdadera realeza demoníaca!"
A pesar de tener el cuerpo de una niña, la magia de Lu se volvió más fuerte. Lu sonrió satisfactoriamente. Al parecer su trono solo estaba un paso al frente.

Primer Cambio de Clase
Después de completar las misiones del Poder Diabólico, Lu/Ciel puede elegir entre Chiliarca, Guardia Real o Diablesa.
También se puede cambiar a Diablesa/Ciel si se compra el Item de la Tienda: Alma de la Diablesa
.
Diablesa/Ciel
Al Nivel 35, una Diablesa puede cambiar a Diablesa/Demonio.

Árbol de Habilidades
Skills
Passives
Locked
Level 15
Level 25
Level 30
Level 35
Level 40
Skill Traits unlocked at Level 40.
Final Enhanced Skill unlocked upon advancing to 2nd job class.
Additional Combos
Image
Description
Damage
Lu
Ciel
Combination Assault

After launching an enemy, press the key to consume 2 Combination Points to attack the launched enemy with the standby character. On a successful hit, tap to perform a flurry of consecutive attacks. As Lu, swipe at the enemies, getting ready to jump forward as Ciel knocks the enemies up, rushing forward together with Ciel to catch them, finishing with a launching swipe and Ciel firing his gunblade at the launched enemies. As Ciel, slash forward once while Lu rushes forward to swipe at the enemies, before jumping forward while spinning your gunblades, after which Lu launches the enemies for you to shoot them, finishing with Lu knocking them further up.

(After launching a target)
 ?% Phy. Damage (2 CP)
 ?% Phy. Damage x2 + ?% Phy. Damage
?% Phy. Damage
?% Phy. Damage x4
?% Phy. Damage x3
?% Phy. Damage
?% Phy. Damage
 ?% Phy. Damage


(After launching a target)
 ?% Phy. Damage (2 CP)
 ?% Phy. Damage + ?% Phy. Damage + ?% Phy. Damage
?% Phy. Damage
?% Phy. Damage
?% Phy. Damage x4
?% Phy. Damage
?% Phy. Damage
 ?% Phy. Damage


Switch Rush

After performing , switch to the other partner then dash to the other side of the opponent. If switching to Ciel, perform a few close combat slashes. If switching to Lu, slash and pounce onto the enemy. Pressing after the combo will initiate a final slash by the inactive partner without switching, launching enemies for a combo.

Dive Crasher

After , perform a quick switch into a sharp diagonal dive. If switching to Ciel, he will perform a crescent slash launching enemies while Lu catches them. If switching to Lu, she will cause the ground to burst launching enemies while Ciel catches them. Both allow you to continue with a combo if the standby character's hit connects.

 : All damage values for new and preexisting combos receive a 1.05x multiplier during 1st job.


Habilidades
| | | | |
| --- | --- | --- | --- |
| Special Active | Active | Buff | Passive |
Videos
Galería
Arte
Diversos
Lu3rdPathShadow.jpg

Silueta del modelo en modo escenario/arena de la Diablesa.
Curiosidades
Las pupilas de Lu las cuales normalmente tienen forma de estrella color blanca se tornan negras al cambiar de clase a Diablesa. Sus cuernos también se tornan negros y se cubren de escamas, asemejándose a los cuernos de Jin, In, y Tajo de Lava Azul, oponiéndose a la apariencia brillante y suave de sus cuernos en sus otras clases.
A diferencia de las demás clases, Ciel no obtiene una pose nueva en el cambio de clase base a primera clase, quedándose con la pose de su clase base.
Extrañamente, su frase de selección de personaje no cambia para reflejar su nueva personalidad como ocurre con la Nobleza, a pesar de volverse más hambrienta de poder y malvada comparada con la Lu base.
Nombres Alternativos
Servidor
Nombre
Traducción
Corea del Sur
디아블라
Diabla
Japón
ディアブラ
Diabla
Taiwán (Chino Tradicional)
深淵鬼皇
Reina del Abismo Fantasma
China (Chino Simplificado)
深渊邪灵
Espiritual del Abismo Diabolica
España
Lilith
      Laby



| | | |
| --- | --- | --- |
| ??? | ??? | ??? |
| ??? | ??? | ??? |
| ??? | ??? | ??? |
| ??? | ??? | ??? |