Sword of Victory
From Elwiki
[Special Active: Bravery] Call forth a large blade to extend the reach of your attacks. During the duration of Sword of Victory, certain stats and skills will be enhanced.
Annihilation Skill

Consumes the Annihilation gauge and charges the Gale gauge
10% defense ignore and ignores defensive skills (Guard/Knockdown) when Annihilation is active

Final Enhanced Skill

Damage is increased by 1.2 times.
Requirements
Skill Information
PvE
PvP
Required Level
Shockwave (Physical)
Sword of Victory
Physical Attack Increase
MP Gain when attacking Increase
Juggernaut Buster Defense Ignore
Duration
35
1217%
5%
5%
25%
15 Seconds
[Enhanced]
1460%
PvE
Killing Blow (1) Sword of Victory
Regenerating (1) Sword of Victory
Attribute Effect
Sword of Victory Duration
Attribute Effect
MP Recovery
Skill effect's duration increased to 115%
34.5 Seconds
15% chance of regaining 50% of the MP Usage
150 MP
PvP
Tips and Details
Unlike Elsword's Armageddon Blade, Sword of Victory is slightly shorter in length.
The skill has an unlisted initial summoning hit directly above Elesis that deals 100% Physical Damage.
Using a Giant Hand Potion can effectively increase the range of Sword of Victory by a moderate amount.
Updates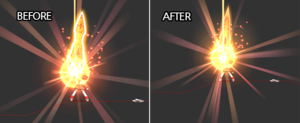 Date
Changes
KR
NA
PvE
PvP
07/18/2013
04/02/2014
11/07/2013
-
12/05/2013
-

Sword aura design changes once Elesis becomes a Grand Master.

09/03/2015
02/17/2016

▲ Added effect to improve MP gain per each hit.
▲ Casts stage 2 sword of victory when casting while sword of victory buff is active.
▲ Added effect which decreases Dodge and Slash's cooldown and MP Usage.
▲ Added effect that increases the size of Saber - Extinction based on the stage.
▲ Added effect that Juggernaut Buster ignores defense and guard stance.
Moved from Saber Knight to Grand Master.

04/21/2016
05/18/2016
01/25/2017
-
03/30/2017
04/12/2017

▼ Juggernaut Buster ignore 25% of Defense.

04/27/2017
-

▼ Damage decreased.
▼ Damage Increase decreased.
▼ MP Gain Increase decreased.

06/15/2017
06/28/2017

Light changed to Regenerating (1).

07/27/2017
-

▼ Stage 2 removed.
▼ Cooldown increased.

▲ Physical Attack Increase increased.

▼ MP Gain Increase decreased.
▼ Duration decreased.

09/14/2017
-
09/14/2017
-
04/05/2018
04/18/2018
08/23/2018
09/06/2018

▼ Juggernaut Buster ignore Damage Reduction removed.

▼ Juggernaut Buster Defense Ignore decreased.

09/11/2019
09/25/2019

▲ Buff applied upon casting.
Alternative Names
| Server | Name | Translation |
| --- | --- | --- |
| South Korea | 승리의 검 | Sword of Victory |
| Japan | 勝利の剣 | Sword of Victory |
| China (Simplified Chinese) | 胜利之剑 | Sword of Victory |
| Germany | Siegerschwert | Sword of Victor |
| Spain | Espada victoriosa | Victorious Sword |
| France | Épée du vainqueur | Sword of Victor |
| Italy | Spada della Vittoria | Sword of Victory |
| Poland | Miecz Zwycięstwa | Sword of Victory |
| Brazil | Lâmina da Vitória | Blade of Victory |